15 Questions to Ask Your Luxury Realtor
News Home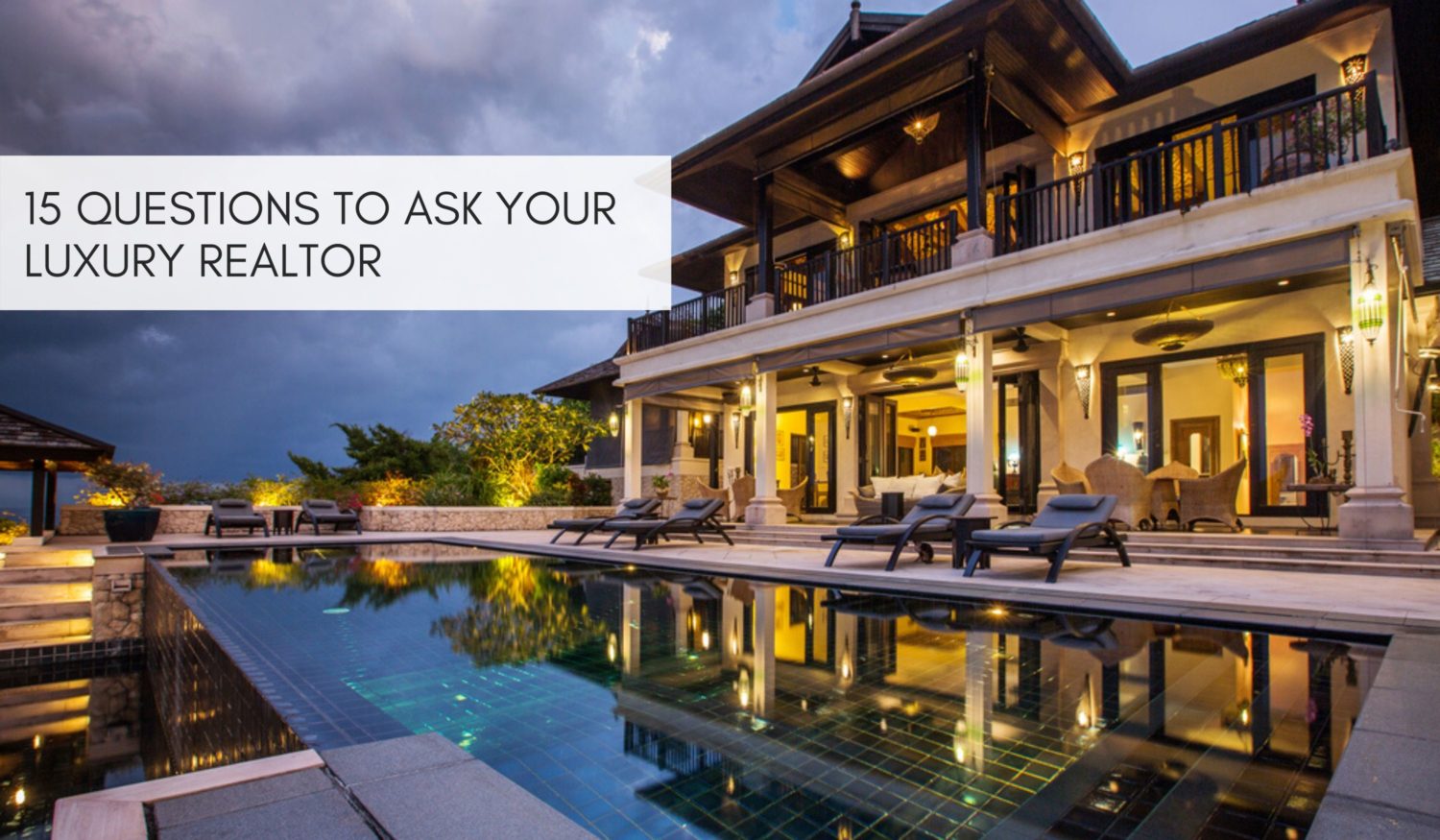 To make sure that your luxury home buying experience is a good one, be sure to complete a little research before hiring an agent. Here are 15 questions to ask your luxury realtor before purchasing a home. 
1. When did you start selling homes?
Luxury agents who have been selling homes for a while will be able to spot issues before they become a problem for you. They will also have established relationships with other agents.
2. Are you a full-time or a part-time agent?
A full-time agent is more likely to have more time available to you than an agent who is selling homes as a side gig.
3. Do you represent buyers and sellers?
Often, agents work with both buyers and sellers. It can be a benefit to work with someone who does both because you might gain access to helpful insights.
4. How many clients are you working with currently?
This is a question to consider carefully. If your agent has too many clients, he or she may not be able to pay enough attention to you. When the agent has too few, then this could be a red flag.
5. What area do you focus on?
You'll want to hire an agent who focuses on the areas that you want to live in. If your agent can name the schools in the area and details about the available amenities, then you'll know that he or she is familiar with the neighborhoods that interest you.
6. Do you work with a team?
It can be better to hire an agent who has a team available. That way, if he or she becomes busy with another client and a home comes up that you want to see, someone else from the team will be able to help you.
7. How many homes did you sell last year?
This is a specific question that will help you determine how successful your agent is. You want to be working with an agent who can put people in homes.
8. Can I take a look at your real estate license?
Ask this question to confirm that you're hiring someone who is licensed.
9. May I have a list of references?
Consider calling a few of the agent's references. Talking to satisfied clients will help you select the right agent.
10. Do you work with people buying homes in this price range?
Make sure that you're hiring an agent who is comfortable working with luxury prices.
11. How do you determine your commission?
This is a financial transaction, so you'll want to make sure that you know how much you'll be spending.
12. Can you tell me about the home buying process?
Buying a home is complex. It's essential for you to understand how it works.
13. How should I contact you?
For the most part, your agent should always be available to you. The housing market is often competitive. You'll need an agent who is responsive.
14. What is your availability?
Make sure that your agent is available when you are.
15. Do you see problems with this home?
Agents may spot issues that you miss. Take advantage of his or her expertise.
Luxury Real Estate Henderson NV
Henderson Luxury homes for sale come in many different styles and sizes in the MacDonald Highlands community. Asking these questions will help you make a smart purchase. We offer many amenities, including awe-inspiring views, a clubhouse, and a renowned golf course. Contact us at 702-467-7100 to learn more.