3 MacDonald Highlands Properties with Luxury Pools
News Home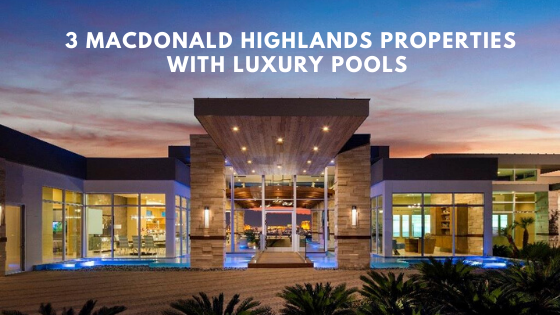 Investing in a luxury home is a smart move, one that gives you the chance to live in a residence that will inspire you while ensuring that you have the kind of amenities that add to the quality of your daily life. At MacDonald Highlands, we have several luxury homes for sale. Here are three with luxury pools to consider.
This home on Cityview Ridge Drive comes with four bedrooms and six bathrooms. It measures 7,928 square feet and includes a pool and an abundance of outdoor space. There is a stunning tile floor in the living room, and you'll surely love the stone fireplaces. They add charm to the home. The kitchen in our Cityview Ridge home is modern with stainless steel appliances, white cabinets, and dark stone countertops. When you tour the master bedroom, you'll notice elements like a wood ceiling, a stone wall, and a large ceiling fan. If you select this home, you'll enjoy incredible views from the luxury pool.
This MacDonald Highlands home on Dragon Peak Drive is new construction. It comes with five bedrooms and seven bathrooms. The home measures 8,600 square feet, and it has a swimming pool along with a hot tub. The living room is stunning with vaulted ceilings and numerous windows. It also has a pretty tile floor and stunning modern lighting. You'll love the enormous island in the kitchen. The space is equipped with updated appliances, white cabinets, and storage for your wine. The master bathroom kicks elegant design up a notch with its deep soaking tub and gorgeous chandelier. All of your clothes are sure to fit in the massive walk-in closet.
When you drive up to this Dragon Gate Court home, you'll be delighted by the modern architecture. This home is currently under construction, but when it's complete, there will be five bedrooms and nine bathrooms inside. The house is spacious since it measures 8,600 square feet. There will be an infinity pool that offers an amazing view of the outdoor areas. This home will have high-end finishes like stone countertops in the kitchen and wood cabinetry. The blueprint design includes installing a huge island that will be perfect for preparing food. You'll also appreciate that the home will have modern appliances and quality fixtures.
At MacDonald Highlands, we have many luxury homes for sale. You're sure to find one that's the perfect fit. By deciding to live in our community, you'll have access to impressive amenities like the Dragon Ridge Country Club, several renowned restaurants, and a fitness center. At the country club, there is a pool available for all residents. Contact us today to learn more.