5 MacDonald Highlands Homes for Sale in Henderson, NV
News Home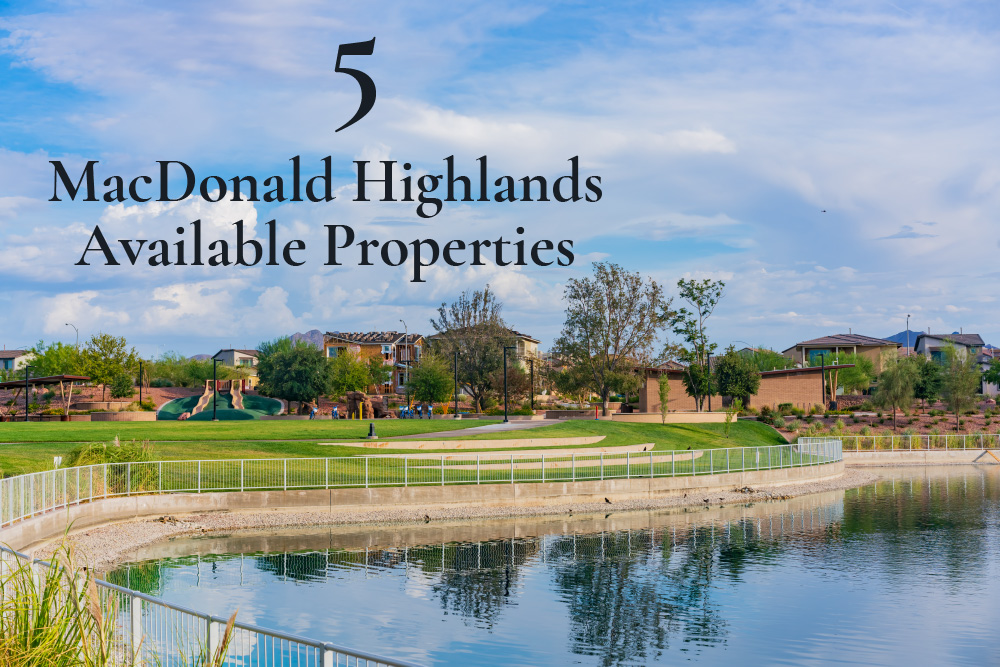 Luxury homes in Las Vegas offer advanced features, comfortable amenities and a great location. The MacDonald Highlands community has a number of houses for sale Henderson NV. Many of these homes include creature comforts like:
• Hot tubs
• Outdoor barbecue areas
• Home theaters
We're spotlighting a few of our homes for sale.
1524 Dragon Glen Drive
With five bedrooms and six full bathrooms, the luxury home on 1524 Dragon Glen Drive has the space you need. The home measures 7,459 square feet, and to make it even more spacious, it features vaulted ceilings and amazing views of the Las Vegas strip and the surrounding mountains.
When touring the home, you're sure to love the upscale flooring. It includes a blend of hardwood, tile and carpeting. You'll also notice appealing enhancements like painted murals on the doors and tray ceilings, a common feature of luxury homes in Las Vegas.
If you decide to purchase this home, you'll have the use of a huge library complete with wood shelves and a hardwood floor. There are several windows in the space that make the room warm and bright. The home's living room is a showstopper. It features a circular design that includes windows and a dramatic gray brick fireplace.
The luxury home on Dragon Glen Drive contains a chef's kitchen, one with granite countertops and multiple ovens. You'll have plenty of cabinets and drawers to store your kitchen utensils and other gadgets. Recessed lighting ensures that you'll have the light that you need to prepare each meal precisely.
In this home, the primary bedroom has a spa retreat feel. It is roomy, and it has an incredible view of the picturesque surroundings. There is an en suite that features a large number of storage cabinets and a deep soaking tub. This home has everything you need in a dream home.
770 Lanni Court
The home on Lanni Court includes four bedrooms and four bathrooms. This grand stucco and Spanish style home measures 5,386 square feet, and it was built in 2006. You'll appreciate the mature landscaping and the three-car garage. The home's interior is elegant with arched doorways and large windows, making it one of the best luxury homes in Henderson NV.
There is a gorgeous fireplace in the living room. It's perfect for cozy nights spent at home and holiday gatherings. Floor-to-ceiling windows are also present in this space. They provide an incredible view of the area's natural surroundings.
A grand staircase leads upstairs. You'll love the decorative iron railing around the upstairs balcony. It makes the space safe and adds a touch of fanciness to the home.
If you like to cook, then you'll be tempted to purchase this home. The kitchen is designed for a professional chef, and it includes pretty cherrywood cabinets, granite countertops and stainless-steel appliances. The kitchen has a ton of storage space and traditional tile floors.
The primary bedroom is large with hardwood floors, a fireplace and an attached bathroom. Inside the en suite, you'll appreciate the deep soaking tub and the walk-in closet. This space also includes several vanities and recessed lighting. If you decide to purchase the MacDonald Highlands home on Lanni Court, you'll be the owner of a gorgeous home with plenty of space. This Henderson NV home for sale comes with everything you need.
1596 Liege Drive
This multi-story home on 1596 Liege Drive includes four bedrooms and five bathrooms. The home is 6,124 square feet. It comes with mature landscaping in addition to a swimming pool and an outdoor deck, making it the perfect home for entertaining. Since the home is set up on a hill, you'll enjoy amazing views, which is a desirable feature of houses for sale Henderson NV.
A modern fireplace adds style to the living room as does the cream-colored tile floor. There is plenty of space for a large sectional sofa, a loveseat and several lounge chairs.
The kitchen in the Liege Drive home is sophisticated and practical. It features elegant cherrywood cabinetry, a spacious kitchen island and high-end appliances. The granite countertops are stunning and expansive, which means that you'll be able to cook with ease.
When you tour the primary bedroom, you'll notice that there are amazing exterior views from this space too. It also has an intricate tray ceiling and upscale carpet. The primary bedroom features an attached bathroom, one with a stunning tile shower and a roomy vanity.
This house includes a movie theater room and a full wet bar. It also has a wine room that comes with climate control, making it easy for you to add to or begin a wine collection. If entertaining makes you happy, then this home for sale Henderson NV is a great one for you.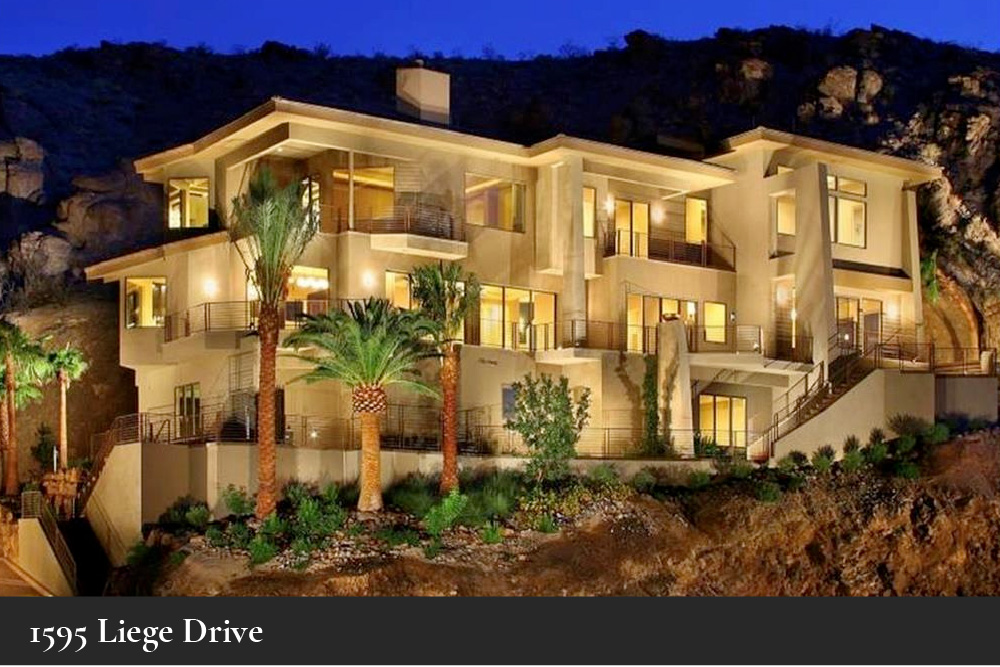 604 St Croix Street
Gorgeous palm trees dress up the exterior of the MacDonald Highlands home on St Croix Street. This multi-story home features a stucco façade and outdoor amenities like a swimming pool and a patio. The home comes with five bedrooms and eight bathrooms. It also has a four-car garage.
When you step into the entryway, you'll notice a grand staircase and brick pillars. There is a charming fireplace in the kitchen, one that will make your family and guests want to spend time in the space. The kitchen also features exposed brick and a large island.
The main level of the home is open concept. There is an elegant stone fireplace in the living room. This space is open to the kitchen. If you choose this home, you'll appreciate being able to keep one another company from different rooms. For instance, if you're cooking breakfast, you can still talk to your children when they're in the living room.
This home for sale Henderson NV includes a game room and a workout room. It also has a theater room, so if you like to hang out at home, you'll have plenty of ways to stay entertained if you decide to purchase this residence.
1640 Liege Drive
Located on Liege Drive, this MacDonald Highlands home includes five bedrooms and seven bathrooms. It measures 5,138 square feet and features a charming brick driveway. There is a unique fireplace in the main living room. The base of the fireplace forms a marble arch. You'll love the abundance of windows in this space. They welcome plenty of natural light.
The kitchen includes pretty wood cabinetry and an expansive island for food prep. You'll appreciate the many drawers and cabinets since you'll have the extra storage space you need.
If you select this home, you'll have a workout room along with a game room. You'll especially love a workout room at home since it makes staying in shape more convenient. You can also exercise at your own pace and as often as you like.
The primary bedroom in the home on Liege Drive is big and spacious. It features plush carpet and an attached bathroom, one with a spa-like soaking tub and a shower. The home's other rooms are also open and airy, giving every member of your family the space that they need. This Henderson NV home for sale has dream home written all over it.
Luxury Homes in Henderson NV
With its ideal placement overlooking Las Vegas so it can offer incredible views, the MacDonald Highlands community is a great place to call home. Here, you can purchase one of these stunning move-in ready residences or commission a custom home. For more information about our gated community, call us at (702)614-9100.