April Property Spotlight: 659 Scenic Rim Drive
News Home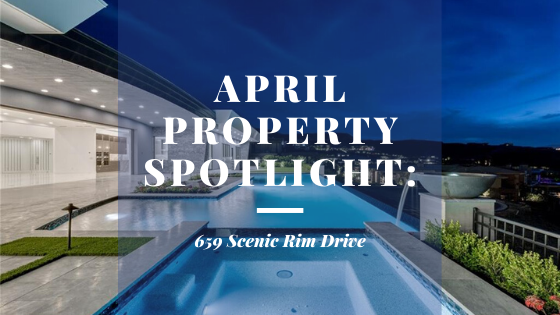 Luxury homes in Las Vegas are in the MacDonald Highlands community. This one is on 659 Scenic Rim Drive, and it includes five bedrooms and four bathrooms. The luxury home measures 8,645 square feet, and it features a grand covered stucco and stone entry. You'll love the finished landscaping complete with a stone pathway, grass, trees, and bushes. The view of Vegas from this home is stunning, and you'll appreciate the size of the four-car garage.
A Gourmet Kitchen
When you step into the home's gourmet kitchen, you're bound to love the granite countertops. A large natural piece was used, one that covers the entire island. The cabinets are modern, and they are a nice gray color while the same granite makes a lovely kitchen backsplash. Unique light fixtures add style to the space, and the contemporary appliances will tempt you to make home-cooked meals.
A Sweeping Living Room
The living room features marble floors and enormous windows that open to the outdoor patio, increasing your entertainment space. A light shade of gray covers the living room walls, which means that the area is a blank canvas and ready for you to customize. Recessed lights are tucked up into the ceiling. These provide soft illumination for a peaceful ambiance. This space also has a fireplace that will inspire you to decorate with a cozy couch and a soft rug.
Resort-Like Pool
This luxury home comes with a resort-like pool, one that will help keep you cool during the hot summer months. It's perfect for parties, and if you have kids, they'll be in heaven. There's a hot tub that you'll love having during chilly evenings and a large patio to enjoy your outdoor space as much as possible.
A Theater Room
If you like to entertain, then you'll appreciate the size of the theater room. The space features a tiered layout, which is perfect for creating a traditional movie theater at home. The light fixtures scream classic theater. Get ready to host your own Oscar party.
A Spa-Like Master Bathroom
The master bathroom in this home is truly glorious. There is a deep soaking tub, which is perfect for relaxing. The shower includes multiple spray heads to help take the tension out of sore muscles and soothe away stressful days. In this bathroom, you'll enjoy dual vanities with one on each side of the room, perfect for couples who get ready at the same time each morning.
MacDonald Highlands Real Estate
The MacDonald Highlands neighborhood is a gorgeous gated community that includes luxury homes and high-end amenities. You can purchase a completed home or build one of your dreams. Contact us at MacDonald Highlands for more information.