Why We Love The Richard Luke Five Star Residences
News Home
The Macdonald Highlands community is one of the top luxury neighborhoods in the Las Vegas area. At MacDonald Highlands, we have homes available that are designed by renowned architects such as Richard Luke. Here's why we love Richard Luke Five Star Residences.
Modern Custom Homes
A Richard Luke home for sale in Henderson NV is in a community that offers you a five-star lifestyle. Homes by the designer feature flawless crafting and a great location.
Homes designed by Richard Luke Architects range from 5,000 to 7,500 square feet. They are open concept residences that include three to five bedrooms, multiple bathrooms, and garages big enough to hold three to 14 vehicles.
The Richard Luke collection features infinity pools, game rooms, and outdoor patios. You'll appreciate style elements like pocket doors that add space to a room without interfering in function. These homes also have towering ceilings, linear fireplaces, and wine bars, making them dream homes for entertaining.
These are homes with features like roof decks and lap pools. They also come with landscaping elements designed around fire and water. The Richard Luke collection installs state-of-the-art audio and visual systems in addition to the latest comfort technology.
By purchasing a Richard Luke home in the MacDonald Highlands community, you'll enjoy indoor/outdoor living combined with amenities that will pamper you and make life seem a little softer. You'll have access to the Dragon Ridge Golf Club and Spa, including a championship golf course, tennis and swimming complex, and a fitness center.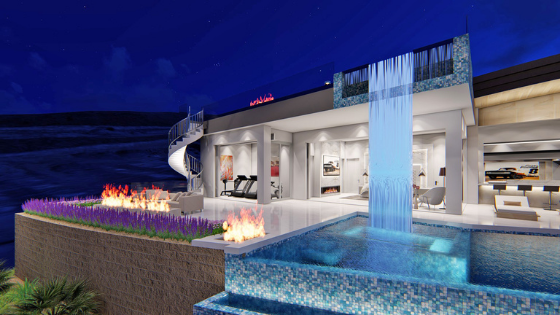 About Richard Luke
Richard Luke has more than 35 years of architectural experience. He has had an architectural firm in the Las Vegas area for more than 25 years. Today, Richard Luke Architects is a practice that focuses on designing high-end luxury homes. The award-winning practice designs homes across the U.S and internationally.
Richard embraces all architectural styles, which makes him a versatile architect. This is something that he brings to those who hire his firm to build their home. When you select Richard Luke Architects, you'll be working with a practice that will adapt to what you want in your dream home. The firm will also develop a unique and beautiful home design that will fit your personality and needs.
MacDonald Highlands is a luxury gated neighborhood, one that you'll love living in. As a resident, you'll enjoy the type of amenities that are often only available in a five-star hotel resort. Here, you can buy a Richard Luke Five Star Residence, or you may prefer a home built by one of our other design firms. Contact us today to learn more about what MacDonald Highlands has to offer.