Tag:
tennis memberships near me
Henderson luxury homes for sale in the MacDonald Highlands community include numerous luxury features. You'll appreciate the convenience of living in a home that has the kind of amenities that you typically only enjoy while on vacation. What luxury features are a must for new homes in Las Vegas? Here's what to look for.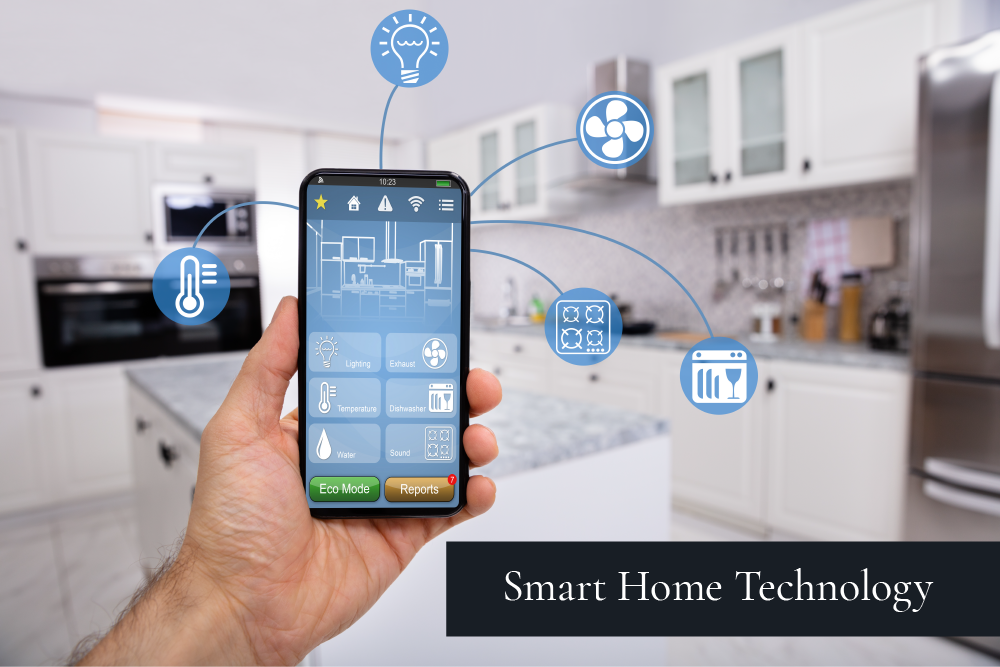 Smart Home Technology
One of the most desired luxury features in modern homes is smart home technology. When you own a home with this type of advanced system, you'll be able to monitor your home using your smartphone. For instance, you can confirm that your doors are locked and change the temperature on the thermostat. Smart home technology even allows you to manage the sprinkler system, hot tub, lights, and appliances.
The technology will alert you if motion is detected in or around your home, and you can view the security cameras on your smartphone. Smart home technology offers you peace of mind since you can keep an eye on your house from any location in the world.
Indoor/Outdoor Architecture
Luxury homes in Las Vegas often feature indoor/outdoor architecture. You'll love this feature because it expands the size of your living space. It also makes it easy and fun to entertain. When a home includes indoor/outdoor architecture, the main living area will have doors that stretch from the floor to the ceiling. The doors will slide effortlessly into a wall giving you access to a side yard or backyard area.
A home with indoor and outdoor elements may include an exterior kitchen with seating, a fire pit, and a water element like a pond or an infinity pool. When shopping for a home for sale in Henderson, NV, keep an eye out for residences that come with sustainable features like permeable paving and plants that are drought resistant. You'll also want outdoor space that has water-efficient irrigation.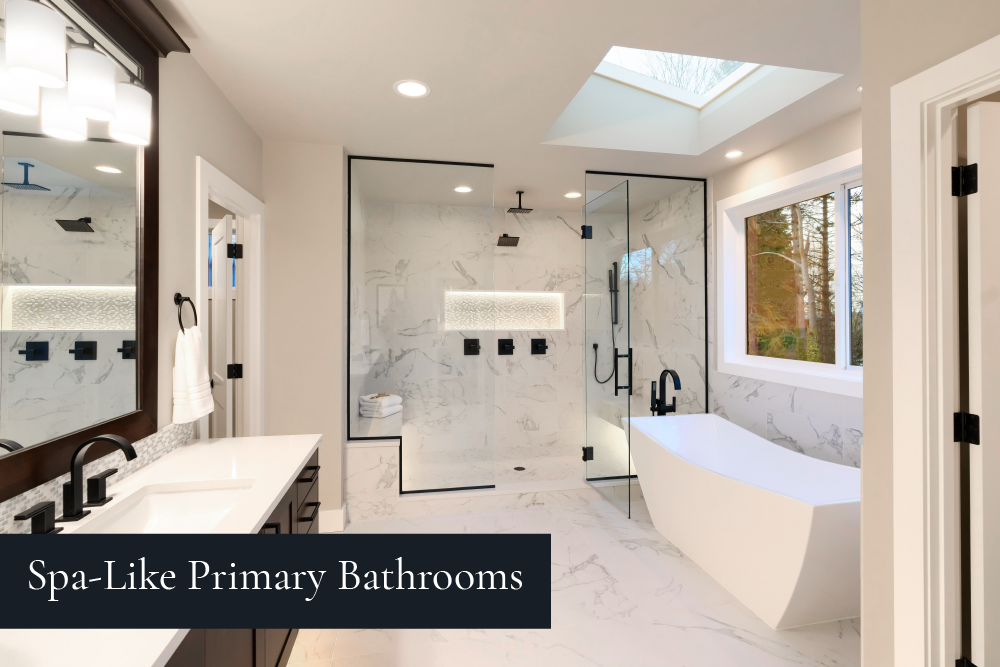 Spa-Like Primary Bathrooms
When you're in the market for a new luxury home, make sure that the ones you are considering have spa-like primary bathrooms that feature huge walk-in closets and plenty of counter space.
It's no longer popular to have shower/tub combinations in the bathroom. Instead, look for attached bathrooms with stand-alone bathtubs or deep soaking tubs installed in a nook that's separate from the shower area. You'll also want a bathroom with a spacious shower, one that has a handheld sprayer, body jets, and a rain head fixture.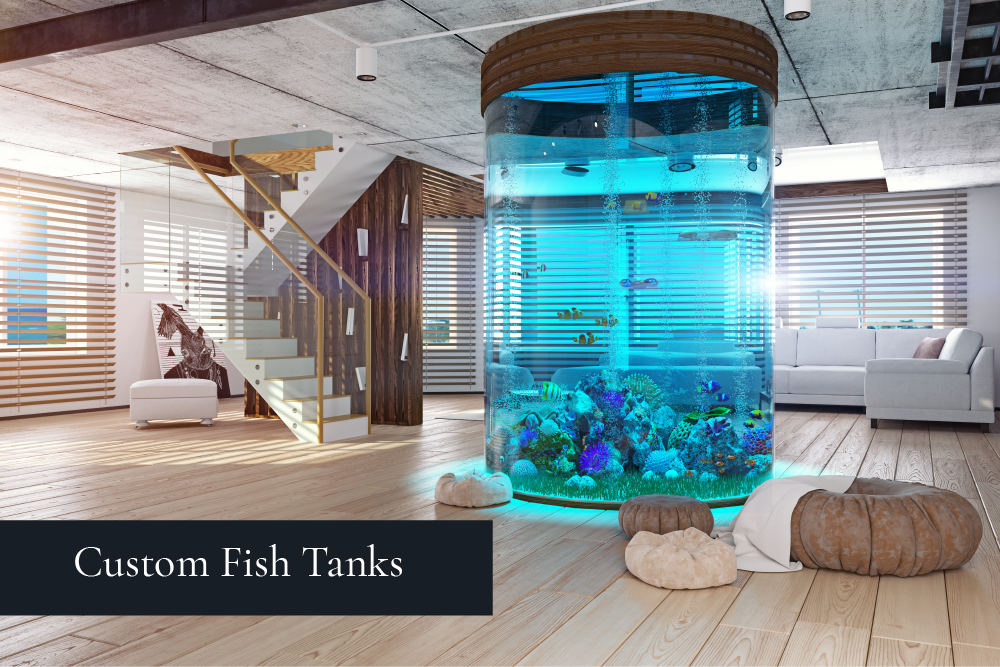 Custom Fish Tanks
Custom aquariums are a popular luxury design feature. A custom fish tank can give your home's living spaces balance and harmony. They may also decrease stress, help you sleep better, and reduce anxiety. To make it a true luxury feature, designers are using them as a living room focal point. Aquariums built as a circular structures provide an organic effect to a home. It also adds a beautiful element to a part of a home that would have remained empty and unused such as the middle of a staircase. You might even come across a fish tank placed in the ceiling. This placement will give you a unique and memorable home amenity.
Touchless Water Faucets
Touchless water faucets are manufactured to include infrared sensors that activate the faucet valve when they detect motion. This luxury feature in new homes decreases the spread of germs and provides you with added convenience. If you're cooking raw meat like chicken, then you'll appreciate being able to wash your hands without contaminating the faucet to do so. Touchless water faucets can also reduce water waste since they will remain on for just the time that you're using them.
Dedicated Entertainment Spaces
Game and movie rooms are almost a requirement of luxury homes. When you move into a luxury home, you'll love having separate entertainment spaces. This high-end feature will make it easier to keep your home tidy. You'll also appreciate the separate space when family members or friends wish to play games or watch movies and others who don't. Game and movie rooms let everyone participate in their preferred entertainment.
These days, luxury homes may include indoor basketball courts, well-stocked bars, and zero-gravity swimming pools. When you own a home with these fine amenities, you won't ever need to leave the comfort of your own home to have a good time.
Modern Countertops
A few years ago, granite was the most popular material for kitchen and bathroom countertops. Marble was another popular past choice. Today, there is a newly popular material in town, which is quartzite. It is one of the trendiest materials you can install. Regular quartz is also a popular choice due to its color variety, durability, and lack of maintenance.
Quartzite is a different material from regular quartz. When you have quartzite in your home, you'll have a material that is natural stone instead of an engineered product.
The benefits of quartzite include its:
• Similar appearance to marble
• Easy maintenance
• Resilience
The downside to quartzite is that the color choices are more limited. If you want the material, you'll have to be okay with a white or gray shade. Also, some quartzite counters require sealing.
The benefits of quartz are that it's:
• Nonporous and able to decrease the number of microbes that are present
• Stain resistant
• Affordable
• Low maintenance
The downside to quartz is that the seams might be a little too noticeable, and it's not as heat resistant as other materials like concrete or granite.
Large Primary Bedrooms
Large primary bedrooms are a must-have feature for luxury homes in Las Vegas. These bedrooms are elegant, and they offer style and function. Often, large primary bedrooms feature lighted tray ceilings and additional accent lighting to create a cozy ambiance.
When you purchase a luxury home with a large primary bedroom, you will likely have enough space for a sofa and even a few chairs to create a personal sitting area. You'll love having this private space when you need a slight separation from the noise and activities that may be happening in other areas of your home.
Some Las Vegas luxury homes feature a morning room within the primary suite. Morning rooms are spaces that have walls of windows positioned on three sides. These rooms usually face the east so that the homeowner enjoys a wonderful view of the morning sun.
A Home Gym
A top luxury feature of upscale homes is a personal home gym. The great thing about having a home gym is that you can exercise at any time of the day. Your home gym can be the space where you practice yoga, complete weight training, and perform a cardio routine.
When you have a home gym, you can invest in your preferred workout equipment, gear like a treadmill, elliptical machine, a rowing machine, and a weight set. With a gym in your home, it will be easier for you to stay healthy and fit.
Top Luxury Homes Las Vegas
Las Vegas luxury homes in the MacDonald Highlands community come with the kind of amenities that mimic those that you will enjoy when you stay in a five-star resort. Homes in the MacDonald Highlands community include must-have luxury features like smart technology, spacious primary bedrooms and separate entertainment spaces. For more information, contact us at (702) 614-9100.