In the realm of luxury living, the concept of home design has transcended functionality to become a canvas for self-expression and an embodiment of personal style. Luxury homes are more than just living spaces; they are exquisite creations that blend aesthetics, comfort, and innovation. The art of luxury home design is an ever-evolving tapestry that weaves together architectural brilliance, cutting-edge technology, and timeless elegance. In this blog, we will delve into the latest trends and essential tips that define the art of luxury home design.
Trends in Luxury Home Design
Sustainable Sophistication: The modern luxury homeowner places great emphasis on sustainability and eco-consciousness. Green materials, energy-efficient appliances, and renewable energy sources are now integral to high-end home design. Incorporating elements like solar panels, rainwater harvesting systems, and smart home automation not only reduces the carbon footprint but also showcase a commitment to responsible living.
Blurred Boundaries: Luxury homes are embracing the beauty of nature by seamlessly blending indoor and outdoor spaces. Floor-to-ceiling windows, expansive terraces, and outdoor lounges create a harmonious connection between the interior and the surrounding environment. This trend enhances the visual appeal and provides a holistic living experience.
Artful Minimalism: Luxury is no longer defined by excess but by thoughtful design and functionality. Artful minimalism is all about curated spaces with high-quality, statement pieces that exude elegance. Clean lines, uncluttered interiors, and a limited color palette give a sense of serenity and refined sophistication.
Technological Integration: Technology is the cornerstone of modern luxury living. Smart home systems control lighting, security, climate, and entertainment with a touch of a button. Voice-activated assistants, integrated entertainment systems, and home theaters create an immersive living experience that seamlessly integrates with everyday life.
Wellness Retreats: Health and well-being have taken center stage in luxury home design. In-home spas, wellness centers, meditation rooms, and dedicated fitness spaces reflect a growing focus on personal wellness. The trend highlights the importance of self-care within the comfort of one's own residence.
Cultural Fusion: The art of luxury home design is embracing global influences. Incorporating diverse cultural elements, from intricate Moroccan tiles to Japanese Zen gardens, adds richness and uniqueness to the design. This trend celebrates the beauty of cross-cultural aesthetics.
Tips for Crafting Luxurious Living Spaces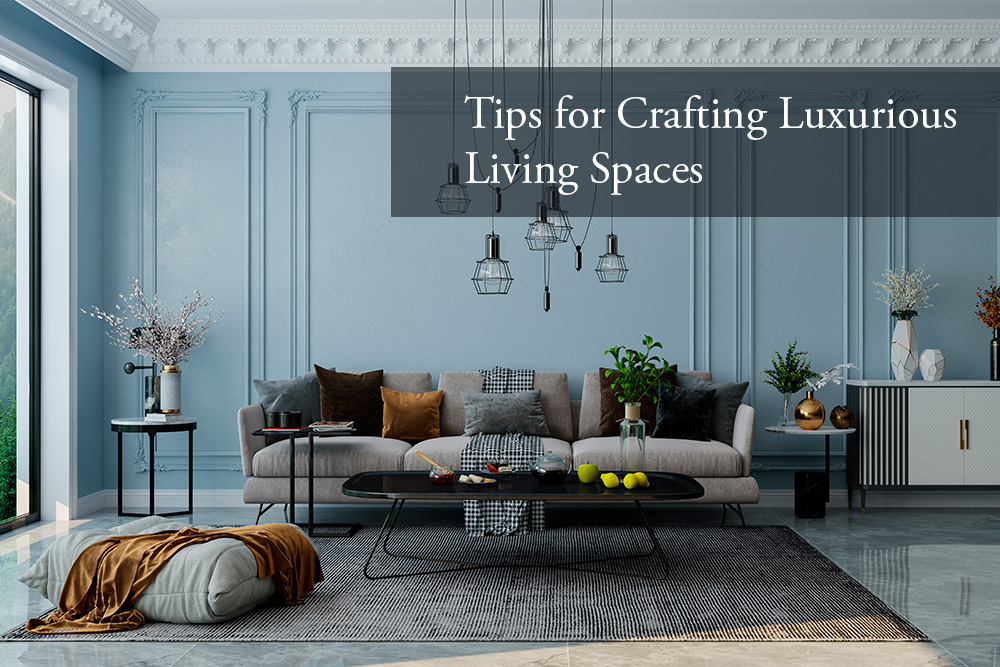 Define Your Aesthetic: Luxury home design should reflect your personal style. Take the time to define the aesthetic that resonates with you. Whether it's contemporary, traditional, minimalist, or eclectic, a clear vision will guide your design choices.
Quality Over Quantity: In luxury design, quality trumps quantity. Invest in high-quality materials, furnishings, and finishes that stand the test of time. Handcrafted pieces, natural stones, and designer furniture pieces add a touch of exclusivity to your home.
Spatial Planning: Thoughtful spatial planning is essential. Consider the flow of spaces, the balance between public and private areas, and the functionality of each room. Embrace an open layout for a sense of grandeur, but also create intimate nooks for relaxation.
Lighting Magic: Lighting can transform a space. Incorporate a mix of ambient, task, and accent lighting to create depth and drama. Chandeliers, sconces, and statement pendant lights are functional art pieces illuminating your design concept.
Texture and Layering: Texture adds dimension to your interiors. Incorporate a variety of textures through textiles, wallpapers, rugs, and upholstery. Layering different textures creates a tactile and visually appealing atmosphere.
Personalized Touches: Infuse your personality into the design through curated art collections, unique artifacts, and bespoke furnishings. Personalized touches tell a story and make your luxury home truly one-of-a-kind.
Nature's Embrace: Bring the outdoors in with natural elements. Incorporate indoor plants, water features, and natural materials like wood and stone to establish a seamless connection with nature.
Tech Integration with Discretion: While technology is important, ensure that it's integrated discreetly into the design. Concealed wiring, hidden speakers, and smart home systems that blend with the decor maintain the elegance of the space.
Architectural Details: Architectural details make a difference. Crown moldings, intricate ceilings, wainscoting, and grand staircases add character and elevate the overall ambiance.
Consult Professionals: Luxury home design is a collaborative effort. Consult architects, interior designers, and contractors with experience in high-end projects. Their expertise will help turn your vision into a reality with flawless execution.
The art of luxury home design is a symphony of innovation, aesthetics, and personalization. It's about creating living spaces that not only exude opulence but also provide comfort, functionality, and a reflection of one's individuality. From embracing sustainable practices to incorporating cutting-edge technology, the trends in luxury home design are a testament to the evolving preferences of modern homeowners. By following the essential tips and staying attuned to these trends, you can craft a luxurious abode that stands as a masterpiece of design, a sanctuary of well-being, and a true reflection of your style.
Nestled in the heart of this philosophy is MacDonald Highlands, an exceptional luxury home community located in the picturesque landscape of Henderson, Nevada. Macdonald Highlands homes are built with all of the luxury home designs you would need and want. Call us at 702-614-9100 for more information about how MacDonald Highlands embraces the essence of architectural brilliance, environmental harmony, and a lifestyle that seamlessly blends nature with innovation. As you embark on your journey to create your own luxurious haven, let MacDonald Highlands inspire you to explore the heights of design excellence and redefine the meaning of luxury living.