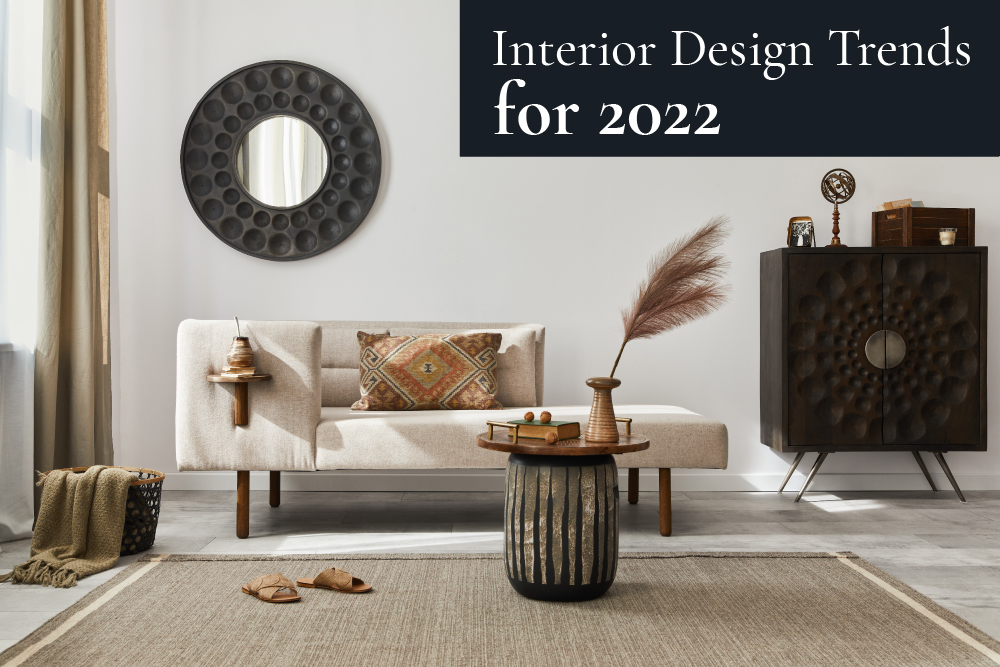 The year 2022 will be here before you know it, which means that interior designers are coming up with new ideas for home décor. Consider including one or more of these exciting new styles to keep things fresh. Here are eight interior luxury design trends for 2022.
1. Vintage Will Be More Popular than Ever
Supply chain shortages are still an issue, and many people remain concerned about the environment. These two things will keep vintage a popular trend for 2022. The great thing about vintage is that you'll end up with one-of-a-kind décor. Shopping vintage is economical and sustainable, and it is also an easy way to personalize your home.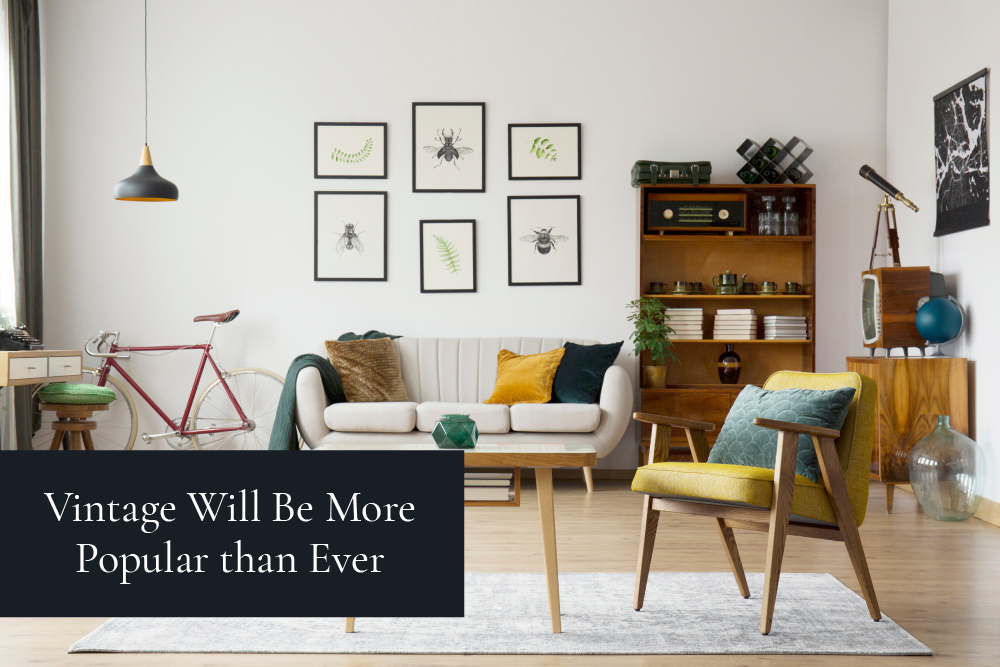 Sara Hillery, a designer for Next Wave, said, "Homes should celebrate our uniqueness, and furniture choices are an important part of that. An old piece with great patina reflects a love and respect for history and story." Along with this, you can be confident that none of your friends or neighbors will have the same décor or furniture as you when you go with something vintage.
2. Black Accent Pieces
A popular home trend for 2022 will be black accent pieces and hardware. If you decide to use black, it will give a space a bit of edge and add depth. Select light hues for the main elements, so choose light paint colors and a soft hue for your sofas. Then, bring in black accents, and this design step will give the space great contrast.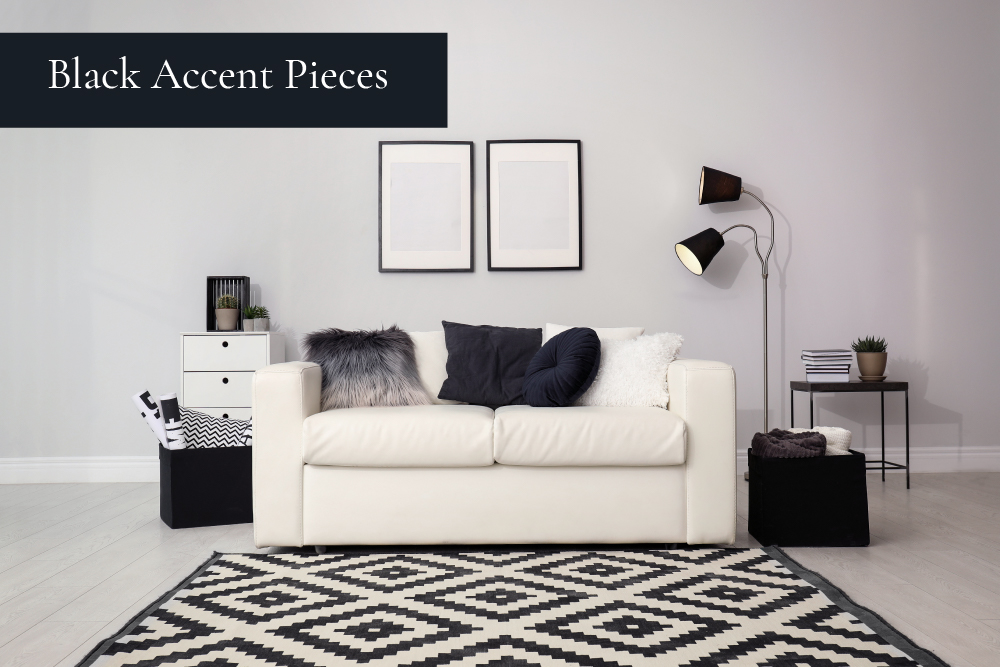 A black table lamp will emphasize an area and bring an interesting visual element to your home. If you want to keep the black additions on the small side, try changing out just the handles on items already in the space. For instance, swap out black handles on television cabinets or sofa tables.
3. Patterns and Plenty of Color
Patterns and color will be trending in luxury homes in 2022. Home design trends usually shift with the economy. If the economy isn't doing well, homeowners tend to be more conservative with their color choices by selecting shades of gray or brown. When the economy and country are doing well, people are more likely to choose patterns and colors. Even with the pandemic still around in 2022, the economy is looking good, meaning patterns and color will be popular in 2022.
According to design experts, saffron is considered the new black. Rooms with moody hues will also be popular, and many homeowners will be choosing to paint their walls vibrant colors. In 2022, powerful yellows, intense burgundies, bright blues, and hunter greens combined in patterns like plaids or stripes will be trending. These shades give a home a folk-art type of look.
Small print florals will also be a popular pattern. Think of the Laura Ashley florals that were common several decades ago. Designers are starting to layer different ones on the same furniture item to modernize florals. This type of look will make it easy and possible for you to use a few of your favorite shades.
4. Natural Materials
Design professionals are predicting that natural materials will be a trend in 2022. Using them in living and family rooms will be especially popular. Many of today's homeowners are looking for a more responsible design approach in their living rooms. When you embrace natural materials, you'll be adding longevity to your design style.
To create this style, blend natural wood with stone. This will give your living space a natural ambiance that is peaceful and calming. If you decide to use this type of color palette, you'll want a sofa that features a natural color as well as floors and walls. Then, bring in wood or stone décor pieces.
Natural lighting will also be popular. Access to natural daylight as well as outdoor views are elements that will never go out of style as a classic luxury design trend. Since people spend more time at home these days, expansive windows and high ceilings will be trending in 2022. Expansive windows will give your home plenty of natural daylight and better exterior views, which will relieve stress and inspire your creativity.
5. Multi-Purpose Spaces
The pandemic revealed the importance of the home being a haven. Because of this, there is a more significant demand for home versatility that involves turning spaces into an area where different activities or tasks can be done. For instance, kitchens or living rooms that can double as work areas.
Outdoor areas turning into more living or entertainment space is something else that's trending. This involves adding full wall glass doors that homeowners can open up to merge a living or family room with an exterior deck or patio.
6. Curved Furniture Pieces
Curved furniture is predicted to be a trend in 2022. Curved furniture is a mid-century design style from the '60s and '70s. When you add a curved piece to a room, it will give the space a soft ambiance. A curved sofa will slide into a living room corner easily, or you might want to install a curved kitchen island for a modern touch. If you decide to use something curved to make a design statement, go with barrel-back chairs or a side table with curved supports.
7. Eco-Friendly Materials
Sustainable materials will continue to be popular in 2022. When you use energy-efficient products in your home, you'll decrease your energy costs and reduce your lighting needs. Materials that are recycled, ethically produced, and reclaimed are especially popular with younger generations. By including these types of products in your home, you'll be making your home easier to resell. It's also possible to get almost anything made from sustainable materials these days.
8. Welcoming Work Spaces
Since the world has entered a new age that involves hybrid work schedules and remote work, welcoming home offices will be trending in 2022. People are performing more of their work tasks using Zoom, which means they want their home office to be inviting and appealing. Also, homeowners are starting to need more than one workspace so that they have one for each partner or spouse. People need a place where they can work without family disruptions.
Work from home spaces are often like mini-libraries that include lots of cabinets, paneling, and even a pretty exterior view. Depending on the size of your home, you can install a cozy work nook or turn an entire room into a work-from-home space. To create one that works for you, be sure to select good seating, a comfortable desk chair, and a great desk. Search for a beautiful writing desk that lets you show a bit of your personality.
If you can place your home office near a window, this is best. The natural light may inspire your work attitude and make it easier to maintain scheduled work hours. After choosing an area for your office, include things that you love in your workspace. Add colors that lift your mood and textures that you find comforting.
Luxury Homes in Las Vegas
The MacDonald Highlands community is a lavish neighborhood where you can build a dream home with your preferred luxury design. As a resident, you'll enjoy:
• Awe-inspiring views
• Access to a renowned golf course
• Hiking trails
To learn more, contact us today at (702) 614-9100.