Luxury homes in Las Vegas are perfect for holiday parties. If you've decided to host a big, fabulous holiday party, you'll want to start planning it right away to ensure that you'll create an unforgettable night for your friends and family. These 11 luxurious holiday party ideas will help you make everything perfect.
1. Draw Attention to Your Home's Best Features
If your home's luxury design includes a gorgeous staircase or an impressive entryway, then add holiday party decorations that draw attention to them. Wind garland through your staircase banister to give it a festive look or add holiday lights to the entryway. Decorate your fireplace mantel with candles, red or green ribbon, and your favorite holiday figurines.
2. Add More Candles and Flowers
Luxury homes look festive with holiday decorations. With holiday decorations like candles and flowers, feel free to overdo it. When you add an abundance of candles and flowers, you'll give your holiday party a lush and luxurious feel. A dinner table filled with fresh holiday flowers or an arrangement featuring a collection of candles will look spectacular.
3. Decorate with a Theme
When you decorate your McDonald Highlands home with a theme, it's easy to pull everything together. A white Christmas party theme will look modern and elegant. Decorate the interior of your home with white decorations like holiday lights and fake snow. If you want to go all out on the theme, urge your guests to participate by wearing white winter apparel.
You can even theme the food by keeping everything white. That way, you can avoid serving red wine, which comes with the added benefit of no red wine spills. White-themed food and beverage ideas include white wine, eggnog, and sugar cookies formed into snowflakes or snowmen.
4. Send Festive Invitations
For more prepared planning, send festive invitations to your guests. This will make it easier to purchase the proper amount of food, drinks, and gifts. Keep the design of your invitations simple and elegant to give your guests a sneak peek into what they can expect at your party.
5. Play Holiday Music
Play holiday music during your party. Hook up a quality stereo system, hire a DJ or bring in a live piano player. Use music to set the mood. If you want to host a relaxed and comfortable party, then choose soft, jazzy holiday tunes to play on the stereo. If you prefer to host a dance party, then go with a DJ, and ask them to play holiday dance music. A live piano player will give your party a tasteful element, which is perfect for holiday parties in luxury homes.
6. Choose the Right Lighting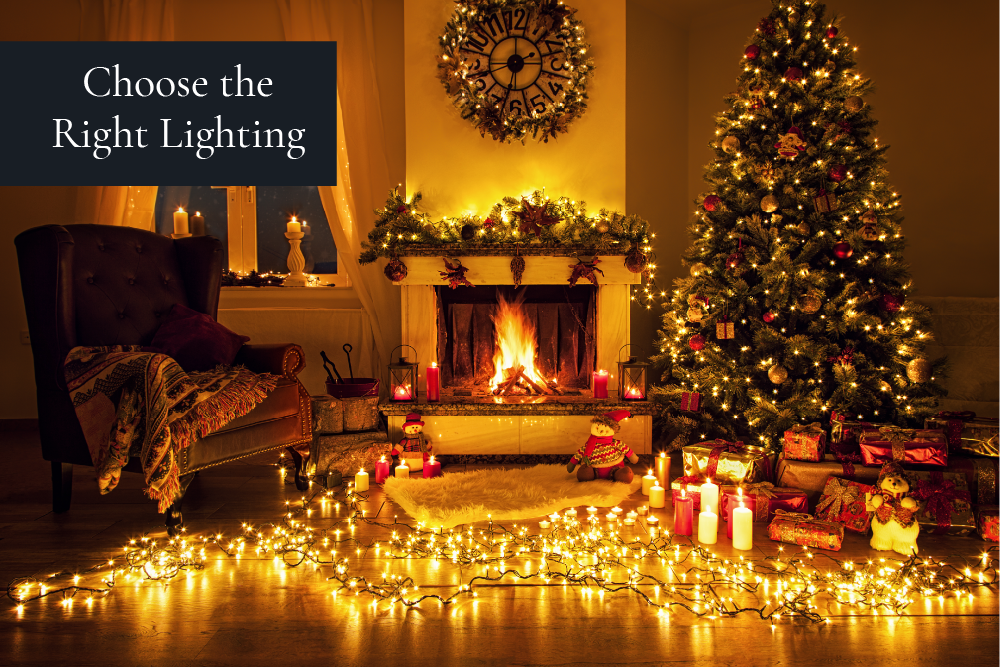 Lighting has as much of an impact on your holiday party's ambiance as music does. Luxury homes in Las Vegas usually feature fireplaces. If you have one in your home, then light a fire in it before the party. You can keep the dining room chandelier turned on overhead but turn off or dim any other overhead lighting that you have in your home.
To give your party a warm ambiance, make sure that your lighting setup features several different sources. You can add table lamps and floor lamps to the dedicated conversation areas in your home. Also, candles are a great way to bring in mood lighting. Consider including a lighting effect by uplighting your Christmas tree. You can do this with the mantel too. The best lighting for any room with luxury design elements features a combination of accent lights, task lighting, ambient lighting, and floor lamps.
7. Plan a Sit-Down Dinner or a Buffet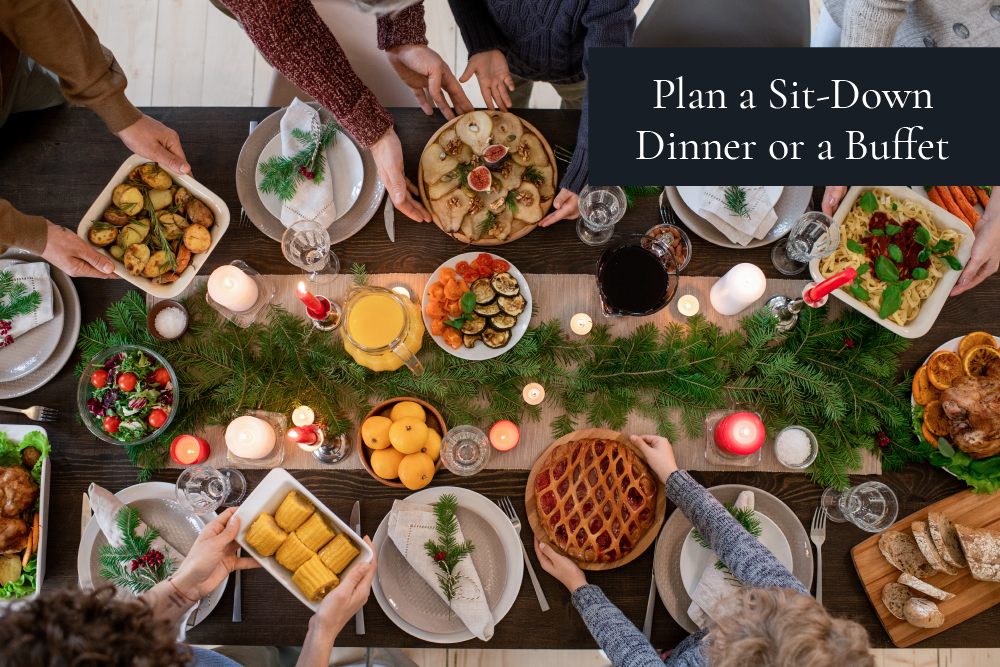 For an upscale holiday party, prepare a sit-down dinner for your guests. However, if you're planning a big holiday event, then you may not have enough seating available. In this case, offer several different kinds of hors d'oeuvres and serve them to your guests at buffet tables. When you start considering the menu, go with caviar and champagne if you're planning a fancy party. You can also serve a shrimp cocktail and crème brulée.
Make sure that the food at your party is high quality and filling. Also, serve food to your guests on proper plates. Don't use plasticware during a luxury holiday party. Consider hiring a caterer. That way, you can host the party instead of worrying about the food and beverages.
8. Spring for a Full Bar
The best way to serve beverages at an elegant Christmas party is to spring for a full bar, one that's stocked with top-shelf alcohol and a variety of mixers. This will give you the opportunity to use the special bar glasses that have been collecting dust in your storage room. If you're planning a more intimate event, then be sure to purchase one type of:
• Scotch
• Vodka
• Rum
You should also get a selection of wine and beer as well as a few non-alcoholic beverages for your guests who are the designated drivers. To give your holiday party a special touch, serve a seasonal signature cocktail like an eggnog colada, peppermint white Russian, or mulled wine.
9. Offer Valet Parking
Consider offering valet service. The last thing that you want is for your elegantly dressed guests to park their cars on the street and then hike to your home. While you could hire your nephew or a teen from the neighborhood to do it, keep in mind that they won't be insured if there is an accident involving one or more of the cars. Instead, hire a valet company. A professional company will send an expert or two out to park the cars. To keep your guests from feeling like they should tip, offer the valets a bonus to decline them.
10. Plan a Fun Holiday Activity
Keep your guests entertained with a fun holiday activity like:
• Donut decorating
• Cardmaking
• A talent show
Encourage your guests to tap into their creative juices by decorating holiday donuts. If anyone doesn't want to participate, ask them to judge. Offer a prize to the winner.
Purchase card-making supplies and urge your guests to make their own this year. They can do this instead of buying them. They're sure to have fun personalizing their holiday cards to send to their friends and family.
Your guests will also love participating in a holiday talent show during your holiday party. You'll allow them to share their hidden talents.
11. Send Your Guests Home with Party Favors
Give your luxurious holiday party the perfect finale by sending your guests home with party favors. Choose something that your guests will use, like food. You can also get them a special keepsake such as a Christmas tree ornament or a holiday candle.
A Party to Remember
Your dream home is waiting for you in the McDonald Highlands community. Those who live in the neighborhood enjoy amenities like walking trails, swimming pools, and stunning views. As the owner of a luxury home, you're sure to love entertaining guests during the holidays. By including holiday party elements like themed decorations, tasty food, and music, you'll create a memorable evening for your friends and family. To learn more about the McDonald Highlands community, contact us today at (702) 614-9100.