Kitchens are experiencing a revitalization since more people are focusing on healthy eating instead of dining out. This is causing homeowners to design extravagant kitchens in their luxury homes in Las Vegas, spaces where they can cook meals at home in style. If you're ready to update your kitchen, consider including one or more of these 12 high-end kitchen features. 
1. Stunning Kitchen Cabinets
Your kitchen cabinets are a main feature of your high-end kitchen design. The cabinets set the tone for the space, and they come in a variety of colors, styles, and materials. Don't worry about making the right decision when choosing your cabinets. Instead, purchase cabinets that suit your functional needs and are in the style and color you like.
2. Luxury Flooring
Flooring is an important feature in your kitchen. Select a material that will hold up to the excess use that kitchen floors must endure. Luxury flooring options include bamboo, concrete, and hardwood. Choose a floor that complements your kitchen cabinets or vice versa. Also, keep in mind that you may wind up spending long periods of time standing on your kitchen floor while completing food preparation, so you may want to choose a material that will be kinder to your feet and legs.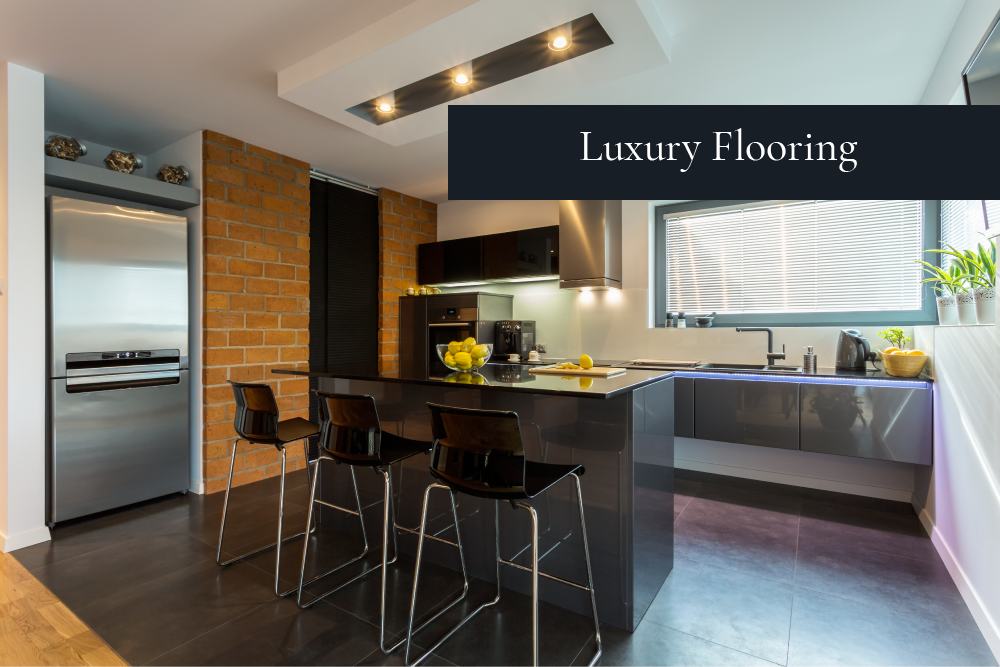 3. A Counter-Depth Refrigerator
The refrigerator is a kitchen staple since it safely stores your home's perishable food. These days, there are many different refrigerator styles, shapes, and colors. When it comes to high-end kitchen features, you'll want a counter-depth fridge. This type of refrigerator won't take up extra space. Instead, it will give your kitchen a streamlined luxurious look.
4. Hidden Trash Containers and Recycling Bins
Like your kitchen's refrigerator, you'll want the trash containers and recycling bins to be tucked out of the way. When you set them next to the kitchen island, you'll have to move around them. If you leave them out, they may also attract insects and emit unpleasant odors.
Trash containers and recycling bins can be hidden inside the kitchen cabinets. Kitchen design companies are able to create a drawer to house them, one that blends in with your other kitchen cabinets.
5. An Open Design
When building a custom home in Las Vegas, request an open design. This type of design will give you plenty of space to cook and entertain guests. With an open design, other people can help you in the kitchen. It also gives your home a more expansive feel.
6. A Drawer Dishwasher
A drawer dishwasher is a luxury appliance that is easy to use. You can also use the dishwasher drawers to store clean dishes and give you access to several cleaning drawers. This feature adds to the luxury of the item since you won't be losing kitchen storage space. You can install drawers in different areas of the kitchen for added convenience. For instance, place one or two near the prep area and a few more by the sink. This setup will make cleaning up fast and easy.
7. Refrigerated Drawers
Refrigerated drawers are another luxury design feature in kitchens. Use these handy drawers to increase the amount of cold food storage that you have available. The best ways to use them include positioning one at a lower height to store soda, juice, and after-school snacks for your kids, reserving a refrigerated drawer for fresh produce, and setting aside another refrigerator drawer for dairy items and condiments.
You can stack these handy drawers in a cabinet or place them in different sections of the kitchen for more convenience. You can also order these drawers to be positioned in a way that mimics a cabinet or get them with a lighted glass door.
8. A Beverage Area
Luxury homes in Las Vegas often have kitchens with a beverage area. You'll love the convenience of this feature. Include as many beverages as you want, depending on the amount of space that you have available. Beverage ideas include:
• Soda
• Juices
• Coffee
• Tea
• Power drinks
• Wine or other alcoholic drinks
Depending on the beverages that you decide to include, you may want to add other appliances to your beverage station. Ideas include:
• An ice maker
• Refrigerator drawers
• A wine refrigerator
• Storage cabinets
• A blender for mixed drinks
• A sink
9. Shelves and Racks that Roll Out
Instead of bending down to search through low cabinets to find Tupperware lids or the baking ingredients that you need, install shelves and racks that roll out. This feature makes finding what you need easier. The great thing about this amenity is that you can customize it based on your needs. For instance, you can order them so that they're large enough to fit different sized pots and pans or for small appliances.
Roll-out shelves are available in stainless steel or wood. With these options, you can give your kitchen the look that you want. You can also get sliding shelves that are sized for baskets or other small containers, which will help you keep your kitchen tidy and well organized.
10. A Pot Filler
While it's a small accessory, you'll love having a pot filler in your kitchen. It is an item that will give your kitchen a luxurious feel. It is also super handy. A pot filler eliminates the job of moving heavy pots filled with water from the sink to the stove. These plumbing fixtures are installed right over the stove, and there are different styles available so that you can maintain the luxury design of your kitchen.
11. Exotic Kitchen Counters
Using an exotic wood for countertops is a must-have feature for today's luxury kitchens. Instead of marble, choose an exotic wood that contains a pretty wood grain. Recommendations include African mahogany, teak, and zebrawood. African mahogany is a hardwood that has vertical bonds and an alternating ribbon pattern. You can get African mahogany in a light or dark reddish-brown tone. Teak comes in lots of different colors ranging from yellow to an orange-brown shade. Zebrawood is a strong wood, and it features stripes that vary from light brown to black.
12. Add a Walk-In Pantry
If you cook a lot in your kitchen, you'll appreciate having a walk-in pantry. With this type of food pantry, you'll have the space that you need to store your food and even a few small appliances. Design one with drawers and built-in cabinets. If you order a large enough pantry, you'll be able to store your fancy china, crystal, and kitchen towels in it too.
When designing a walk-in pantry, make space for a refrigerator, a wine cooler, and plenty of shelving. Be sure to include a blend of open shelves and ones with glass doors. If you're storing appliances in the pantry, you'll want to make it easy to access them.
Building a Custom Home in Las Vegas
The MacDonald Highlands community features luxury homes, ones with the kind of amenities that make you feel pampered. As a resident, you'll have access to fitness facilities, restaurants, and a golf course. You can also build your own custom home. By building your dream home, you'll be able to include the luxury kitchen features that you've always wanted. For more information about living in MacDonald Highlands, call us today at (702) 614-9100.