Tag:
gated community las vegas
In the realm of luxury living, the concept of home design has transcended functionality to become a canvas for self-expression and an embodiment of personal style. Luxury homes are more than just living spaces; they are exquisite creations that blend aesthetics, comfort, and innovation. The art of luxury home design is an ever-evolving tapestry that weaves together architectural brilliance, cutting-edge technology, and timeless elegance. In this blog, we will delve into the latest trends and essential tips that define the art of luxury home design.
Trends in Luxury Home Design
Sustainable Sophistication: The modern luxury homeowner places great emphasis on sustainability and eco-consciousness. Green materials, energy-efficient appliances, and renewable energy sources are now integral to high-end home design. Incorporating elements like solar panels, rainwater harvesting systems, and smart home automation not only reduces the carbon footprint but also showcase a commitment to responsible living.
Blurred Boundaries: Luxury homes are embracing the beauty of nature by seamlessly blending indoor and outdoor spaces. Floor-to-ceiling windows, expansive terraces, and outdoor lounges create a harmonious connection between the interior and the surrounding environment. This trend enhances the visual appeal and provides a holistic living experience.
Artful Minimalism: Luxury is no longer defined by excess but by thoughtful design and functionality. Artful minimalism is all about curated spaces with high-quality, statement pieces that exude elegance. Clean lines, uncluttered interiors, and a limited color palette give a sense of serenity and refined sophistication.
Technological Integration: Technology is the cornerstone of modern luxury living. Smart home systems control lighting, security, climate, and entertainment with a touch of a button. Voice-activated assistants, integrated entertainment systems, and home theaters create an immersive living experience that seamlessly integrates with everyday life.
Wellness Retreats: Health and well-being have taken center stage in luxury home design. In-home spas, wellness centers, meditation rooms, and dedicated fitness spaces reflect a growing focus on personal wellness. The trend highlights the importance of self-care within the comfort of one's own residence.
Cultural Fusion: The art of luxury home design is embracing global influences. Incorporating diverse cultural elements, from intricate Moroccan tiles to Japanese Zen gardens, adds richness and uniqueness to the design. This trend celebrates the beauty of cross-cultural aesthetics.
Tips for Crafting Luxurious Living Spaces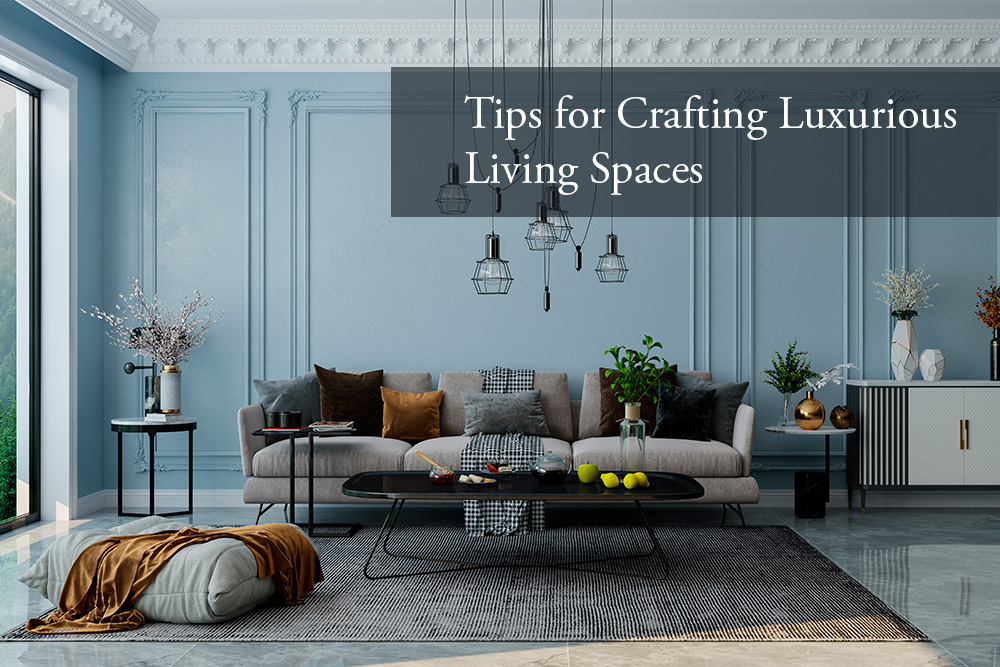 Define Your Aesthetic: Luxury home design should reflect your personal style. Take the time to define the aesthetic that resonates with you. Whether it's contemporary, traditional, minimalist, or eclectic, a clear vision will guide your design choices.
Quality Over Quantity: In luxury design, quality trumps quantity. Invest in high-quality materials, furnishings, and finishes that stand the test of time. Handcrafted pieces, natural stones, and designer furniture pieces add a touch of exclusivity to your home.
Spatial Planning: Thoughtful spatial planning is essential. Consider the flow of spaces, the balance between public and private areas, and the functionality of each room. Embrace an open layout for a sense of grandeur, but also create intimate nooks for relaxation.
Lighting Magic: Lighting can transform a space. Incorporate a mix of ambient, task, and accent lighting to create depth and drama. Chandeliers, sconces, and statement pendant lights are functional art pieces illuminating your design concept.
Texture and Layering: Texture adds dimension to your interiors. Incorporate a variety of textures through textiles, wallpapers, rugs, and upholstery. Layering different textures creates a tactile and visually appealing atmosphere.
Personalized Touches: Infuse your personality into the design through curated art collections, unique artifacts, and bespoke furnishings. Personalized touches tell a story and make your luxury home truly one-of-a-kind.
Nature's Embrace: Bring the outdoors in with natural elements. Incorporate indoor plants, water features, and natural materials like wood and stone to establish a seamless connection with nature.
Tech Integration with Discretion: While technology is important, ensure that it's integrated discreetly into the design. Concealed wiring, hidden speakers, and smart home systems that blend with the decor maintain the elegance of the space.
Architectural Details: Architectural details make a difference. Crown moldings, intricate ceilings, wainscoting, and grand staircases add character and elevate the overall ambiance.
Consult Professionals: Luxury home design is a collaborative effort. Consult architects, interior designers, and contractors with experience in high-end projects. Their expertise will help turn your vision into a reality with flawless execution.
The art of luxury home design is a symphony of innovation, aesthetics, and personalization. It's about creating living spaces that not only exude opulence but also provide comfort, functionality, and a reflection of one's individuality. From embracing sustainable practices to incorporating cutting-edge technology, the trends in luxury home design are a testament to the evolving preferences of modern homeowners. By following the essential tips and staying attuned to these trends, you can craft a luxurious abode that stands as a masterpiece of design, a sanctuary of well-being, and a true reflection of your style.
Nestled in the heart of this philosophy is MacDonald Highlands, an exceptional luxury home community located in the picturesque landscape of Henderson, Nevada. Macdonald Highlands homes are built with all of the luxury home designs you would need and want. Call us at 702-614-9100 for more information about how MacDonald Highlands embraces the essence of architectural brilliance, environmental harmony, and a lifestyle that seamlessly blends nature with innovation. As you embark on your journey to create your own luxurious haven, let MacDonald Highlands inspire you to explore the heights of design excellence and redefine the meaning of luxury living.
Luxury homes in Las Vegas serve as an oasis where you can escape the summer heat after you enjoy exploring the city. While you should be able to rest comfortably indoors, the truth is that keeping your house cool can get challenging once the temperatures start to rise. The good news is that you don't have to work too hard to keep your new home cool when you know these simple tips and upgrades for making sure that your house is always cooler indoors than it is outside.
Do a Few Simple HVAC Maintenance Tricks
Luxury real estate in Henderson, NV, typically comes with the best HVAC systems already installed, and you'll want to plan for annual inspections to make sure the unit on your house is ready to work all summer long.
You'll want to have a professional technician handle major repairs, but you can do several simple tasks each year to make sure your home's system operates at peak efficiency. Try adding these tasks to your summer prep list to give your home's HVAC system a boost.
•Change the air filter
•Clean the intake vents
•Remove debris and leaves from the outside unit
•Listen for any unusual sounds that signal a need for repairs
Install Energy-Efficient Windows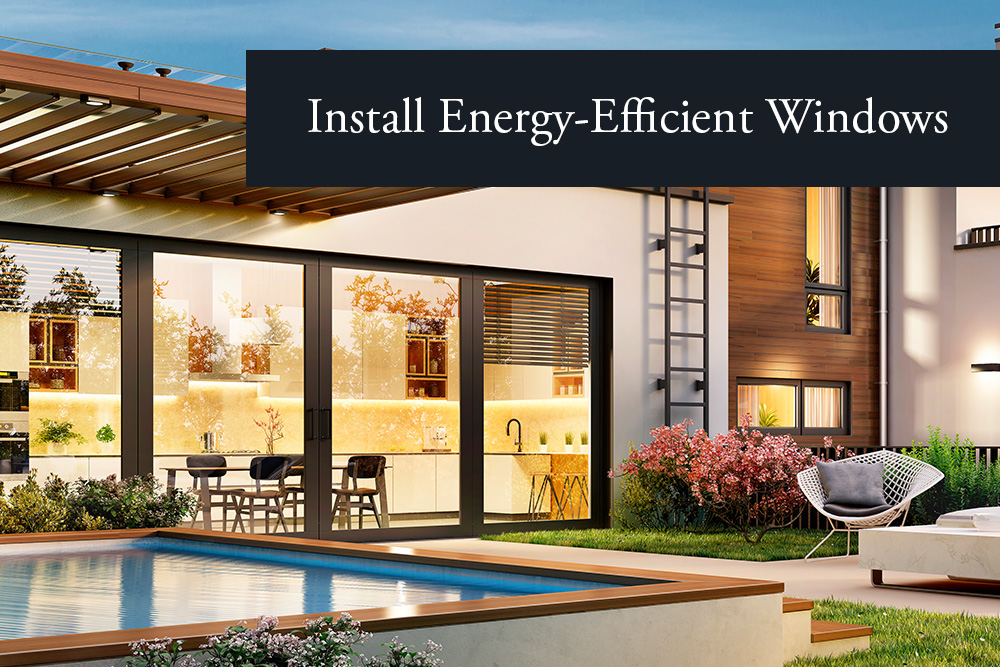 When you are building a custom home in Las Vegas, you'll be provided with an opportunity to select the windows. Although the most energy-efficient windows will cost more, most homeowners find that it all evens out when they save more on summertime utility costs. Asking the builder which windows they recommend for your house can help you choose to stay cooler.
Consider Window Tinting
Residential window tinting has come a long way from the bubbly cling film people once had to use in the past. Today's window tints come in more subtle shades that can enhance your property while also adding a layer of privacy that also blocks out the sun. You can also opt to only tint windows that allow large amounts of sunlight to come inside, such as a back kitchen window that adds unnecessary heat to the space where you need to cook. If you're replacing windows, look for tinted glass with built-in light-blocking qualities.
Hang Light-Blocking Window Treatments
Many luxury homes in Las Vegas are built with large picturesque windows that allow for gorgeous views. But, you might find that floor-to-ceiling windows come with the slight drawback of allowing way too much sunlight in on a hot day. Adding strategically chosen window treatments is the perfect way to preserve your view without sacrificing comfort.
Whether you choose light-blocking drapes made from a heavyweight fabric or special honeycomb shades for a more delicate touch, you'll find that this part of cooling your home is quite fun since it allows you to express your personality.
Use a Programmable Thermostat
People often make the mistake of shutting the HVAC system off while they are at work all day to try to conserve energy. However, this technique tends to backfire when the system has to work that much harder to get the house cool again. Plus, you'll be sweating until the temperature finally starts to go down sometime around your bedtime.
Programmable thermostats give you more control over the indoor temperature during your time away. You can choose to have the house start cooling down before you head home from work so that you're greeted with a cozy interior as soon as you walk through the doors. Smart thermostats are also great for maintaining the ideal temperature inside when you're traveling or prefer a specific temp for better sleep.
Pick the Right Placement for the Thermostat
Having a thermostat that is located in the coldest part of your home might cause it to fail to register that the rest of the house is hot. The same effect can also happen if you have a fan blowing directly on the thermostat, which makes the room feel colder than it is. If you believe the thermostat is located in a less-than-ideal location, then having it reinstalled in a better location can help it operate more efficiently.
Keep the Air Circulating
When you're selecting features for luxury homes in Las Vegas, make sure to include ceiling fans throughout the various rooms. Similar to window treatments, you can pick from various styles and models of fans to add a decorative touch to each room that also serves an important function.
Maintaining good air circulation helps to push the cold air downward where it hits your body rather than staying up high. Just make sure the blades are set to spin counterclockwise to generate the best effect. In the winter, you can reverse the blades to achieve a similar effect for keeping your house warm.
Plan a Backyard Cookout
Cooking on a hot day rarely pans out well since you'll be making the kitchen piping hot with every burner you turn on. If your luxury home has an outdoor kitchen or grill, then now is a great time to use it. Whether you plan to make a fancy steak dinner for two or grill some vegan burgers for your family, you'll find it's easier to enjoy your meal when your home's dining area is cool.
If you want to add a social touch to your dining experience, then consider using a grill in one of the many parks that make your new MacDonald Highlands neighborhood so friendly. Or, you could opt out of cooking entirely and drop into the Montrose for a luxurious dinner or spend time by the pool during one of the many themed dining events the community hosts each summer.
Minimize Your Use of Other Hot Appliances
The stove isn't the only appliance in your home that gives off heat. Large flat-screen TVs, computer monitors, and dryers can all make your house hotter. You'll naturally need to use all of these things at some point during the day, but you can choose when to do so. Choosing to do laundry earlier or later when the temperatures aren't so high can help keep the appliances from impacting your comfort. Turning off the TV when you aren't actively watching it is another temperature-lowering measure that works for keeping your house cooler.
Add Shade Around the Exterior of Your Home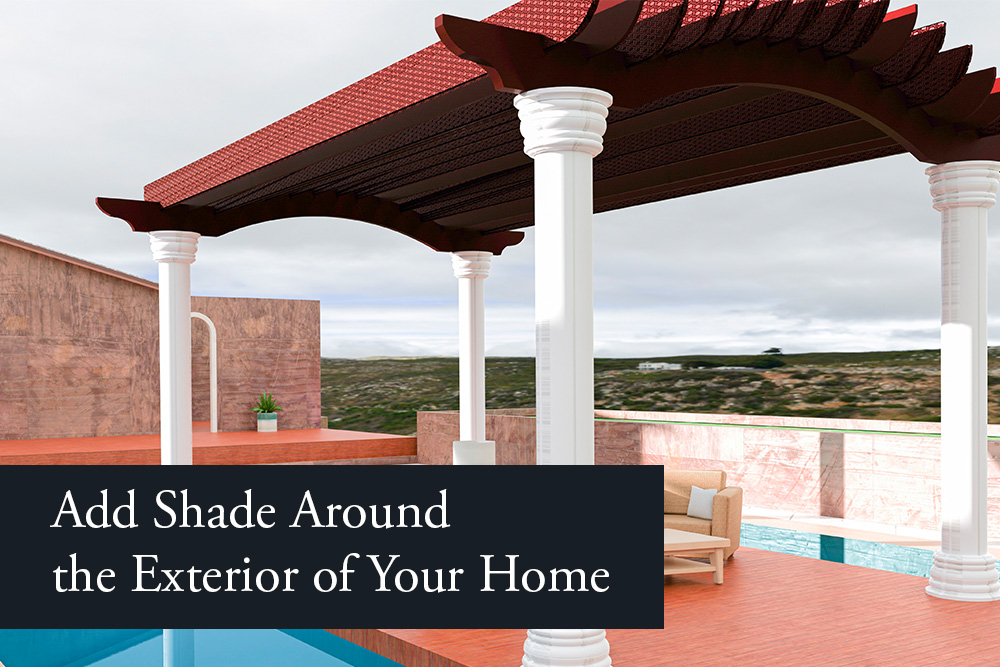 Depending upon where you choose to build a luxury home in Las Vegas, you might have a few mature trees scattered about your property that help provide shade for your house. Or, you may need to plan for some additional plants in your landscaping design. Adding trees and shrubs can help block the sun from hitting your house. Pergolas and awnings are additional ideas for features to add that help shade the outer parts of your home during the summer, and these can also have the effect of blocking sunlight from entering the nearby windows.
The location you choose for your home is an essential factor that affects how easily you can keep it cool. Many of our Macdonald Highlands homes are built on thoughtfully planned lots that are angled to provide relief from the hot desert sun while also allowing for strong energy flow throughout the space. When beating the heat is a priority, just let us know when you reach out by calling us at 702-614-9100 for more information. We'll point you to the best lots and architects for designing a home that is a true desert oasis where you can enjoy a respite from the heat.