3 Ideas for a Beautiful Easter Tablescape
News Home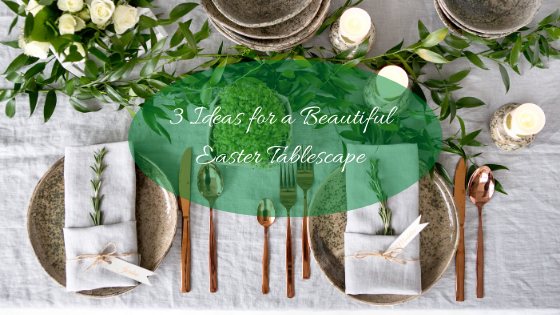 While it's easy to overlook Easter as a big decorating holiday, it is one that lets you welcome spring and adds a bit of whimsy to your home. At the MacDonald Highlands community, we encourage our residents to enjoy the holidays. We also make building a custom home in Las Vegas easy. If you love the holidays, consider including built-in shelving for your home to give you a place to display your holiday décor. You can also welcome in the holidays by decorating your kitchen table. Here are three ideas for a beautiful Easter tablescape.
Green and White for Easter
When it comes to decorative tablescapes, you'll want to consider the holiday and what would complement your home's current style. Color is a great way to do this. Green and white tend to blend well with most interior home styles. It's a classy color combination that also welcomes in the holiday. With this decorating idea, you can go bold or subtle. For boldness, use bright shades of green and add small touches of white here and there for balance. If you want something subtle, then focus more on white décor. You can use a white tablecloth, white flowers, and white candles. Include a few green touches by adding natural foliage.
Decorate with Bunnies
To make your table pretty and welcome in the holiday, decorate with white bunnies. If you use white bunnies, you'll give your tablescape an elegant holiday look. Include fancy champagne flutes filled with an egg and a few white flower arrangements. Search for different types of bunnies to give your décor visual interest. Add color other ways. For instance, if you include flower arrangements, keep the green leaves and stems. You could also display a bit of color with a centerpiece that features jellybeans or Cadbury eggs if the treat is a must-have for the holiday.
Use Romantic Flowers
Flower arrangements featuring pink peonies, purple tulips, and white roses are a great way to create a beautiful tablescape. Light and fresh, these types of flowers gently welcome in the holiday. Enhance their pastel shades with a few Easter touches like crystal bowls displaying tastefully decorated Easter eggs or a brown or white bunny or two. You can get Easter salt and pepper shakers for a subtle nod to the holiday or a decorative piece that mimics the look of a full-size chocolate bunny if you prefer to be loud and proud when decorating for the holiday.
The MacDonald Highlands community is the perfect neighborhood for creating holiday memories with your family and friends. Along with incredible homes, breathtaking views, and first-class amenities, you'll be living in an area that encourages community support. Contact us at (702) 614-9100 for more information.