4 Luxury Design Trends That You Need in Your Life
News Home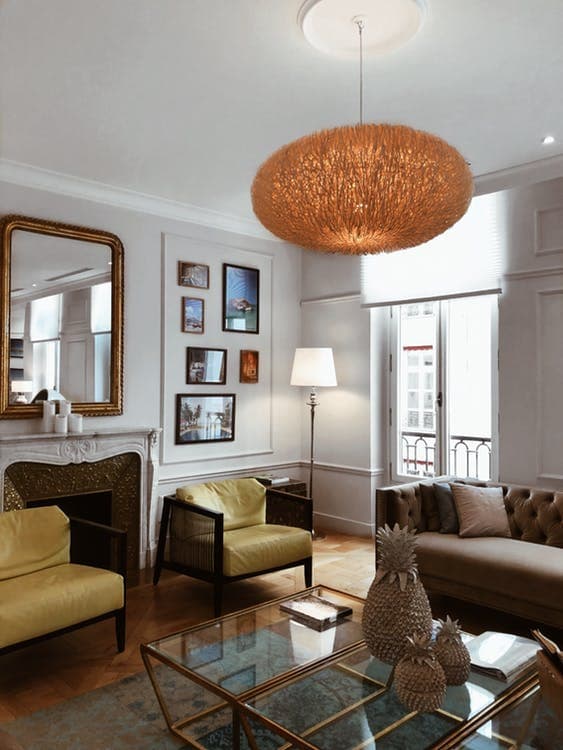 Are you in the market to redesign your living space? Whether it's a house or a studio apartment we have some great luxury design trends that will you create the perfect space. We have combined some older and newer trends in this article for people who want to kick it old school and for those people who love to stay with the times. Let's kick it off with a mixed metals look!
Many interior designers choose to pair gold accessories with other gold features and very rarely silver accents. Traditionally, different metals were never mixed to create contrast; people used to only pair accessories with the same type of metal. Now, however, more designers are using mixed metals in interior design to create contrast and new styles.
Luxury-Design Trend: Mixed Metals
Well, in 2017, the new luxury home trend is breaking all the rules. It's all about mixing metals for your interior design—gold with steel, silver with copper, and other combinations have become a popular interior design trend. Mixing different types of metals in your home decor will make your space stand out. Mixed metals in interior design can work for small accents as well as large main pieces in a room. The opportunities are endless.
Go out of the design box but plan out your design
If you choose to go against the one-metal rule, be creative but plan out where you're going to break the rules. A design trend can become overwhelming if you overdo it. If you want to introduce the mixed metals trend slowly into your interior design, go for accent pieces first.
If you have a blank slate for your interior design, look through mixed metal inspirations and create your own design from them. Planning the design is the best way to make sure your interior doesn't begin to look like a metal shop.
Don't be afraid to be inspired
You don't have to reinvent the design wheel when it comes to mixed metals in interior design. Look for some inspiration if you don't know where to begin. Sometimes it's the best way to get an idea. If you aren't sure how to mix gold with a darker metal, look for interiors that have played around with these two metals and build your design from there. Sometimes, designers just need some precedents or inspiration to create something great.
If metals are not your cup of tea then maybe the opposite will get you excited. Adding some matte black home accessories can give you the style you are looking for.
Luxury-Design Trend: All-matte Black Home Accessories
It's time to transform your interior design into the dark home you've been waiting for. This luxury design trend is the dream of any luxury haunted house and all the ghouls will die—again—of envy.
Does it come in black?
Black has been a staple of minimalism design—probably because it goes with everything. The sleek finish of a black interior or trendy home accessories gives your home a classy touch.
For a stylish interior, what could be sleeker than all-matte black home accessories? The matte monochromatic home accessories will pair well with an original Eames chair for a tres chic living room. This luxury design trend is versatile to not just a living room, but also for the kitchen and bathroom.
Nothing will look chicer than baking some treats with an all-black mixer. If you have a choice of color for your home accessories, always choose black.
Versatile with other colors and materials
The luxury design trend of all-matte black home accessories can bring a chic finish to any color palette. When combined with wood features, the black accessories serve as a backdrop to highlight the uniqueness of the wood finish.
Use black accessories if you're trying to make a vibrant color or complex material pop in your interior. A black cabinet set will blend out in your interior and drive the focus on your new velvet armchair.
With all that black we are going to need to shed some light on the situation. Unique light fixtures can bring a beautiful touch to your home and will be as useful as it is beautiful.
Let There Be Light!
Bring on the statement pieces through light fixture designs. There are so many opportunities in home lighting to express your creative side and mix up the standard large chandelier every luxury home has as their centerpiece.
This luxury design trend of going for more organic or artistic lights for the home. Many artisans creating breathtaking pieces everyone wants to have as their wow factor for their houses.
Bring on the Brightness of Unique Light Fixtures
Is a large, gaudy chandelier not the style of your luxury home? Customize your home with sizeable artistic light fixtures. Not only will they provide light, but they will make your house look more like your unique style.
Natural forms
If you like your vegetables organic, then these light fixture designs are made for your luxury home. Whimsical chandeliers are adding nature to your home in creative ways. Your guests are wowed by the sight of a large organic light filling your room with brightness and art.
Organic light fixtures are excellent for more modern home styles with more of a playful taste.
The modern chandelier
We have come to know the chandelier as a sign of regality and luxury. This luxury light fixture is getting a current upgrade for more minimalist home designs. A more rustic chandelier brings nature into a room for the home designs with accents of the countryside.
The use of metals to replace the standard crystals of a chandelier provides a more minimalistic take. Geometric angles and monochromatic light fixture designs give your home a simple touch of light.
Mood lighting
Does a bright room make you happier? LED lights are proving a way for you to up the feeling in space or set it for the right mood. Color lighting with unique light fixtures brings in the right hue to give you a specific sense when you're inhibiting the room.
Play around with the colors in your space to see how you feel. Choosing a light that matches the mood of the room tends to be the best choice.
2019's Biggest Trend Is…
The biggest trend for interior design in 2019 is (of course) sustainability. This unsurprising trend is taking the world by storm. With global warming in the news and people wanting to get involved, sustainability is what's in. When looking to redesign your house or apartment keep in mind that less is more. Ask questions about where the materials came from in the items you purchase and do some research on the carbon footprint that they will ultimately leave behind. Consider adding some plants into your color scheme. It will create an earthy feel to space and add a richness to the room.
Are You Looking For a New Home To Call Your Own?
For the best Las Vegas luxury homes check out MacDonald Highlands. They will have everything you need to live your life at a higher level. Design and build the home of your dreams here in Las Vegas. Contact us today for more information.