4 Unique Recipes to Try for Your 4th of July Barbecue
News Home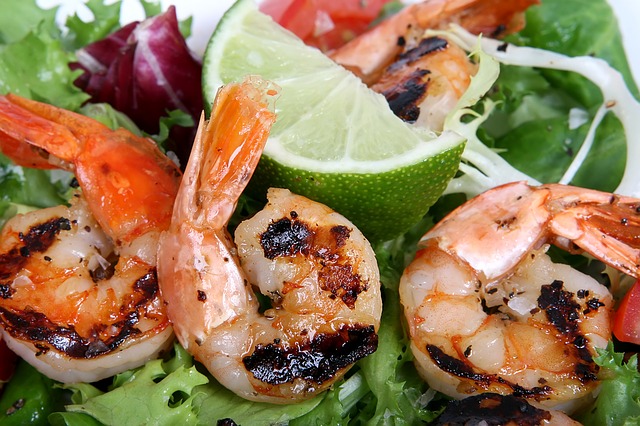 Are you tired of the same hot dog and hamburgers at your Fourth of July barbecue? If you're expecting guests with certain diet restrictions, you may need to broaden your barbecue recipes to include a recipe they may also enjoy. Provide a unique menu that all of your party guests can experience and enjoy.
These unique menu ideas range from tasty vegetarian BBQ recipes to sizzling appetizers that will have your party guests begging for more. Create a great menu for your Fourth of July party with an all-inclusive menu. Step up your barbecue game this Fourth of July.
4 Barbecue Recipes to Try on the Fourth
Give your guests a barbecue menu they never expected. These recipes will make your Fourth of July party a big hit!
Grilled Shrimp Salad
This is one of our favorite fresh recipes. It's so delicious, your guests will ask for seconds.
2 medium heads of Romaine lettuce
2 lb of grilled shrimp, deveined and peeled
2 sliced avocados
2 tbsp red onion, diced
2 cups of sliced grape tomatoes
¼ c extra-virgin olive oil
¼ c lime juice
1 tsp of Dijon mustard
Kosher salt
Ground pepper
1 garlic clove, minced
1 tbsp cilantro, chopped
In a large serving bowl, add chopped romaine lettuce, avocado, tomatoes, and red onions. Then, combine the olive oil, lime juice, Dijon mustard, garlic, cilantro, salt, and pepper to create a vinaigrette. Mix the salad, and top with grilled shrimp.
Pickles Meet Bacon
The next of our grill recipes is a fun one! Try this upgrade of the pigs in a blanket recipe.
12 slices of bacon, cut in half
12 mini dill pickles
1 clove of garlic, chopped
1 ½ cups of shredded cheddar cheese
1 block of cream cheese, softened
Preheat your oven to 350 degrees. In a bowl, stir the cream cheese, garlic, and cheddar cheese together until mixed well. Cut your pickles in halves and scoop out the center. Add the cheese mixture to the center and wrap it with the bacon slice. Bake until the pickle is warm and the bacon is crispy. Serve while hot.
Fresh Salad with Grilled Mozzarella
Let the cheese meet the grill with this smoked mozzarella salad recipe.
3 tbsp olive oil
1 pint grape tomatoes, halved
2 tbsp balsamic vinegar
6 cups packed baby arugula
½ cup panko bread crumbs
⅓ cup fresh basil leaves
1 ½ lb smoked mozzarella
First, cover your mozzarella slices in 2 tablespoons of oil and coat with panko. Freeze the cheese for 20 minutes. In a large bowl, toss the arugula, halved grape tomatoes, balsamic vinegar, basil, 1 tablespoon of olive oil, and ¼ teaspoon of salt and pepper. Spray your grill and heat on medium heat. Place the cheese and cook it for 2 minutes or until grill marks appear and crumbs are golden. Repeat on the opposite side. Serve on top of the salad mixture.
Red, White, and Blue Parfaits
Add a patriotic flare to your dessert menu with this fresh parfait recipe.
8 canning jars
1 cup of fresh blueberries
10 oz of angel food cake
2 cups of strawberries, halved
8 oz whipped cream
In one jar, add a first layer of angel food cake. Then, add a layer of 2 tablespoons of halved strawberries. On top of that, add 1 tablespoon of blueberries. Add a layer of whipped cream. Repeat the layers until canned jar is full. Serve immediately.
Host the Perfect Barbecue in the Perfect House
Have your family friends over to your gorgeous luxury home with a great backyard from MacDonald Highlands. We also have a clubhouse available to our residents if you want to throw a spectacular Fourth of July party. Visit us today to view our community.