Be Our Guest! Tips to Make Your Guest Room Feel Like Home
News Home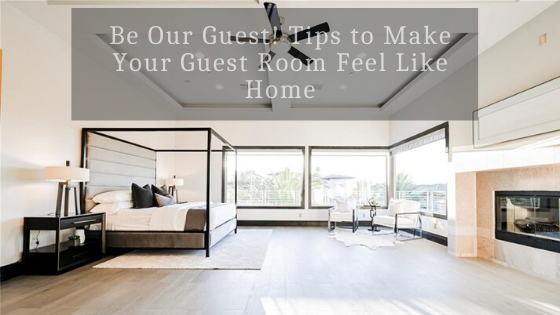 When you're a guest in someone else's home, it can feel as though you're invading their space, which is the last thing that they want. If you've invited someone to stay in your home, you want them to feel comfortable. Here are a few tips to make your guestroom feel like home.
Tip One: Invest in a Comfortable Bed
To make your guests feel at home, don't toss any old mattress that you have lying around in the guestroom. Purchase a quality mattress that will help them rest comfortably. If the budget is tight, buy a decent air mattress. Nice ones are comfortable, and you can place it on a box spring.
Tip Two: Provide Additional Linens
When guests come to stay, make sure that they have access to a spare set of sheets, extra blankets, and additional bath towels. Accidents can happen, and they'll want to change their bedding personally. Also, some guests want to change their sheets when leaving.
Tip Three: Decorate Minimally
A guestroom may seem like the perfect place to display your seashell collection, or you might be tempted to use the closet in the space for clothes that are out of season, but clear the clutter from the guestroom if you want to make people feel at home. Before your guests arrive, assess the space, and if there's anything there that wouldn't be in a hotel room, consider relocating it for the duration of their stay.
Tip Four: Add Comfortable Seating
Some people don't want to sit on the bed when they're spending time in their room. If you have space, add a comfortable chair as well as a small table and a lamp. This can be a good spot for putting on shoes or reading a book. You might want to leave out a notebook and a pen in case they need to write something down.
Tip Five: Include the Basics
When putting a guestroom together, be sure to include the basics like a lighted clock near the bed that features an alarm. If there is a bathroom in the guestroom, offer simple toiletries such as shampoo, soap, and a few new toothbrushes. Your guests will be appreciative if you give them a hairdryer and maybe an iron and an ironing board. If you don't have the space for these things, be sure to show them where you keep yours.
MacDonald Highlands Real Estate
Your guests won't want to leave after you make their room feel like home. The MacDonald Highlands community is a great place to call home. Not only does the neighborhood feature lovely contemporary homes, but it also comes with amenities designed to pamper residents. There are MacDonald Highlands lots for sale. Contact us at (702) 614-9100 for more information.