Building a Custom Home v. Buying a House in Las Vegas
News Home
If you're ready to live in your dream home, you may be torn between purchasing a home that's move-in ready and building a home that's designed for you specifically. Here's what you need to know about building a custom home in Las Vegas vs. buying one.
Advantages of Purchasing a Pre-Built Home
The most significant benefit of purchasing a pre-built home is that you'll live in your dream home immediately. The outdoor space is likely to be complete, and you may have the opportunity to live in a neighborhood with established trees and neighbors who are happy to tell you which restaurant has the best Italian food.
Disadvantages of a Pre-Built Home
A major downside to buying a pre-built home is that you'll live in a home designed for someone else. A pre-built home may have the spacious kitchen and open floorplan you want, but it may not have enough bedrooms or space for a home gym. If you don't like the current landscaping or fence, it can be expensive to make changes.
Advantages of Building a Custom Home
An advantage to building a custom home is that you'll be the first one to use everything in the home. When you build a custom dream home, you'll get to select the:
• Layout of the home
• Number of bedrooms
• Number of bathrooms
• Size of lot
Newly constructed homes cost less for homeowners to maintain initially. Luxury homes in Las Vegas are also more energy-efficient, and yours will include the amenities that you need and want.
Homes that are being built now are manufactured from materials that feature a higher level of energy-efficient elements. They also include modern appliances that operate more efficiently.
With a new home, you won't have to worry about whether earlier residents maintained it properly. Also, maintenance and repairs won't be needed for a while after moving in.
What is the Cost of Building a Dream Home?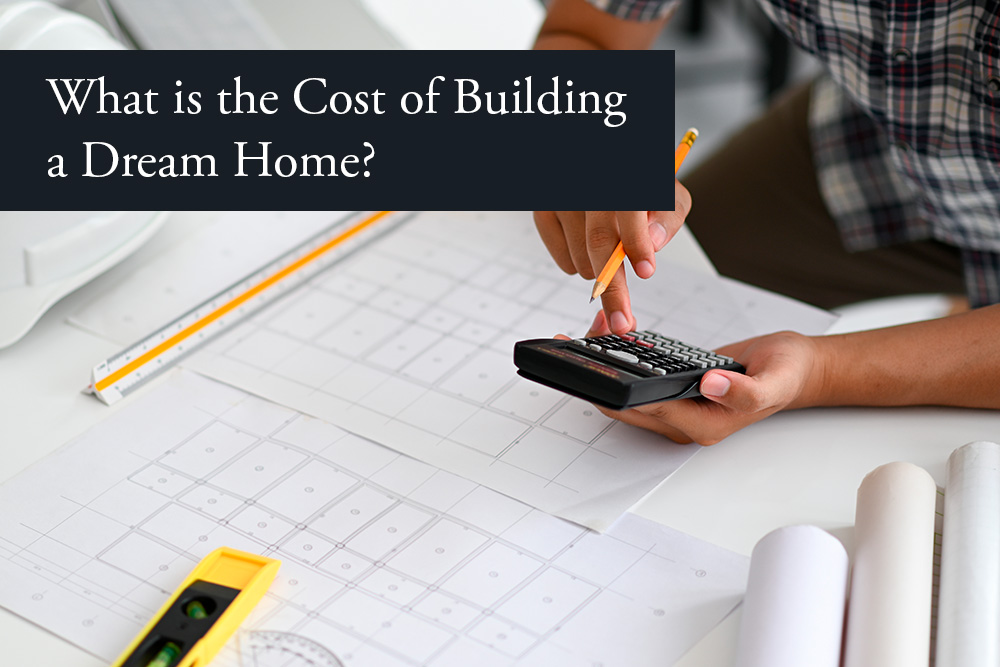 According to statistics, building a custom dream home ranges from around $200 to $300 a square foot. However, the cost will depend on the location of your house, the size of your lot, and the features you decide to include.
When a construction company gives you a cost quote, it should include permits, construction materials, and labor, and it should also include the cost to clean up after the home is complete.
If you decide to construct a two-story home, it will likely be less expensive than a one-story home. This is because the roof and foundation of a two-story home are usually built on a smaller footprint, and two-story homes also have less roof area for you to maintain.
You may want to consider a two-story home if you have kids because this type of home offers more privacy. However, you'll want to think about accidents that can happen from landings and stairs.
A single-story home will give you more space for each square foot. They are also ideal for older people since there are no stairs. Single-story homes are quieter to live in, and they give people a wide range of design choices.
How Long Does It Take to Construct a New Home?
Depending on the extensive design of your dream home, the average construction timeframe ranges from 10 to 16 months. The main reason for the timeframe is that most people who want a custom home have their own personal ideas and custom floorplans that increase the building period.
Once you've made the decision to build a home, be sure to hire a professional contractor, one who knows about the permits required to build, building permits can take a long time to obtain.
Keep in mind that environmental conditions may also impact how fast a home is built. Topography and the type of soil that the home will be constructed on will affect the speed of the build. For instance, if you're building a home using a slab that will be on a site that's level and has stable levels of soil draining, it will take about half as long as a home that you've decided to build on a hilly lot.
The amount of time that it takes to build your home will also depend on the skill level of your building company.
What are the Disadvantages of Building a New Home?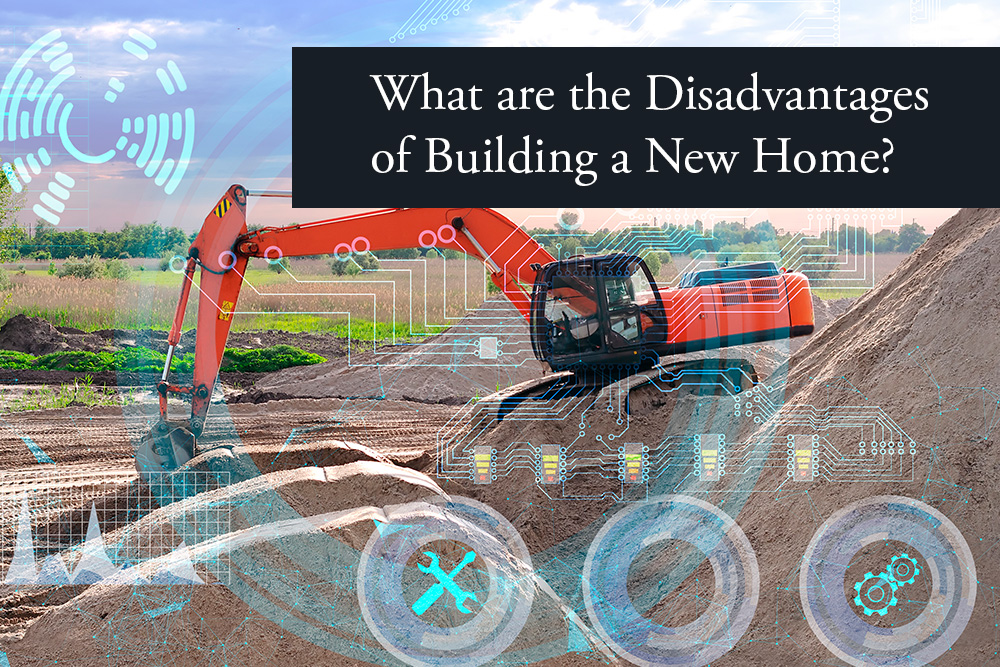 The biggest downside to building your dream home is how long it will take to complete the building process. Along with this, the cost of building a home is not fixed, which means you won't know the full cost of your home until it is finished. After starting a home, the construction costs can spiral out of control.
When taking the path of building your own home, you'll want to oversee the construction process as much as possible to ensure that you're paying what you expect. This will help you understand when and why something costs more than what was quoted or what you expected.
Be ready to spend some time searching for the right home design. You'll want to ensure that it will work on the land you've purchased and for the needs and wants of you and your family.
House Building Steps
Here are the main steps for building a home.
1. Readying the building site and pouring the cement for the foundation.
2. Building the basic framing.
3. Finishing the foundational plumbing, electrical, and HVAC.
4. Installing the home's insulation.
5. Finishing the drywall.
6. Completing the inside textures.
7. Beginning the exterior finishes.
8. Completing the inside trim and beginning on the driveways and sidewalks.
9. Installing the floor.
10. Completing the mechanical trims.
11. Installing basics like shower doors, toilets, and mirrors.
12. Finishing the landscaping.
Tips for Building a Home
Once you have a plan, keep it in place. Avoid making changes after your builder has started construction. Be sure to budget more to build the home than you'll think that you'll need. Research home construction companies in your area to ensure that you hire an experienced builder with a solid business reputation.
Read through your building agreement thoroughly. In fact, if you have a friend or a family member who works with contracts, consider having them read through it as well. You could also have a lawyer check it to make sure that there isn't anything hidden or unexpected in the contract.
Arrange your financing. Review your finances to see if you'll need a financial boost. Communicate with your builder throughout the building process. Keep an eye out for ways to reduce costs. Also, hire an independent home inspector for a final inspection after your home is complete. Know what rights you have when building a home in case something happens.  Discover The Latest Interior Design Trends for 2023 here.
Building a Custom Home in Las Vegas
Building a custom home in Las Vegas has advantages, like constructing your dream home in your dream location. When you build a home in the MacDonald Highlands community, you'll enjoy benefits like the security of living in one of the best gated communities in Las Vegas, access to a highly respected golf course, and scenic walking trails. For more information, contact us at (702) 614-9100. Read on how to create a luxurious New Year's Eve environment at home.