Fall Drinks Upgrade: 3 Unique Hot Chocolate Recipes
News Home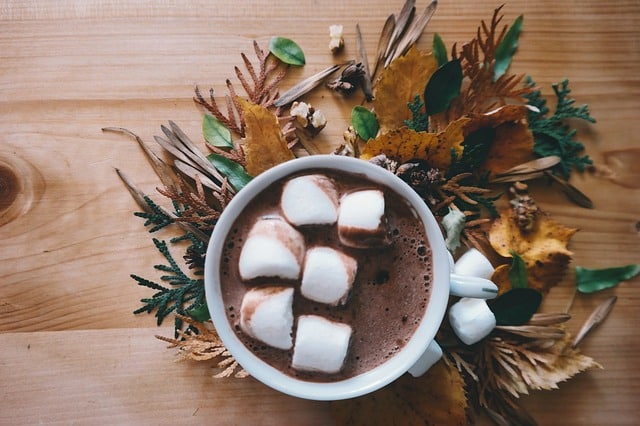 While everyone is preparing for pumpkin spice everything, it isn't an exciting time of the year for non-coffee drinkers. But if you are an avid hot chocolate drinker, upgrade your standard drink with these unique hot chocolate recipes. These warm fall drinks will beat any others with coffee.
3 Unique Hot Chocolate Recipes
Hot chocolate with marshmallows isn't the only way to sip on this warm drink this fall. The recipes for hot chocolate for the fall will make you feel cozy and warm while watching the leaves change. These are also great to make as a treat for your kids when they come home from school.
Red Velvet Hot Chocolate
Who doesn't love red velvet? Making this hot chocolate recipe will become an instant favorite. You'll need:
4 cups whole milk
1 dash water
3/4 cup semi-sweet chocolate chips
1/4 cup sugar
1 tsp. red food coloring
1 cup heavy whipping cream
2-4 tbsn whipped cream cheese, room temperature
In a mixer, combine your heavy cream and sugar. Whip at medium speed for two minutes. Then, add cream cheese to the mix, and whip for two more minutes.
In a medium saucepan, heat milk on medium heat. Next, add the chocolate chips and a splash of water to the milk, constantly stirring the mix. Add the red food coloring once the chocolate chips are melted. Once the chocolate chips are thoroughly melted, pour drink into mugs and top with cream cheese whipped cream.
Salted Peanut Butter Hot Chocolate
This hot chocolate recipe is for those who love the marriage of peanut butter and chocolate.
1/4 cup sugar
3 cups milk
1/4 cup cocoa
3-4 Tbsp creamy peanut butter
1/4 cup water
Sea salt for taste
On medium heat, add water, sugar, and cocoa to a saucepan, whisking until smooth. Add milk to the milk and heat until steaming.
Then, remove the mixture from the heat, and add the chocolate chips and peanut butter. With a hand-held immersion blender, whisk the hot chocolate mixture until frothing. Add hot chocolate mix in a mug and add a touch of sea salt.
Pumpkin Spice White Hot Chocolate
Try this hot chocolate recipe if you still want to celebrate pumpkin spice this fall but don't want the coffee drink.
1 cup of heavy cream
2 cups of milk
1 cup of white chocolate chips, Ghirardelli recommended
1/2 tspn vanilla extract
1/2 tspn pumpkin spice
Whipped cream and additional pumpkin spice to sprinkle on top.
Heat milk and heavy cream in a saucepan on medium heat. Stir occasionally until hot, then remove from the heat.
Add heated cream and milk to a bowl with white chocolate chips. Stir mixture until chocolate chips are melted thoroughly. Once melted, add vanilla extract and pumpkin spice to the mix. Serve mixture in a mug and top with whipped cream and additional pumpkin spice.
Enjoy a Dreamy Hot Chocolate in Your Dream Home
You'll enjoy a hot chocolate more when you're in a luxury home at MacDonald Highlands. Our luxury home real estate is perfect for enjoying the fall weather with a cup of hot chocolate. Contact us to set up an appointment to view our houses today. Are you ready for a Life at the Top?