Luxury Backyard Garden-Inspired Wedding Ideas
News Home
Luxury homes in Las Vegas are modern and have high-end features, making them ideal for garden weddings. Outdoor weddings are easy to personalize and provide an ideal setting for amazing pictures. Here are ten luxury backyard garden-inspired wedding ideas to make the day unforgettable.
1. Create Separate Spaces
Create separate areas for the different wedding activities if you have enough space. For instance, dedicate a space for the arrivals, the ceremony, the reception, and the after-reception events. When you create separate areas, it will keep the traffic flow steady. It will also make it easier to streamline the event since you won't have to ask everyone to pause while your people set up for the next part of the wedding.
Select the most atmospheric part of the backyard for the ceremony, but try it out first to make sure that you can easily shift everyone from the arrival area to the ceremony and then to the reception. Consider every space available and take several pictures with you standing in the space at the time you plan to get married to make sure that the lighting is ideal and that the sun won't blind you during the ceremony.
As your wedding event winds down, plan to move those who remain into smaller areas. Prepare the after-reception festivities for the most intimate area of the backyard.
2. Light the Backyard with String Lights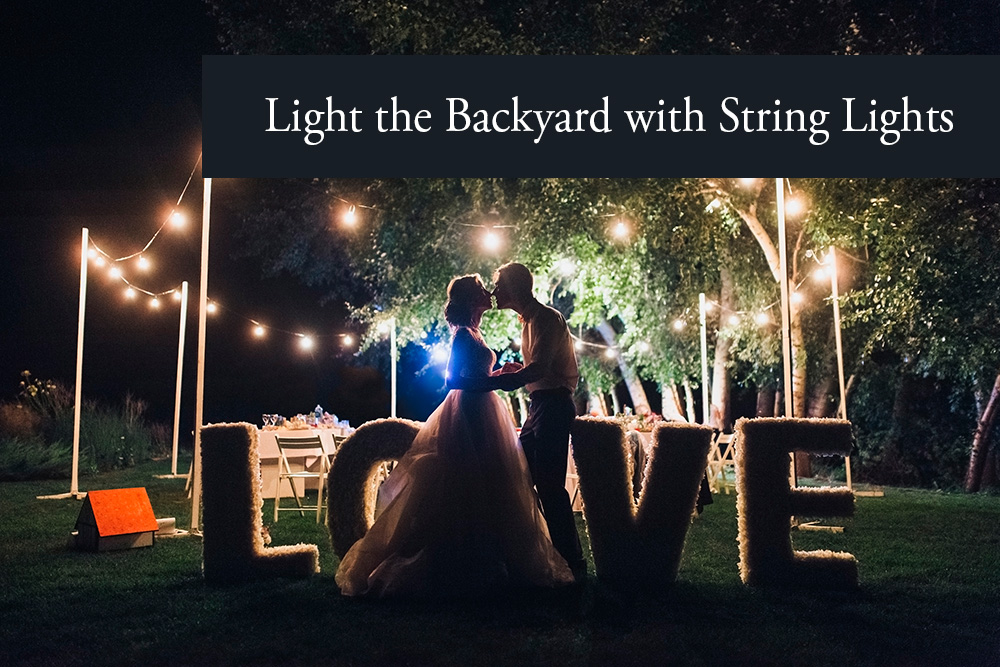 String lights will give your wedding a festive and intimate ambiance. Wrap several strands of overhead bistro lights around the main tent's beams to light up the interior. Add lights to the surrounding trees and any other structures that you have available. Bistro lights give a professional touch to gazebos and arbors.
String lights will help your guests know where the wedding will be held. They will also allow you to continue to celebrate after the sun goes down. Luxury homes look pretty dressed up in string lights.
3. Add Decoration to the Garden
While most garden weddings feature natural décor in the form of flowers, bushes, trees, and other greenery, you can embellish it to make it more elaborate for the big day. Create stunning floral arrangements using various containers. If the wedding is elegant, use vases or pretty flowerpots. If you're planning a more casual event, tin watering cans or terra cotta pots are the perfect flower containers.
Decorate the garden with tulle fabric, picture frames, or paper lanterns. If you're planning the wedding ceremony during the day, offer your guests umbrellas or hold the ceremony under a shady tree. Decorate your exterior buildings with tulle, ribbons, streamers, or string lights.
4. Choose a Color Scheme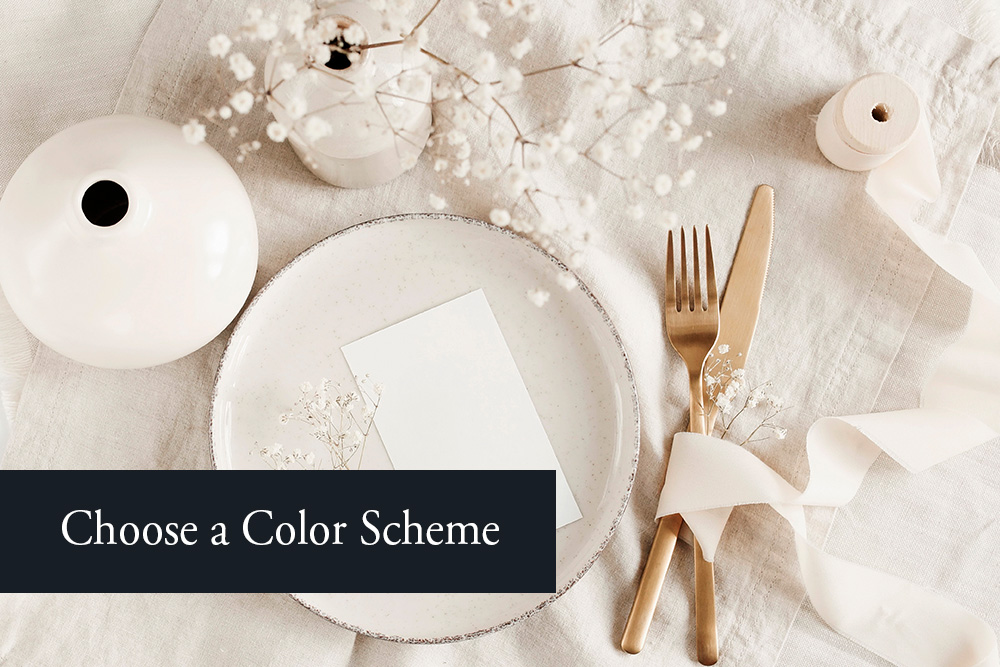 Luxury homes in Henderson, NV, usually have fantastic landscaping, but you should still choose a color scheme for your wedding. Vibrant colors are sure to enhance the celebration, and they will also add to your wedding's garden theme.
Select a bright color scheme for the bridesmaid and attendant attire. You can choose shades of pinks, purples, greens, blues, or yellows. To keep the garden theme front and center, ask the people in the wedding party to tuck lovely flowers into their hair or suit lapels.
Continue with your color scheme by using the same colors to decorate the reception area. For instance, you can place brightly colored fabric over the tables and use fresh flowers as the centerpieces.
5. Include a Dance Floor
If your luxury home in Las Vegas features a paved area like a courtyard, then you won't have to order a dance floor. Designate the paved area as the wedding's dance floor. This will give your guests a place to gather when your band performs.
If you don't have a solid surface like this, create a dance area on your lawn, but tell your guests that your dance floor is grass. Stiletto heels and lawns don't get along. Consider purchasing lawn heel protectors to save your lawn from those who arrive in heels anyway.
Purchasing alternate shoes like flip-flops or flats for dancing is another option. If you decide to offer alternate footwear, then place a bin or a cubby near the dance area where your guests can store their shoes. That way, you won't have to worry about people losing their footwear.
6. Offer an Outside Bar
Delight your guests by offering a self-serve beverage station. To make your beverage station appealing, stock a cart with champagne bottles, soda, and bottled water. If you want to kick it up a notch, rent a vintage truck or a car and place ice basins filled with drinks in the trunk.
7. Garden Theme Favors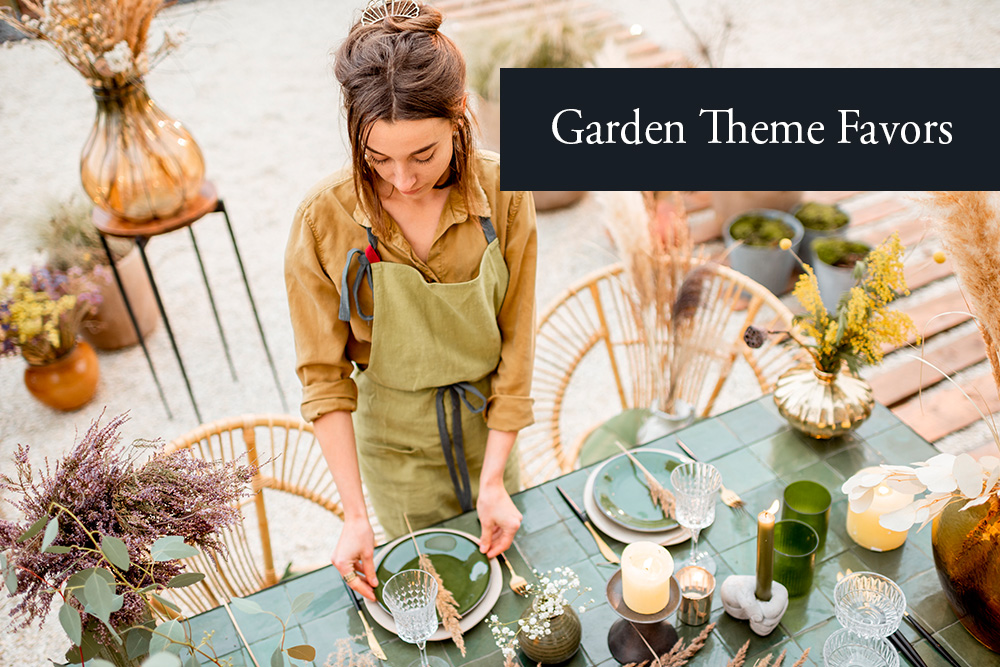 Once you've decided to go with a garden-themed wedding, continue with the theme for the wedding favors. Give your guests flowerpots that include live plants like flowers, herbs, or vegetables. Place the pots on a favor table that's decorated with tulle, ribbon, or other sparkly accessories.
8. Behind the Scenes
You'll need some essential elements for your garden wedding, like electricity and restrooms. Be sure to arrange for electricity to operate the music, lights, and microphones.
It's also essential to have enough restrooms available for the event. If you're inviting a large number of people, consider having portable bathrooms brought in, or make sure that you have the house open for people to use the bathroom. To keep people from wandering around your home, consider placing a few restroom signs on the inside and outside of your home.
9. Hire a Catering Company
The last thing you want to worry about during the wedding is the food. Hire a catering company to handle it for you. Make sure you have an area in your garden where the caterer can set up.
Plan your menu carefully. Decide whether you want a sit-down dinner with servers bringing plates of food to your guests or a buffet-style meal that allows your guests to serve themselves. You'll also need to decide if you'll serve hors d'oeuvres and glasses of champagne.
10. Plan for the Right Season
When you decide to have a garden wedding, you'll want to choose the right season. In Henderson, the summers tend to be uncomfortably hot, so this probably isn't the best season for an outdoor wedding.
In this part of Nevada, spring and fall are the best seasons for an outdoor wedding. From the end of March until the first week or two of April, the temperatures are usually in the mid-70s to 80s. October and November are typically around the same temperatures.
Remember that the Las Vegas monsoon season generally begins in mid-June and lasts until the end of September.
Las Vegas Luxury Homes
Luxury homes in the MacDonald Highlands community are the perfect place for a backyard wedding. Those who decide to live in our gated community will have access to top amenities, including an event center, a golf course, and restaurants. Many of the area's luxury homes for sale in Henderson, Nevada, include swimming pools and expansive patios. To learn more, contact us at (702) 614-9100.