New Year, New Design: Top 2021 Home Decorating Tips
News Home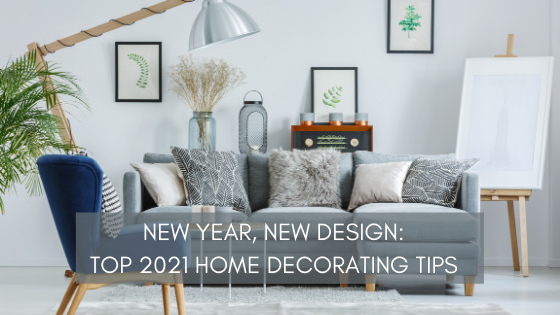 With the year 2020 on its way out, it's time to look forward to a new year—what better way than with a little home refresh. A new year needs a new design. To help, here are the top 2021 home luxury design tips.
Nostalgia is Making a Comeback
Nostalgia is coming back to make homes feel comfortable and cozy. This means that sculptural furniture, floral prints, and dramatic design elements will be popular choices. You can expect to see modern wicker furniture, arched windows, and hunter green walls.
Natural Materials are Still In
In the last few years, interior design has welcomed caned and rattan furniture, and it will remain popular next year. Natural materials are easy and comfortable to decorate around. They allow you to share your personality while providing a touch of style stability. People are gravitating to materials that support artisans and are also sustainable.
Diverse Design Inspiration
The new trend is to look to all cultures for design inspiration. You can give your home a fresh look by blending rugs from the United States with furniture from India or Japan. Eclectic design will always give your home an exciting look that appears fresh and modern.
Rustic Meets Contemporary
While these two styles seem to be on opposite ends of the design spectrum, you can combine the two for 2021. It's perfect for homeowners who prefer the comforts of a modern home mixed with character details. To create it, decorate using contemporary pieces and a few antiques. Reclaimed wood is a great way to combine the two elements. Find pieces or flooring that displays texture and grain instead of choosing a style that exhibits a shiny finish.
Grounded Colors
A popular home decorating tip for 2021 is to paint colors that make you feel grounded. Dulux's color of the year is called Brave Ground, while Sherwin Williams went with Urbane Bronze. Grounded hues include warm greens, toasty browns, and deep reds. These shades are warm and inviting. They are perfect for 2021.
Shabby Chic
Shabby chic never seems to go out of style. If you haven't embraced the design trend yet, it's time to start. Create this style for your home by blending new furniture pieces with a few things from the vintage market. You'll love the challenge of finding different items from different eras that blend well. It also lets you share your personality with your family and guests.
MacDonald Highlands Community
You'll find luxury homes in Las Vegas inside the MacDonald Highlands community. As a resident, you'll love using the golf course, fitness facilities, and clubhouse. Additional amenities include a spa and swimming pools. Once you decide to live here, you can purchase a home that's already constructed or plan your custom residence using some of these home decorating tips. For more information, call us today.