Top Organizational Tips for Your Walk-In Closet
News Home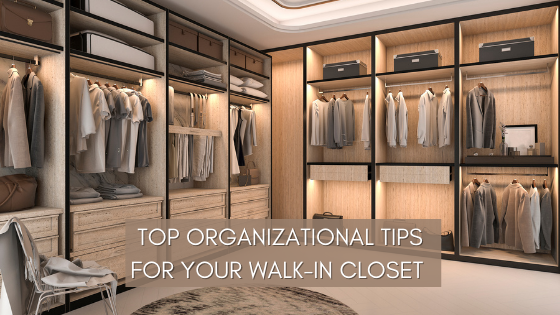 Luxury homes in Las Vegas include luxurious features like expansive windows overlooking the area's stunning desert landscaping, swimming pools, and gourmet kitchens. When you buy one of these homes, it's also likely that you'll have huge walk-in closets. These top organizational tips for your walk-in closet will help you create a closet that you'll love.
Consider Your Organizing Personality
A closet with plenty of rods is the perfect choice for storing your clothes unless you prefer to fold and vice versa. Before making any changes to your walk-in closet, consider your organizing personality. Then, plan the space around these character traits.
Take Inventory
An effective organizational tip is to take inventory of what you currently have stored in your closet. Keep the things you love and get rid of the rest by donating it or giving it away to family members or friends who would appreciate it.
Make it Happy
Homeowners often neglect the appearance of their closet because it's a utilitarian space. However, when you have a large walk-in closet, feel free to turn it into a space that makes you happy. Allow your sense of style to come out by adding design elements that brighten it up. That way, you'll want to spend time organizing it to make the space functional.
Embrace Layering
Create a signature luxury look in your walk-in closet with layers. You can layer different textures and fabrics to make your closet look like a boutique space. Blending high and low is another way to organize your closet. You can combine shelves from your local hardware store with a custom vanity or shoe cubbies.
A Place for Everything
Regardless of the size of your walk-in closet, make sure that there is a place for everything. Luxury design tips include installing custom cabinets for your sweaters, pants, and underclothes. If you have space, add a countertop for folding and racks to hang longer clothing items and more delicate pieces. When you have a place for everything, you'll be able to put things away quickly. This will help you create an organized closet.
Add Drawer Inserts
If you have drawers, then add custom partition inserts for more organization. Physical separations will prevent your belongings from becoming disorganized. Try to avoid stacking apparel pieces within your drawers because you'll only be able to see the things that are stacked on top. Instead, organize in a file system and go from front to back. That way, you can see all of your stuff.
Home for Sale Henderson NV
The MacDonald Highlands community is luxury living at its finest. When you decide to become one of our residents, you'll be living in a community with its own golf course, swimming pools, and a clubhouse. You can purchase a move-in ready home or customize your dream home with a perfectly organized closet. For more information, contact us to make an appointment today.