Tag:
dragon ridge las vegas
Luxury homes in Las Vegas serve as an oasis where you can escape the summer heat after you enjoy exploring the city. While you should be able to rest comfortably indoors, the truth is that keeping your house cool can get challenging once the temperatures start to rise. The good news is that you don't have to work too hard to keep your new home cool when you know these simple tips and upgrades for making sure that your house is always cooler indoors than it is outside.
Do a Few Simple HVAC Maintenance Tricks
Luxury real estate in Henderson, NV, typically comes with the best HVAC systems already installed, and you'll want to plan for annual inspections to make sure the unit on your house is ready to work all summer long.
You'll want to have a professional technician handle major repairs, but you can do several simple tasks each year to make sure your home's system operates at peak efficiency. Try adding these tasks to your summer prep list to give your home's HVAC system a boost.
•Change the air filter
•Clean the intake vents
•Remove debris and leaves from the outside unit
•Listen for any unusual sounds that signal a need for repairs
Install Energy-Efficient Windows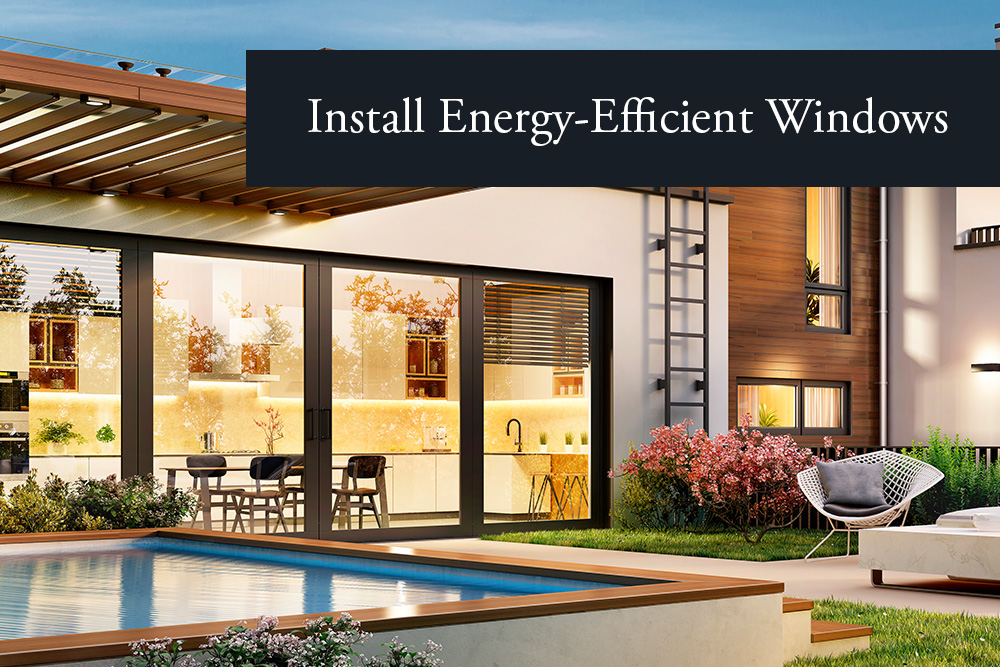 When you are building a custom home in Las Vegas, you'll be provided with an opportunity to select the windows. Although the most energy-efficient windows will cost more, most homeowners find that it all evens out when they save more on summertime utility costs. Asking the builder which windows they recommend for your house can help you choose to stay cooler.
Consider Window Tinting
Residential window tinting has come a long way from the bubbly cling film people once had to use in the past. Today's window tints come in more subtle shades that can enhance your property while also adding a layer of privacy that also blocks out the sun. You can also opt to only tint windows that allow large amounts of sunlight to come inside, such as a back kitchen window that adds unnecessary heat to the space where you need to cook. If you're replacing windows, look for tinted glass with built-in light-blocking qualities.
Hang Light-Blocking Window Treatments
Many luxury homes in Las Vegas are built with large picturesque windows that allow for gorgeous views. But, you might find that floor-to-ceiling windows come with the slight drawback of allowing way too much sunlight in on a hot day. Adding strategically chosen window treatments is the perfect way to preserve your view without sacrificing comfort.
Whether you choose light-blocking drapes made from a heavyweight fabric or special honeycomb shades for a more delicate touch, you'll find that this part of cooling your home is quite fun since it allows you to express your personality.
Use a Programmable Thermostat
People often make the mistake of shutting the HVAC system off while they are at work all day to try to conserve energy. However, this technique tends to backfire when the system has to work that much harder to get the house cool again. Plus, you'll be sweating until the temperature finally starts to go down sometime around your bedtime.
Programmable thermostats give you more control over the indoor temperature during your time away. You can choose to have the house start cooling down before you head home from work so that you're greeted with a cozy interior as soon as you walk through the doors. Smart thermostats are also great for maintaining the ideal temperature inside when you're traveling or prefer a specific temp for better sleep.
Pick the Right Placement for the Thermostat
Having a thermostat that is located in the coldest part of your home might cause it to fail to register that the rest of the house is hot. The same effect can also happen if you have a fan blowing directly on the thermostat, which makes the room feel colder than it is. If you believe the thermostat is located in a less-than-ideal location, then having it reinstalled in a better location can help it operate more efficiently.
Keep the Air Circulating
When you're selecting features for luxury homes in Las Vegas, make sure to include ceiling fans throughout the various rooms. Similar to window treatments, you can pick from various styles and models of fans to add a decorative touch to each room that also serves an important function.
Maintaining good air circulation helps to push the cold air downward where it hits your body rather than staying up high. Just make sure the blades are set to spin counterclockwise to generate the best effect. In the winter, you can reverse the blades to achieve a similar effect for keeping your house warm.
Plan a Backyard Cookout
Cooking on a hot day rarely pans out well since you'll be making the kitchen piping hot with every burner you turn on. If your luxury home has an outdoor kitchen or grill, then now is a great time to use it. Whether you plan to make a fancy steak dinner for two or grill some vegan burgers for your family, you'll find it's easier to enjoy your meal when your home's dining area is cool.
If you want to add a social touch to your dining experience, then consider using a grill in one of the many parks that make your new MacDonald Highlands neighborhood so friendly. Or, you could opt out of cooking entirely and drop into the Montrose for a luxurious dinner or spend time by the pool during one of the many themed dining events the community hosts each summer.
Minimize Your Use of Other Hot Appliances
The stove isn't the only appliance in your home that gives off heat. Large flat-screen TVs, computer monitors, and dryers can all make your house hotter. You'll naturally need to use all of these things at some point during the day, but you can choose when to do so. Choosing to do laundry earlier or later when the temperatures aren't so high can help keep the appliances from impacting your comfort. Turning off the TV when you aren't actively watching it is another temperature-lowering measure that works for keeping your house cooler.
Add Shade Around the Exterior of Your Home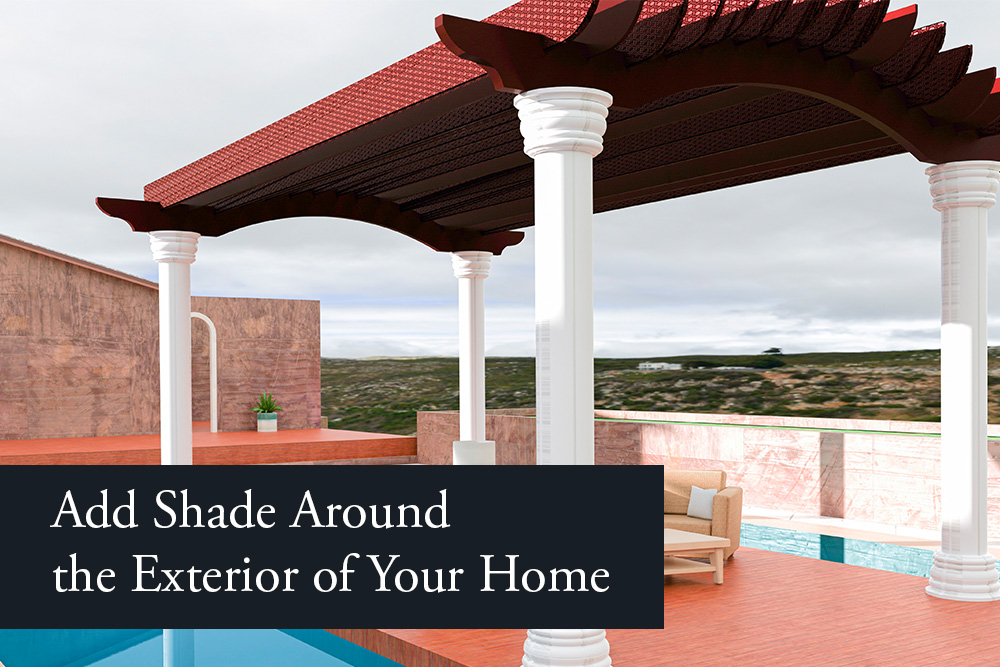 Depending upon where you choose to build a luxury home in Las Vegas, you might have a few mature trees scattered about your property that help provide shade for your house. Or, you may need to plan for some additional plants in your landscaping design. Adding trees and shrubs can help block the sun from hitting your house. Pergolas and awnings are additional ideas for features to add that help shade the outer parts of your home during the summer, and these can also have the effect of blocking sunlight from entering the nearby windows.
The location you choose for your home is an essential factor that affects how easily you can keep it cool. Many of our Macdonald Highlands homes are built on thoughtfully planned lots that are angled to provide relief from the hot desert sun while also allowing for strong energy flow throughout the space. When beating the heat is a priority, just let us know when you reach out by calling us at 702-614-9100 for more information. We'll point you to the best lots and architects for designing a home that is a true desert oasis where you can enjoy a respite from the heat.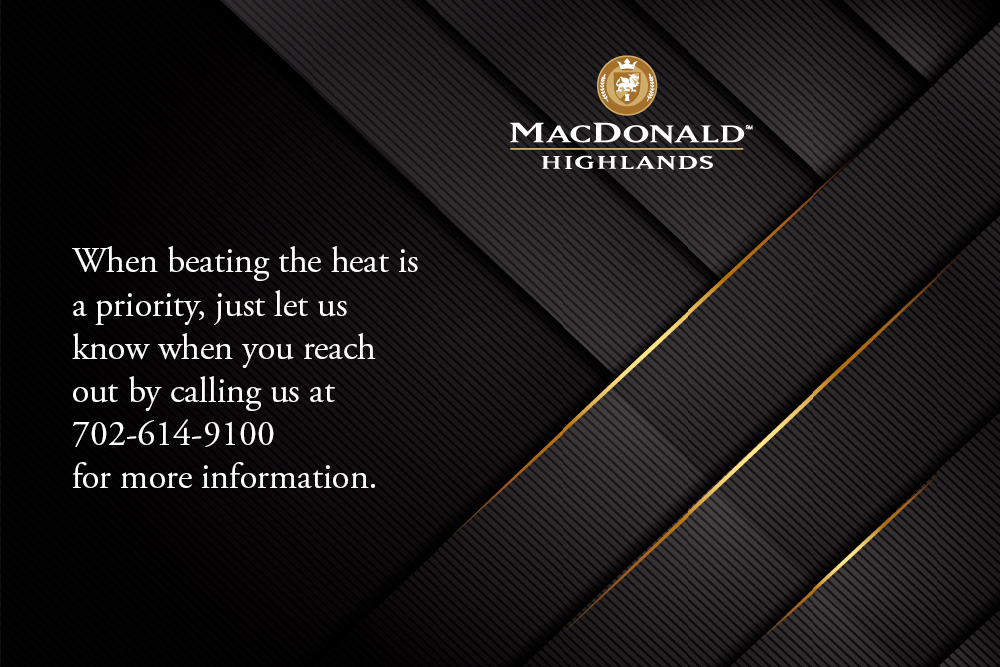 The Las Vegas Strip is known throughout the world for being one of the best places on earth to immerse yourself in the lap of luxury. While the tourists flock to the casinos, top-rated restaurants, and famous entertainment venues they've seen in the movies, homeowners in the area prefer to go off the beaten path.
There's no doubt that visiting the Strip is part of enjoying living in such close proximity to some of the most unique venues in the country, but you'll also find that moving beyond the tightly packed streets gives you a chance to enjoy the city from an entirely new angle. Exploring these hidden gems for luxury living in Las Vegas gives you a new appreciation for why you chose to invest in luxury homes in Henderson, NV.
Check Out These Hidden Attractions
Elevate Your Lifestyle by Joining the DragonRidge Country Club
Investing in MacDonald Highlands real estate comes with the benefit of being eligible to join the local country club. As soon as you move into your new neighborhood, you'll quickly realize that the country club is the centerpiece of MacDonald Highlands, and it's easy to see why. Joining the country club gives you access to some of the most hidden gems in the area, and being able to enjoy them all with your local neighbors makes it easier to relax and enjoy your luxury lifestyle.
Here are just a few of the amenities available at the country club for those who make building a custom home in Las Vegas their first step towards luxury living. Read on Why Las Vegas is a Prime Destination for Luxury Real Estate here.
•18-hole championship golf course
•Five championship tennis courts
•Full-service spa and fitness center
•On-site restaurants and bars
•State-of-the-art clubhouse and event center
Go Hiking Through the Red Rock Canyon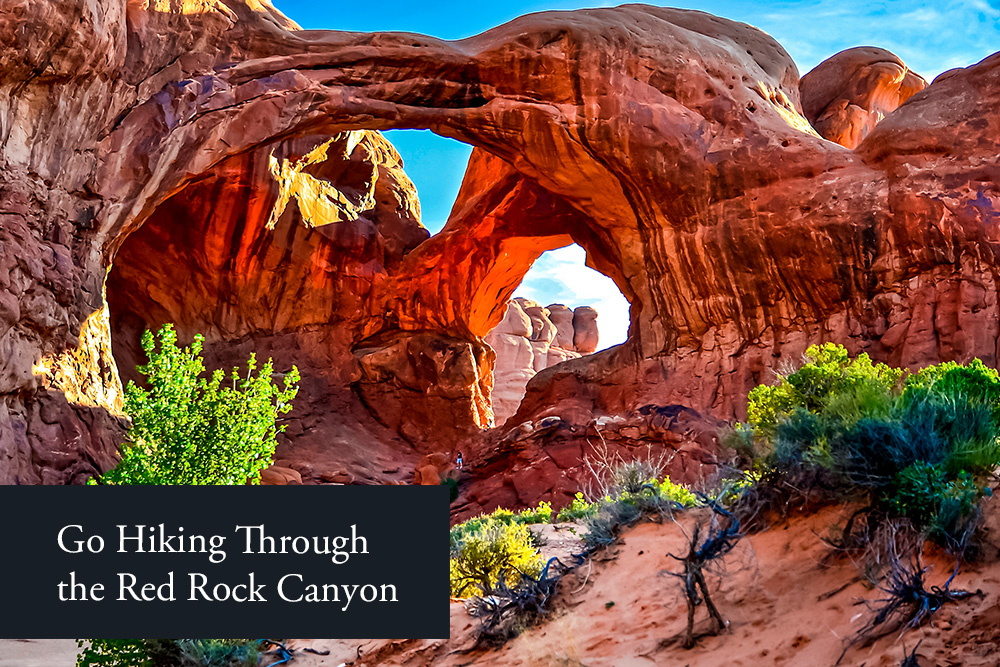 As much as you might feel like staying in the DragonRidge Country Club, it's always good to enjoy some exploring off of your neighborhood grounds. After filling up on a delicious and hearty weekend brunch at the Dragon Grille, you'll be ready to lace up your hiking boots and enjoy a gorgeous hike through the Red Rock Canyon.
Seeing the beauty of the Mojave Desert up close as you hike through the red rock-lined trails is an experience that you might just turn into a regular event. You can always hike on your own, which is perfect for experienced hikers. Or, you can take a hiking tour that allows you to enjoy a trek with a guide who can share insights on the local wildlife, plants, and history of the area during your two to three hour hike through a desert landscape.
Enjoy an Emerald Cove Kayak Tour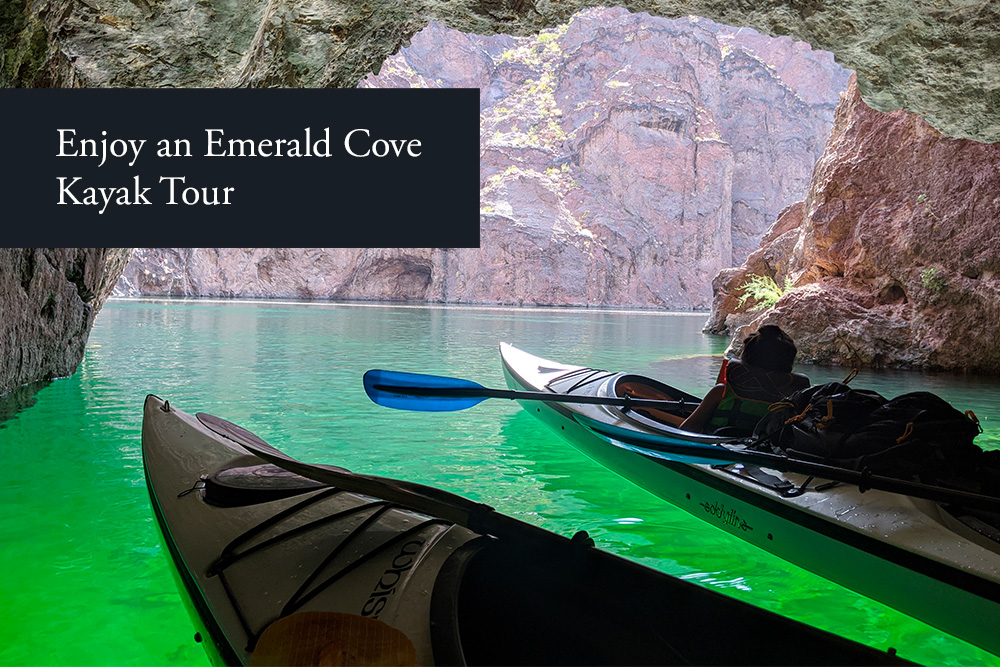 If an aquatic scene is more your idea of luxury living, then you also don't have to go far to enjoy a private little paradise that is less than an hour from the Strip. Emerald Cove is known for being a tranquil oasis that transports people away from the constant buzz of their busy lifestyles.
The half-day tour through Emerald Cove is kept to a few paddlers, giving the trip an intimate feel. Being with a smaller group allows you to explore the Colorado River unrushed as you paddle your way to the serene Emerald Cave. During the tour, your guide will provide your group with stops for swimming and snacks while keeping everyone safe and comfortable as you enjoy the trip.
While the tour offers hotel pickups, you'll be able to skip the shared transport by driving yourself directly to the Willow Beach Marina from the luxury homes in Henderson, NV. Living closer to the beautiful water also means that you can take this trip anytime you feel the need to get away from city life for a short staycation.
Visit a Real Life Speakeasy
Having access to the ONYX bar in DragonRidge Country Club gives you a familiar place to go when you want to connect with your neighbors. But it's also fun to have a few drinks somewhere unique every now and then. A visit to the Underground Speakeasy feels like stepping back in time, and the Prohibition-era-themed pub even requires you to provide a top-secret password to gain entrance.
Don't worry; you can quickly find the weekly password on the bar's website, and it's easily located under the Mob Museum. Once you're in, you can enjoy sipping on authentic moonshine from the in-house distillery as you imagine what it would have been like to live back when such indulgences were forbidden.
While living out your love for the 1920s is fun all on its own, you'll also enjoy knowing that this is one hidden gem that often gets overlooked by tourists who get distracted by all of the neon lights that line the Strip. You can also tack on a visit to the Mob Museum to give yourself a truly immersive experience.
Snap the Ultimate Scenic Photo at the Valley of Fire State Park
Sure, the Dragon Ridge landmark serves as a perfect backdrop to your lifestyle as you live among the luxury homes in Las Vegas. In fact, you probably already have the rock formation in more than a few of your favorite photographs of you golfing and enjoying special events with your family.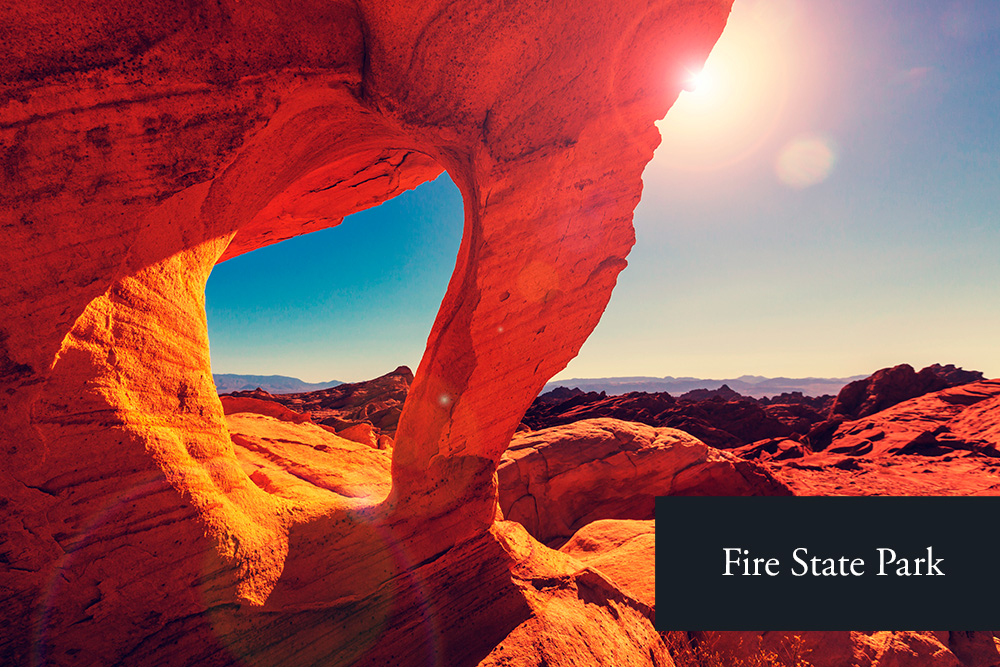 You can never have enough amazing photos to share on social media, and you won't have to look far to find the perfect scenic backdrop when you visit the Valley of Fire State Park. As someone who has made the MacDonald Highlands area their home, you likely have a deep appreciation for the natural rock formations abundant in the Valley of Fire.
Here, you can enjoy trekking through natural rock formations and views that invite you to stop and appreciate the finer things in life. You'll also discover petroglyphs and even a lost city museum that you'll always remember as you scroll through your favorite pictures of your trip.
Feel an Adrenaline Rush With Exotic Car Racing
Even if you own a Lamborghini or Porsche, you might not have ever been able to feel the rush of driving one of these beasts to their maximum capacity. At the Exotic Car Racetrack, you'll enjoy having open space to drive your favorite supercars with no speed limits. You can even take advantage of the opportunity to receive one-on-one coaching that provides you with the skills you need to feel the power within the world's top luxury cars.
When you have an appreciation for the finer things in life, your first instinct might be to stay off the Strip, where the neon lights and mainstream venues tend to draw large crowds. Living in MacDonald Highlands gives you private access to restaurants, golfing, and other amenities that truly exude luxury. You can discover this hidden gem in Las Vegas by calling us at 702-614-9100 to check out our DragonRidge Country Club, or you can browse online for home listings that put you close to some of the best-hidden attractions in the Henderson, NV, area.