Tips for Building a Custom Home in Las Vegas
News Home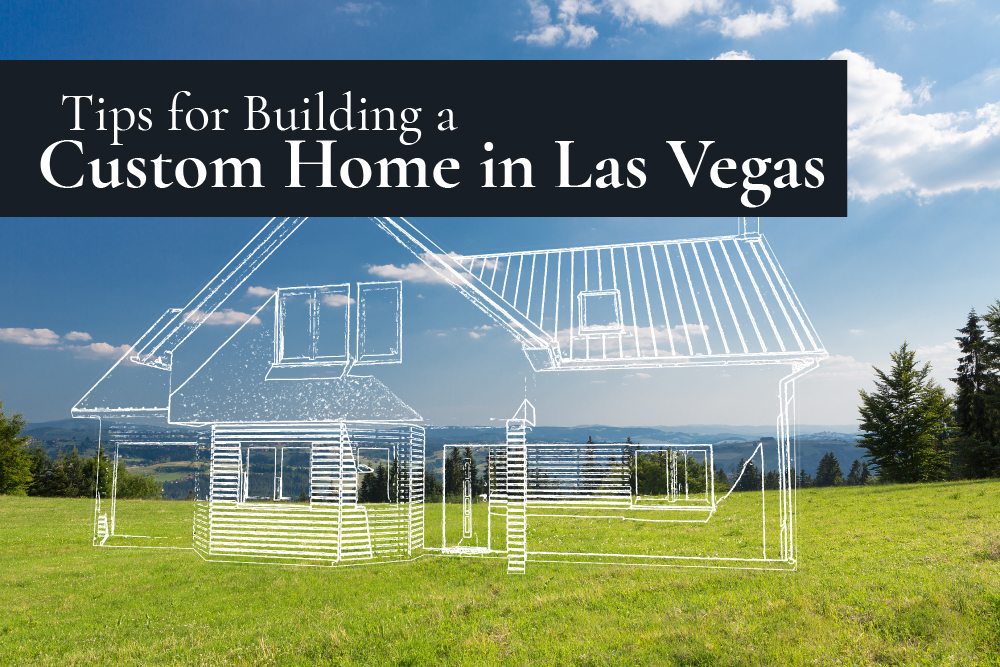 Building a custom home in Las Vegas allows you to live in your dream home, one designed to fit your needs and wants. Keep in mind that while purchasing a completed home is straightforward, constructing your dream home is more involved. Here are eight tips for building a custom home in Las Vegas. 
1. Consider Your Plans
Before construction:
Consider your home plans.
Make a list of the features and elements that will make a home perfect for you—view pictures of homes and tour houses that are already completed for ideas.
Discuss your home wants and needs with a professional interior designer and start laying out your architectural style plans.
Include ideas about room functions, design features, and lifestyle needs.
2. Do Your Research
Complete custom home development research. This may include:
• Determining your home construction budget
• Considering what type of building materials you can use
• Figuring out how long the construction process will take
• Searching locations where you can build your home
• Finding out what building codes you'll need to follow
You should also research the amount of square footage that you'll need. For instance, consider whether you like to entertain often, if you'll need to work from home and how many people will be living in your custom home. Also, decide if you want to be highly involved in the construction of your home or if you would prefer to hire a contractor to handle most of it for you. 
3. Hire a Team
Luxury homes come together with a team of professional designers and builders. To make it easy, consider partnering with a company specializing in custom designs. This option allows you to streamline the building process, beginning with the initial stages until completion. 
Hiring a custom design building company eliminates the separation between the design team and the construction one. Basically, every element of the construction project will be managed by one entity. Along with this, custom home design companies usually have relationships with architects, interior designers, and even luxury communities, which will likely make your custom home easier to complete. 
A custom design company will give you peace of mind since you'll have confidence that every part of the building project is handled. The downside to using a custom company is that you'll probably pay more. Hiring separate contractors is usually more affordable since you won't have to pay someone to manage the entire project. 
4. Choose the Location
After hiring your construction team, you'll be ready to choose a location for your home. This is an important step. You'll want to consider the exterior views, neighborhood amenities, and how well an area will help you build equity. Before buying a homesite, check to see if public utilities already provide service for it or if you'll need to have them put in. Contact a professional agency to help you evaluate potential home sites and determine their suitability for building. 
5. Create Your Blueprints
The next step is to finalize the blueprints for your custom home. Collaborate with professionals to determine what you can do and decide the best ways to incorporate your design plans. Professionals will be able to tell you what is realistic and how to include the features you want to be functional. You might need to work with a structural engineer to confirm that your plans are safe and practical.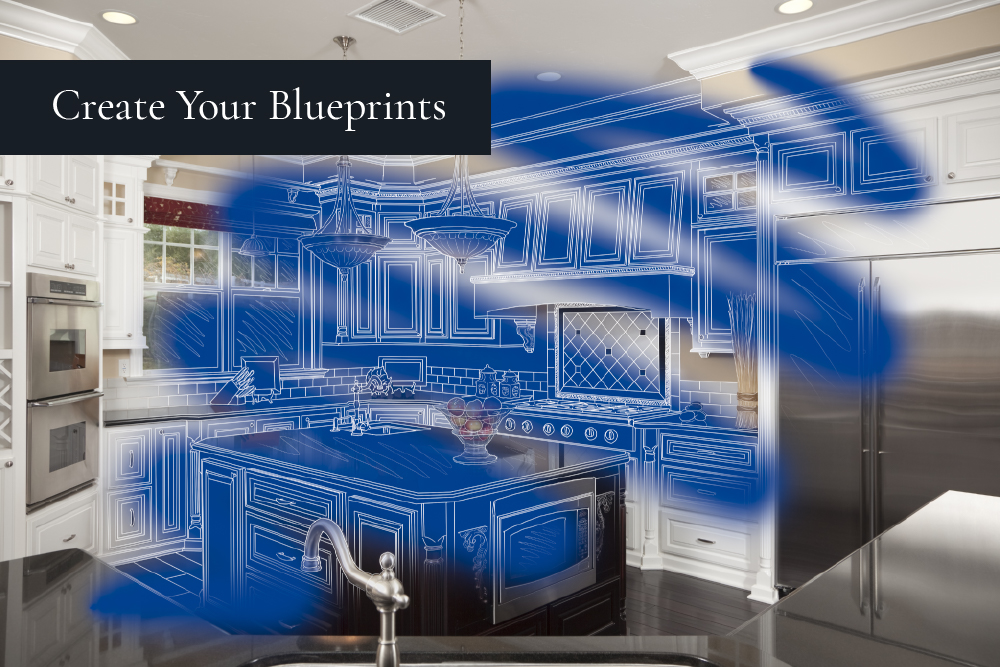 6. Select Your Materials
After narrowing down the design, choosing the location, and determining what features you'll be able to include in your home, you'll need to select the materials. Keep in mind that your new custom home will need many items. Also, each of these items will require approval before they are placed into the home. 
If you're working with a company specializing in building custom homes, then be vocal about your design preferences. In this case, you can be as involved as you wish to be. Some of the more practical elements may not matter that much to you. For instance, the door handles and sink drains may not be a big deal, while the kitchen countertops and flooring are items that you'll want to select. 
Consider whether you want to install specific types of materials and what colors you want the house to be inside and out. Be transparent and communicative with your construction company. 
7. Construction Begins
Every custom home construction project is unique, and this means that yours will have its specific considerations for the design and overall construction. Construction steps include: 
• Removing plants, rocks, or other debris that may be on your homesite
• Digging into the earth to build the foundation for your new custom home
• Transporting the building materials to the homesite
• Bringing in a construction crew to complete the flooring decks
• Building the walls, adding the drywall, and painting
It's a good idea to be present during the construction phases. That way, if there's something that you didn't consider or need to change, you can make the request before it becomes too costly or time-consuming to do so. For instance, you may decide that you'd like an additional linen closet in the main bathroom or a bigger closet in the primary bedroom. 
The time-frame to build Las Vegas luxury homes varies, but according to estimates, it takes around three to six months to construct a standard home. Custom homes with extra features usually take 10 to 16 months to complete. 
8. Installing the Internal Elements
Once your home's foundation is complete, your construction team can install the internal elements. This will include the plumbing, internet cables, and HVAC system. If you're working with an interior designer, then this is when they will want to install your home's lights and other décor.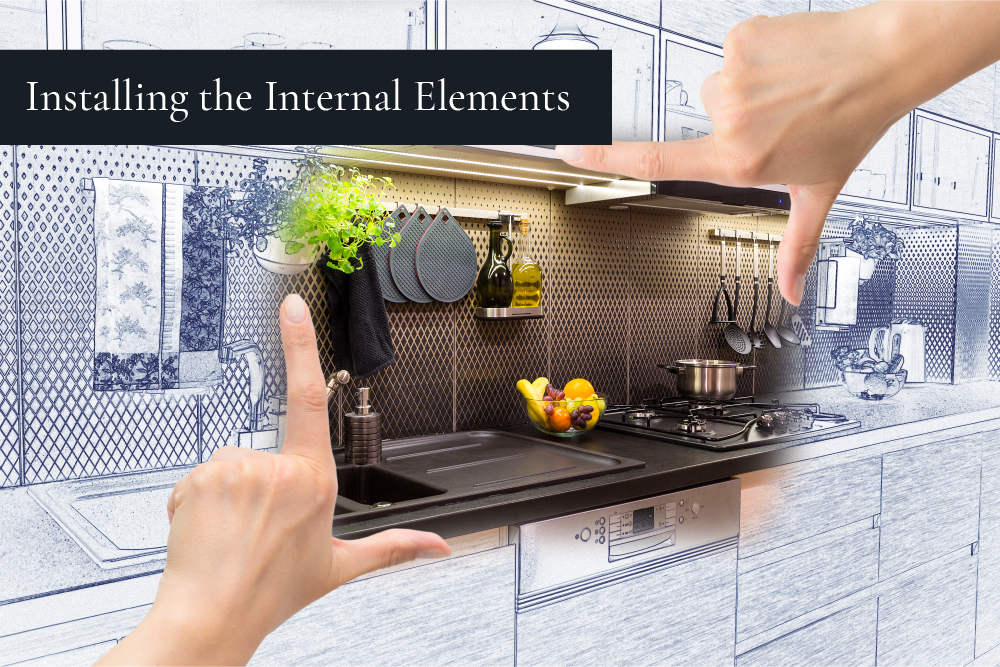 The internal elements are the features that you need for comfortable living. Las Vegas luxury homes include features like deep soaking tubs, outdoor barbecues, and smart technology. Custom home builders will install these features toward the end of construction. 
The Benefits of Constructing a Custom Home in Las Vegas 
A significant benefit of building a custom home is that everything will be new. You won't have to worry about how previous owners cared for the property. This means that you shouldn't be surprised with a pricey repair after moving into the home. 
Also, when you buy an existing home, you will likely have to compromise on some features. For instance, the layout may not be quite what you had in mind, or you might have a kitchen that's smaller than you need. With a new custom home, you can make sure that everything is built the way you want. 
Another benefit of building a new custom home is that the industry constantly improves technology and materials. New luxury homes are generally more energy efficient and more environmentally friendly, which means that you may spend less on utility bills. 
Luxury Real Estate in Henderson NV
Consider the MacDonald Highlands community when building a custom home in Las Vegas. Not only will you enjoy an onsite golf course, clubhouse and fitness facility, but you'll also have a great view and fantastic neighborhood amenities. To learn more, contact us at (702) 614-9100.