Trendy High-End Bathroom Features for 2022
News Home
One element that makes luxury homes so luxurious is a state-of-the-art bathroom. What makes bathrooms state-of-the-art? Features like wall-mounted vanities, energy-efficient lighting, and dual showerheads make bathrooms feel like extravagant spas. Here are 16 trendy, high-end bathroom features for 2022. 
1. Chic Wall-Mounted Vanities
For 2022, wall-mounted vanities will be the trend. They provide a minimal appearance, which will give your bathroom a spa-like look. Wall-mounted vanities make bathrooms feel spacious and modern. You can purchase this type of vanity in various sizes and styles.
2. Energy-Efficient Bathroom Lighting
Energy-efficient lighting and mirrored walls that stretch from the floor to the ceiling are trending. When you add these features to your luxury home's bathroom, you'll give the area a modern look. They also make the room look and feel more spacious while giving you the elements that you need to get ready for a night out on the town.
3. Natural Materials
In 2022, natural and environmentally friendly materials will be a bathroom trend. Natural stone elements will give the space a grounded feel. They are timeless and easy to pair with other materials and luxury design features. When you select natural materials for your bathroom, you'll be creating a space that will increase your home's resell value and make the home easier to sell. 
4. Combined Shower and Bath
The combined shower and bath concept is changing, and it will be a trend for 2022. Instead of a small bathtub with a shower and a curtain, designers are starting to create bathrooms with a glass divider that features a full shower and a deep soaking tub. It's a great idea if you want a bathroom that maximizes practicality and is easy to clean. This design element will also give you more space.
5. Dual Showerheads
If you don't like waiting for your significant other to shower, or you want more water to bathe under, then consider installing dual showerheads. This trend will give your bathroom a contemporary look, making the bathroom feel more like a spa. Be sure to select fixtures that contrast the bathroom's color scheme. That way, they'll create a more stylish look. For instance, a black fixture finish will contrast beautifully against light walls, while light fixtures will stand out in rooms with dark walls.
6. Blending Textures
Blending textures, colors, and materials will be popular in 2022. In the past, the trend was monolithic tones and minimal designs. This year, luxury bathrooms will include glass interlaced with sandwich mirrors, elements that give the look of movement within the space, and textured wall coverings.
7. Wet Rooms
These days, homeowners are creating luxury bathrooms with wet rooms and walk-in showers. This design element gives you bigger shower spaces. If you decide to go with this trend, consider matching it with patterned and colorful tiles. That way, you'll have a wet room that doubles as an eye-catching feature wall or background setting.
This doesn't mean that people aren't still including bathtubs in their luxury bathrooms, but showers offer more convenience, and people shower more often than bathe these days.
8. Tranquil Design Elements
Japanese design is making its way into many interior spaces. This type of design creates a tranquil space, one where you will experience calmness and peace. To create a bathroom with Japanese design elements, consider adding bamboo as an accent wall, dark stone, and skylights for natural light.
9. Industrial Accents
In 2022, industrial accents will be the trend. Consider using black metal or golden brass fixtures. Also, bring in concrete elements to contrast the fixtures. Take design cues from décor used in loft spaces such as concrete walls and wood accent walls. For fun, try mixing metals. Pair brass and chrome to give your bathroom an eclectic look.
10. Blending Old and New
These days, homeowners are more willing to take luxury design risks. Go with designs that you love and take risks to create a unique look. The trick to blending old and new luxury design elements together is to remember that opposites attract. For instance, pair a traditional bathtub with a modern faucet or a classic faucet with a contemporary sink.
11. Elegant Fixtures
Luxurious fixtures are going to be a popular bathroom addition in 2022. Feel free to go all out when choosing these features. Install a fancy light over the tub or get the brilliant sink faucet that activates automatically. When designing a bathroom, be sure to balance the space with light, organic colors. This will give the area a peaceful feel to escape the outside world.
12. Commission a Scenic Mural
All white bathrooms are becoming a thing of the past, and today, more homeowners are adding style to the room with scenic murals. Even if you like minimalistic styles and clean lines, you may love the personality that a scenic mural gives your primary bathroom. A bathroom is a perfect place for this element because it brings a fun look to the space. A mural will also turn your bathroom into a comfortable sanctuary.
If you don't want to paint your bathroom walls, you can create the same effect with wallpaper that features a colorful pattern. In 2022, bright wallpapers, tile, and paint will be everywhere.
13. Chunky Countertops
Instead of a fake drawer that conceals the sink's plumbing, homeowners are starting to install chunky countertops. You can get this type of countertop in different materials and colors. It gives bathrooms a modern look that's understated and elegant.
14. Attractive and Visible Storage Systems
Attractive and visible storage systems are becoming popular. Not only are these systems great for displaying towels and makeup brushes, but they also make it easier to find and use these items.
You can easily match this type of solution to your design theme. If your bathroom is on the traditional side, then select a storage system made from a dark wood or one that's painted white. If your design is more contemporary, then you'll want a lighter wood tone or one that's painted a bright color like turquoise or yellow.
15. Fun Fixtures
Las Vegas luxury homes may include fun fixtures and whimsical features. Fixture manufacturers are changing things up with their products by offering consumers options that are a bit less serious. These days, you can purchase fixtures in unique colors, ones that are bright and attention-grabbing. You can also get knobs and pulls that are decorative instead of being merely functional.
16. Houseplants
While houseplants never really go out of style, people don't always include them in their bathroom design, but this year, they are trending in the space. Houseplants give a bathroom a modern feel that's natural since they bring the outdoors inside.
Houseplants thrive in bathrooms since the air is moist, and you have many options when choosing them for design. For instance, you can go all-in on a jungle look and get a lot of plants or keep things minimal by decorating with just two or three.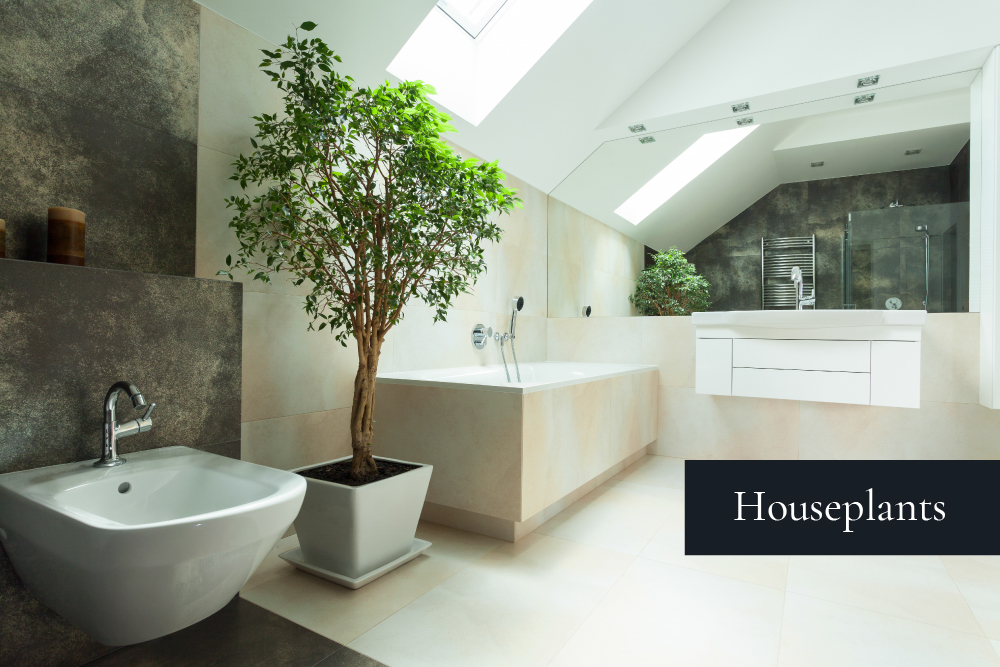 Luxury Homes in Las Vegas
For luxury living, consider moving to the MacDonald Highlands neighborhood. Our community's luxury homes include:
Elegant amenities like high-end bathroom features.
Incredible views of Las Vegas.
Smart house technology.
For more information, contact us at (702) 614-9100.