What You Need for Your Luxury Home Theater
News Home
If you're a movie fan, love nothing better than binge-watching your favorite TV shows or enjoy immersing yourself in a video game, then it's time for a home theater. A dedicated space for this type of entertainment will turn your residence into your dream home. Here's what you need for your luxury home theater.
Home theater basics include:
• Installing a viewing device like an LCD television or a projector
• A good surround sound system
• Purchasing quality video viewing units
• Comfortable theater seats
• Appropriate lighting
• Fun theater décor
1. Invest in a Quality Visual System
If you have an intimate home theater room, invest in a high-quality television. Today's televisions are big and pretty, and they also provide viewers with a fantastic entertainment experience. If your home theater room is more spacious, consider getting a projector. A projector will allow you to customize your home theater. It will also give you the option to get an especially large screen.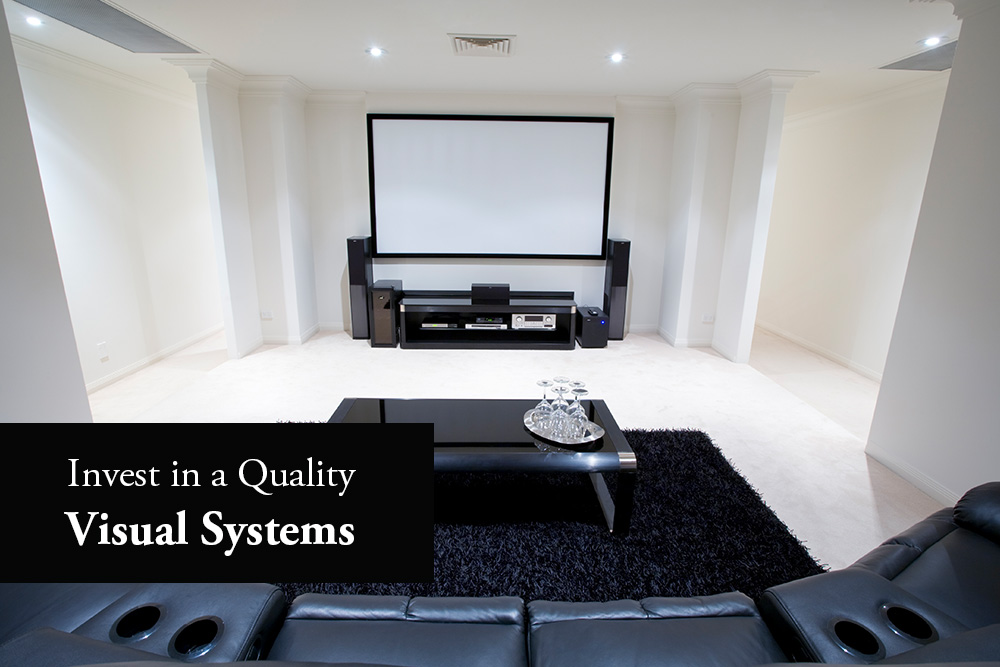 Depending on your home theater setup, you can choose a portable or a ceiling-mounted projector. You can also go with a 3D projector if your family enjoys immersing themselves in these kinds of films. If your home theater room is on the smaller side, choose a throw version projector.
If you're using a projector, you'll need a screen. There are many screen options. You can go with one that's wall-mounted, inflatable, or ceiling-mounted. There are also a wide range of screen sizes available, and these vary from 75 inches up to 14 feet.
2. Purchase a Good Sound System
Good sound is more complex than just buying a lot of speakers. When it comes to good sound, consider factors like sound absorption levels, the type of floor surface you have, and how you need to position the seating. Be sure to buy a high-end AV receiver. A quality receiver will give you the best support and the ability to customize your sound.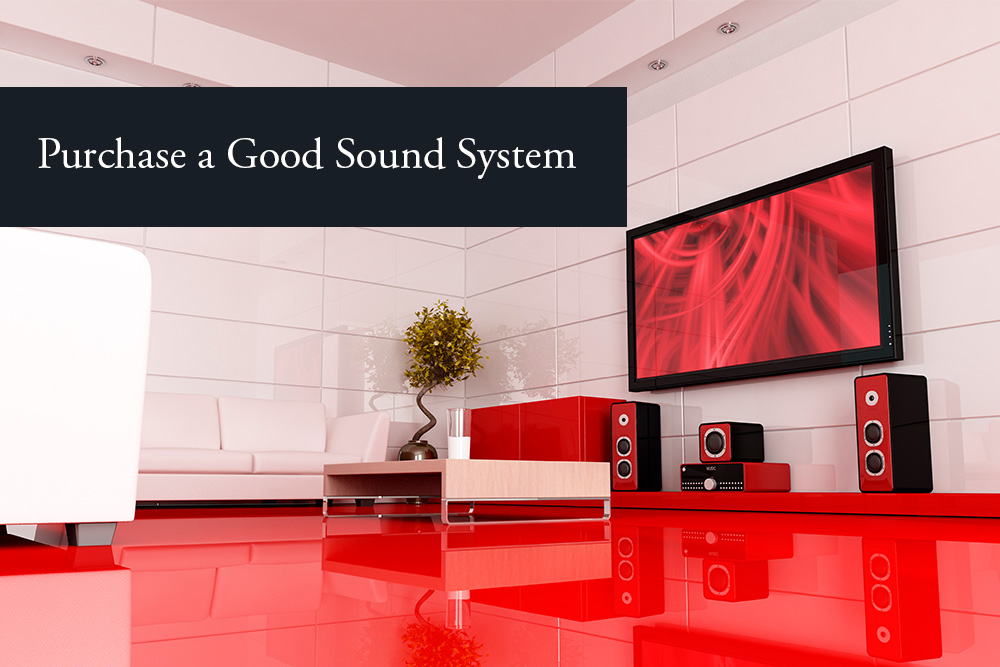 A good receiver will be easy to set up. Look for one that will automatically calibrate the speakers. That way, you'll enjoy the best possible sound experience. For the speakers, you can buy different ones to customize your sound experience even more. To get the best value for your money, go with a surround sound setup that includes a variety of speakers like bookshelf speakers, a single center speaker, floor standing speakers, and a subwoofer. This will provide you with plenty of power, the clarity that you want, and a nice aesthetic that will fit into your luxury design.
It's essential to have your speakers positioned so that everyone in your private audience enjoys the perfectly balanced sound. Consider soundproofing your home theater room. To optimize your sound, install thick carpet on the floor. You can also install absorption and reflection sound panels, and these will even out the sound throughout the theater room. To go all out on soundproofing, consider soundproofing the drywall too. This step will block outside noise from the room and prevent interruptions to your entertainment nights. Soundproofing will also hold the sound inside the theater room so that your movies or games don't bother those spending time in other areas of your home.
3. Viewing Units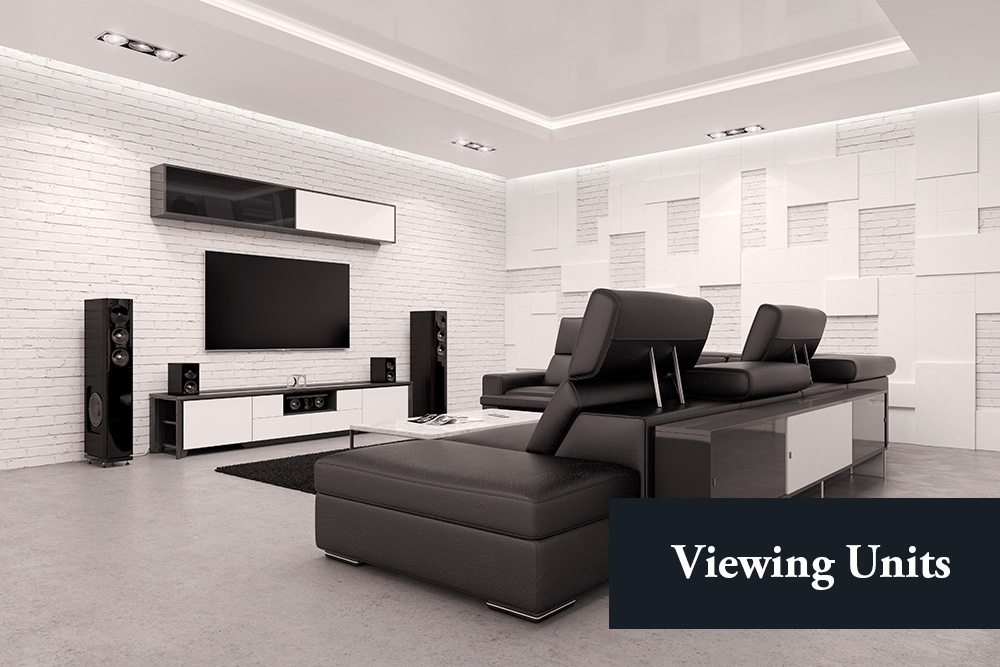 Decide whether your theater room will be your main viewing area or one that you use for special occasions. If you intend for it to be the central place for screen entertainment, then equip your theater room with a DVD player, a Blu-ray player, and streaming services. You'll use the DVD player to watch old movies you've collected over the years. You'll need the Blu-ray player for any newer movies you own or intend to buy. You'll want a streaming service to stay current on your favorite television shows or watch games.
4. Comfortable Theater Seats
When installing your home theater's seats, be sure to position them properly in the space. You won't want your seats to be located too close or far away from the screen. Plan the room with several platforms to elevate the seats to mimic an actual theater if you have the space. That way, you can ensure that everyone has a full view of the screen.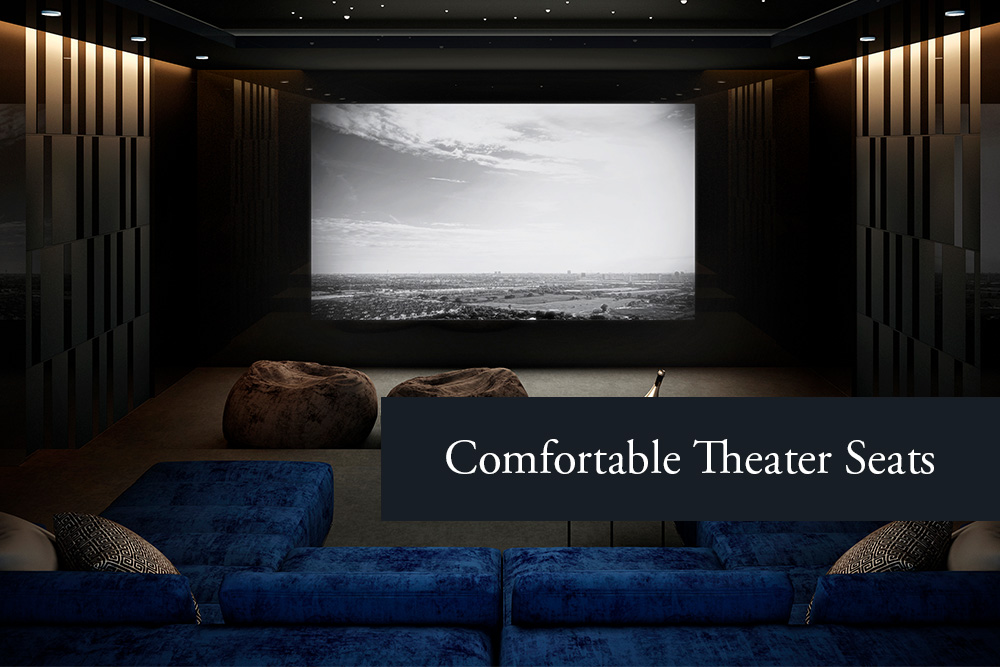 Luxury homes in Las Vegas often include large rooms that are big enough for plush theater recliners. If you want something that's top of the line, then purchase seats with adjustable lumbar support, power headrests, and the ability to power recline. You can also get chairs that massage or heat up.
If you intend to get fancy chairs with many features, be sure to get enough for everyone. If you don't, your kids and maybe even the adults are sure to fight over the best seats.
5. Appropriate Lighting
Lighting is an important element in a home theater room. Add a smart lighting system to your home theater room when you're building a custom home in Las Vegas. This will make it easy for you to activate the appropriate lighting when you're watching a movie, playing a video game or cheering for your favorite sports team.
Install cove lighting to create soft, indirect lighting. You can get this type of lighting in bright white, warm white, various colors, or with a color-changing option.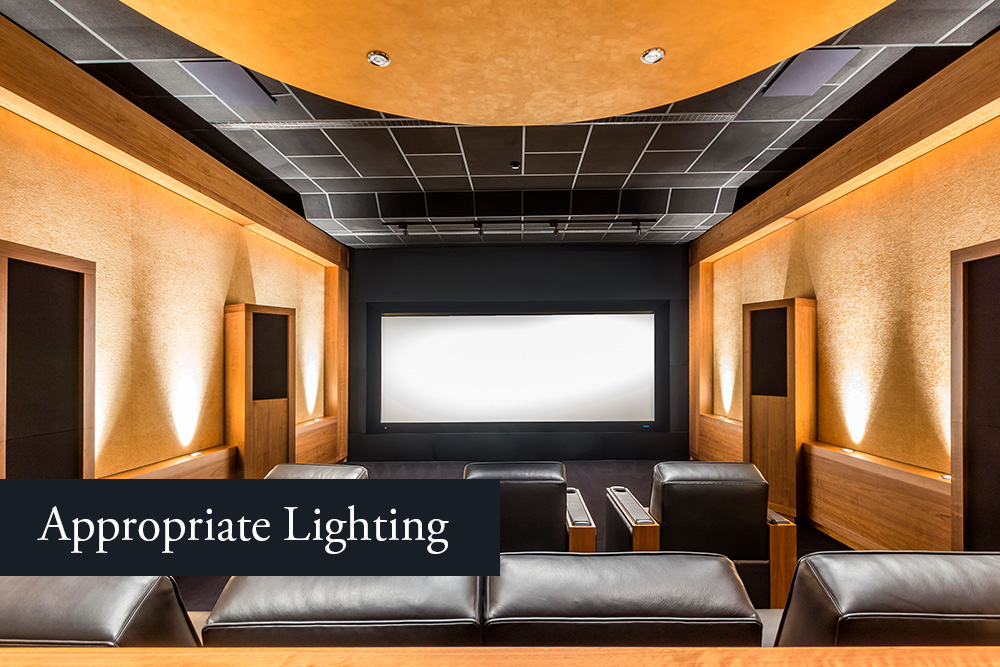 You'll also want television backlighting to decrease the brightness level on the TV display. Backlighting can reduce eye fatigue and strain, and it also adds to the luxury design of your theater room.
If your home theater space features windows, install blackout drapes that you can close to block out the sunlight. To make your home theater even more professional and luxurious, consider using smart technology to open and close your drapes and dim and raise the lights.
6. Theater Decoration
Choosing the right paint color for your home theater room can be challenging. Interior designers often choose to paint these rooms navy or black, but you can paint yours a different color, one that will blend with the other spaces in your home. You can select a lighter color for your theater room as long as you choose one that isn't reflective.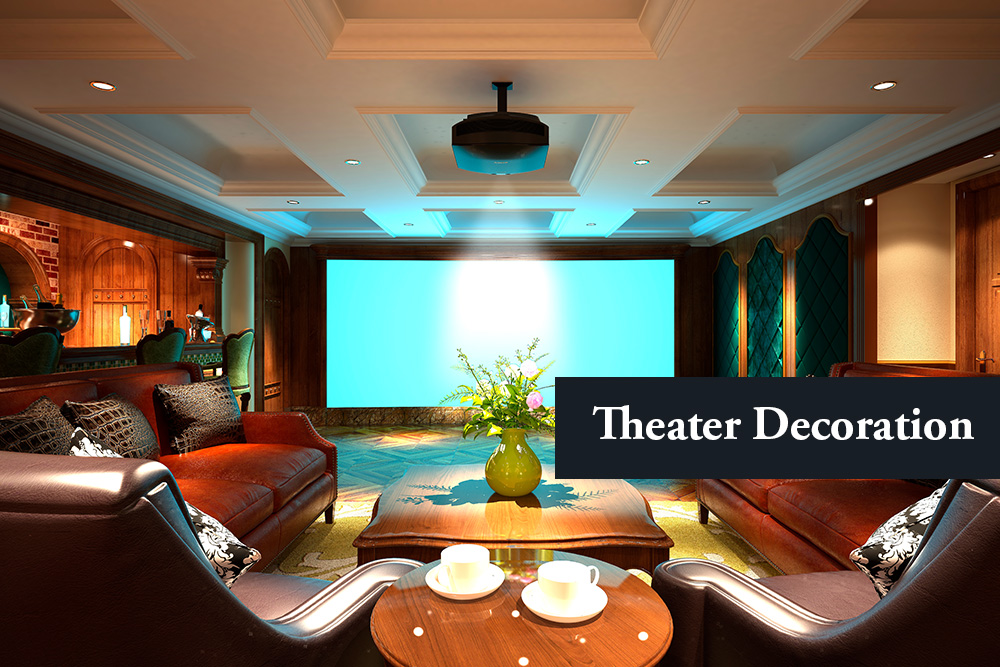 Avoid a paint color that's a gloss, a semi-gloss, or a satin finish. These paint types reflect the light and detract from your home theater viewing experience. Select a paint with a matte or an eggshell finish since they won't reflect.
To add a fun touch to your home theater, pick a theme for the décor. Ideas include designing your theater around old theaters or European theaters. Choosing nostalgic theater items, such as pictures of movie reels or containers of popcorn, is another design option. You could also decorate with movie posters from your favorite films or choose a Marvel or Disney theme.
Luxury Real Estate in Henderson NV
The MacDonald Highlands community features incredible landscaping, amenities akin to a five-star resort, and 24-hour guarded security gates. As a resident, you'll have access to top schools for your children, quality dining establishments, and unique Las Vegas entertainment. For more information on building a custom home with your preferred luxury design elements, contact us at (702) 614-9100 today.