How Frank Lloyd Wright Inspired the MacDonald Highlands Estates
News Home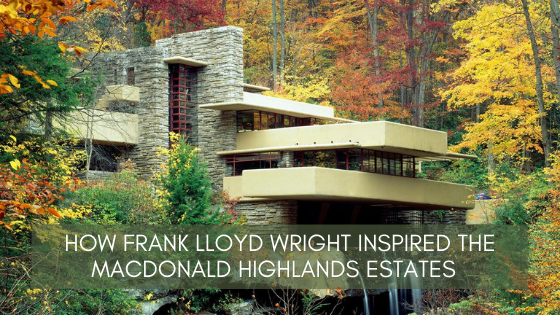 Homes for sale in Henderson Nevada, include a number of ours in the MacDonald Highlands community. We offer luxury homes, ones that feature exquisite materials and unique architecture. In creating the community, our design team found inspiration from many sources. This is how Frank Lloyd Wright inspired the MacDonald Highlands estates.
Getting Started
The MacDonald Highlands community is situated on a hillside overlooking the Las Vegas Valley. It offers fantastic views. Instead of changing the existing landscapes to suit new and different designs, the community's homes blend into the natural elements there long before them.
Frank Lloyd Wright was a significant source of inspiration for our design team because the architect often planned homes around what was already there, ensuring that nature became a highlight and a part of a structure. We used this same technique to blend our homes into the Las Vegas desert scape. When you tour a home for sale in Henderson NV, you'll appreciate how MacDonald Highlands maintains the area's integrity.
Frank Lloyd Wright
There are few American architects as well-known as Frank Lloyd Wright. He was a true visionary, a man who put his stamp on modern architectural design throughout the country. He is responsible for prairie-style structures as well as remarkable organic designs.
The famous architect's work shook up architectural views and made him a celebrity. Not only did Wright change the architectural world, but he was also productive. Wright designed hundreds of structures ranging from single-family homes to museums and even a doghouse.
How Our Homes Honor Wright
The MacDonald Highlands community features abundant open spaces and large lots located within a low-density setting. The design requirements of our community are more stringent than they are in the city. They are there to protect the natural surroundings.
We install landscaping that features drought-tolerant plants. Once you become a resident, you'll have access to a trail system, one that winds organically through the existing elements. A golf course is a big part of the MacDonald Highlands community, but it is the first one in the state that conserves water while offering residents access to a pleasant leisure activity.
When you begin touring luxury homes Las Vegas, you'll notice that our homes tuck into the hillside. Also, each home's landscaping blends into the area's natural environment. You may not be able to discern what elements were there before a home was constructed and what we added later.
Our homes feature lots of windows, turning the exterior elements into a home's natural artwork. The exterior of our homes consists of a blend of neutrally colored stucco and glass. This prevents them from looking out of place amid sweeping blue skies and the rocky mountain.
Many MacDonald Highlands homes are inspired by Fallingwater, which was designed by Wright and constructed in 1935. It is the most well-known private residence built during the 20th century. "Time" magazine used a picture of the home on its cover in 1938. Doing so brought attention to the home and kept the architect in the spotlight during the last years of his career.
Fallingwater was constructed on top of a waterfall. You'll find it in Bear Run, a summer camp located in the western part of Pennsylvania. The wealthy Kaufmann family currently owns the home. Made from a combination of concrete and limestone, the house is interwoven with the waterfall that inspired the name "Fallingwater." The home is a symbolic work of art that indicates Wright's design beliefs and career focus.
A Community with Everything
Along with breathtaking homes and pretty exterior views, the MacDonald Highlands community includes amenities that kick luxury living up to a higher level. For instance, as a resident, you'll have access to the DragonRidge golf course. You can dine at one of the onsite restaurants and enjoy an evening cocktail at the bar.
You'll appreciate the community fitness center. It comes with a:
• Sauna
• Hot tub
• Steam room
There is also a Pilates studio and plenty of cardio equipment. While working out at the clubhouse, you can enjoy awe-inspiring views of the "Las Vegas Strip," which is sure to be a welcome distraction.
If you prefer private workout assistance, personal trainers are on hand. You can also order other kinds of wellness services such as diet guidance and nutrition help.
According to Frank Lloyd Wright, "A building should appear to grow easily from its site and be shaped to harmonize with its surroundings if nature is manifest there." At MacDonald Highlands, we have taken these words to heart. Our community is more than a luxurious place to live. With its Frank Lloyd Wright-inspired designs, quality construction, and high-end finishes, our homes are meant to last both style-wise and physically. For more information, contact us at (702) 614-9100.