How to Select the Best Light Fixtures for Your Home
News Home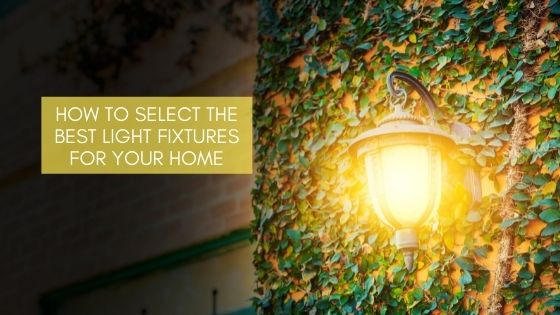 A home's lighting is an important feature that many homeowners overlook when designing the interior of their home. It's easy to think of lighting as something useful instead of something that adds beauty to luxury homes. Here's how to select the best light fixtures for your home.
Make a List of the Fixtures that You Need
Luxury homes in Henderson NV feature lots of high-end finishes including fine light fixtures. Stroll through your home to see where it needs new lighting. For instance, it might be time to update your home's sconces, flush mounts, pendants and chandeliers. Be sure to check every area of your home including the bathrooms and hallways.
While walking through your home, you'll notice that some spaces require specific types of lighting and other areas are more adaptable. For instance, if your home has 8-foot ceilings, you may need to install light fixtures with flush mounts. This means that you can narrow your fixture choices down by eliminating chandeliers and pendants.
When making your list, determine whether your home needs additional electrical work. You might want or need to move a junction box to a different location or install a new one. If you need to make these changes, choose your light fixtures first. That way, you'll be able to place the boxes properly.
Choose the General Luxury Design of Your Light Fixtures
Allow your decorating style to come out when selecting your home's light fixtures. If you tend to waver between different styles, start looking on sites like Pinterest to narrow your design preferences down. Instagram features designs for luxury homes Las Vegas too. The site can also help you figure it out.
Once you have an idea about your decorating style, select light fixtures that are a part of your preferred style category and continue with the same theme in every area of your home. If you prefer an eclectic look, then you can make this work. However, keeping your design simple is the easiest way to get the luxury look that you want. Consider hiring a professional designer if you're having trouble figuring out your preferred design style.
Review Your Lighting Options
A common mistake that homeowners make when choosing their light fixtures is thinking that one type of lighting fixture is enough for a space. For instance, many people decide just to install overhead lights. A better technique is to install light fixtures in layers.
Keep in mind that indoor lighting typically comes in three main types, which are:
• Task
• Ambient
• Accent
Task lighting is brighter than the other two to give you more light. Recessed lights or pendant lights installed in a kitchen are considered task lighting.
In a house, ambient lighting is usually a general form of lighting. It provides illumination for most of a space, and it will make it easy for you to move around your home. Ambient lighting is generally provided from wall-mounted fixtures, track lighting or single overhead lights.
Install accent lighting to highlight certain areas in your home. This might be a painting or a collection of figurines. Wall light fixtures or track lights are generally used as accent lights. Homeowners usually install dimmers with accent light fixtures so they can create different moods in the space.
Select a Light Fixture Metal Finish
In Las Vegas luxury homes, mixing different metals together can work brilliantly if you do it right. It will also look nice if you select a single finish for all of the fixtures in your home. Metal finishes can be challenging to match. To prevent them from clashing, make sure that you're getting fixtures with the same sheen. For instance, if you decide to decorate your home with nickel, purchase fixtures that are polished nickel or brushed nickel. When homeowners attempt to put these two finishes together, the design will appear off.
If you intend to install black fixtures, keep in mind that fixtures that seem to be black may be oil-rubbed bronze or antique-bronze instead. When shopping for fixtures online, check the closeups of them to make sure that you're getting the proper finish. It's a good idea to read the product reviews as well.
Chrome and polished nickel look a lot alike, but they are different finishes. When you look at a fixture that features a polished nickel finish, you might notice that it has a warm look to it while a chrome one will appear cooler.
Kitchen and bathroom fixtures, such as faucets, are more likely to come in chrome than lights. Nickel finishes are more popular for lights.
Choose Fixtures with the Same Design Elements
To create a home with modern luxury design, choose light fixtures that feature similar lines or ones that have the same feel. When you repeat design elements, you'll give your home a more stylized look. Doing this requires you to tap into your artistic side.
If you select a simple dining room chandelier with a brushed nickel finish, consider getting island pendants that are also simple with the same finish. Notice any curves or designs included in your fixtures and try to find similar stylings in the light fixtures that you get for other areas of your home. This will give your home a cohesive look.
Choose the Best Lighting for Each Space
For your home's entryway, install an attention-getting pendant light or a fancy chandelier overhead. Add a bit more lighting by placing a floor lamp or a table lamp in the space.
In the living room, consider installing recessed lighting or track lighting. If you've decorated your living room to include a main living area, then place a large light fixture over it. This will add balance to the space. If your living room has shadowy areas, purchase floor lamps to give them light. Place table lamps on large pieces of furniture like buffets, sofa tables or side tables.
When you start looking at light fixtures for the kitchen, keep in mind that the room needs different kinds of light. Consider installing recessed lighting to ensure that you have enough light for meal preparations. Place overhead pendants or chandeliers over the kitchen's focal areas like the dining table and the kitchen island. Install under cabinet lighting in preparation areas.
Bedrooms should contain an overhead light along with table lamps on the nightstands. You might want to place lamps on the dressers too depending on the size of the room.
Don't forget to purchase lights for the bathrooms. Consider lighting them with recessed lights. You can also install task lights next to the mirror. If you want to give your main bathroom a bit of glamour, place a fancy overhead light over the bathtub.
Offices usually need recessed lights or overhead ones. If there are dark corners in your office or seating areas, then place floor or table lamps in them to keep them well lit.
Consider Luxury Homes in Las Vegas
The MacDonald Highlands community is the perfect place to purchase or build your dream home with the type of lighting that you want and need. As a resident, you'll have access to a renowned golf course, fitness facilities and restaurants. There are a number of pre-built luxury homes available to buy, or you can customize your own dream home. For more information, contact us at (702)614-9100.