How to Use Luxury Lighting to Brighten Your Home
News Home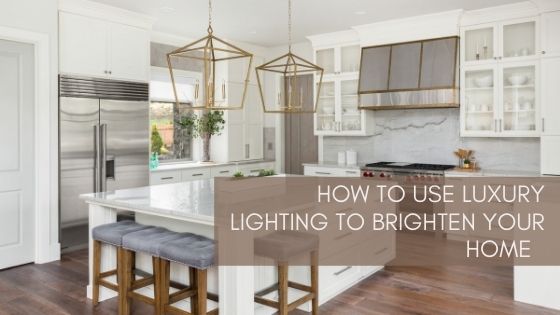 Lighting is an important feature in a home. You can use smart light technology to make a space more functional or relaxing. Lighting can create a quiet ambiance or bring the excitement levels up. Here's how to use luxury lighting to brighten your home. 
Install Smart Dimmers
With smart dimmers, you'll be able to manage different light bulbs even if you don't have smart bulbs installed. This type of system comes with a hub setup that allows you to control the lights in your home from any location. A smart dimmer system features scheduling, so you can set the dimmers to activate at particular times during the day. You can base it on the seasons or set the lights to become brighter as the sunsets. With a smart dimming system, you can make changes to it at any time. It even comes with an away feature for added security. It will turn the lights on and off at random times to give your home the appearance of being occupied.
Consider the Aesthetics
Shop for a smart lighting system that offers customizable aesthetics. Some systems include hidden panels. You can also get one that features different styles and finishes to complement your home's modern luxury design. Look for a system that comes with personalized light settings. That way, you can use light to enhance your mood or to perform different activities. For instance, you might want the lights brighter if you're working out or dimmer if you're watching a movie.
Select Wireless Control
When you're using luxury lighting to brighten your home, convenience is essential. Today, you can install a smart lighting system that operates wirelessly. It can manage your home's track lighting, floor lamps, kitchen cans, and even your spotlights.
Review Lighting Levels
There are two primary considerations when it comes to choosing your home's lighting, which are atmosphere and temperature. Both considerations affect the feel of your home. They allow you to alter the mood of a space and how you use it. You'll want bright bulbs in some areas of your home and low wattage ones in others. Bright bulbs are ideal for kitchens, offices, and workout spaces, while low wattage bulbs are perfect for creating a warm, welcoming environment because they provide a candle-like ambiance.
Accent Lightening
Along with foundational lighting, you'll also want to brighten your home with accent lighting. This allows you to show off particular pieces like a unique work of art or a decorative item.
The MacDonald Highlands community is the place to move to for high-end living, the kind that includes resort-style amenities and gorgeous sights. Once you've selected your home, you can use luxury lighting to brighten it. Contact us at MacDonald Highlands for more information today.