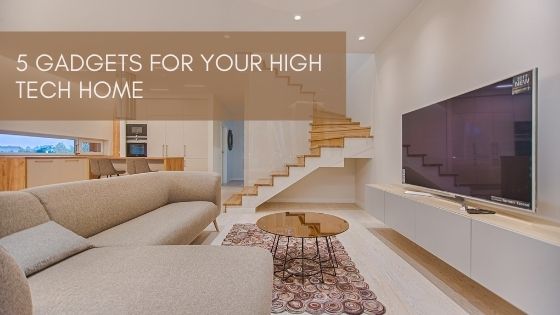 Many things make a luxury home luxurious, including wide-open spaces, swimming pools, and gourmet kitchens. Gadgets also add to the luxury of a home. Here are five gadgets for your high-tech home. 
1. Convenient Connectivity
Today, you can control many of your home's features with your smartphone when you download the proper apps. You can manage your home's HVAC, music, television, lighting, and security with just a smartphone or a tablet. If you don't want this access on a handheld device, install wall touch panels instead of convenient connectivity.
2. Smart Kitchens
New kitchen technology includes features that operate with voice commands or even movement. You can use it to change the lighting in your kitchen or to open drawers or cabinets automatically. There's even a smart faucet that can measure and produce just one tablespoon of water at the temperature you need for a recipe. You can also get an automatic kitchen faucet that will turn the water on when you place your hands underneath it to decrease germs' transmission.
3. Hidden Charging
People have more smart devices than ever, and while these devices are highly convenient, they come with the downside of charging wires. Hidden charging units are a new gadget that you can add to your home. They plug into light sockets or other common power sources. These hidden chargers are wireless, and they can power a device as far as 30 feet away. This type of charging setup gives your home a streamlined look since it decreases clutter.
4. Customized Security
Home protection can be a challenge. According to Parks Associates, a company specializing in new consumer products and technologies, an estimated 35% of United States households with broadband experienced data security issues last year. To avoid this, consider investing in customized security. One that can identify different members of your family is an especially safe option. You can also install security equipment like fingerprint-enabled locks and systems that operate using voice recognition software.
5. Virtual Home Gym
Virtual home gyms are another gadget to consider getting for your high-tech home. With a virtual home gym, you'll have access to on-demand classes as well as personal trainers. If you prefer yoga or meditation, you can practice with elite instructors using Peloton's new Amazon Fire app. It makes it possible for you to join classes from home on your smart TV, allowing you to train with some of the world's best instructors live.
New Homes for Sale Henderson
The MacDonald Highlands community is where luxury meets technology. Many of our homes are equipped with the latest gadgets to make daily life even more enjoyable. Contact us for details about the luxury homes in Las Vegas that we have available or for information about custom building options today.