Ways to Create the Ultimate Movie Night in Your Luxury Home
News Home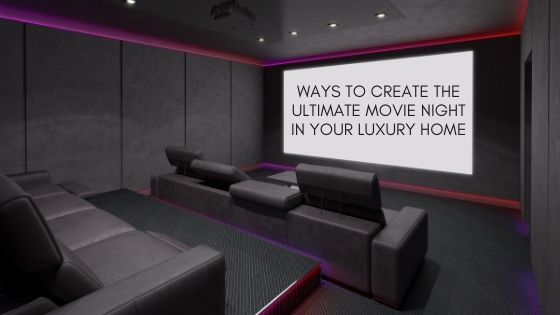 These days, home entertainment is more important than ever. New homes for sale Henderson often feature extra areas to turn into spaces to entertain, spaces like theater rooms. Here are a few ways to create the ultimate movie night in your luxury home.
Good Seating
To host ultimate movie nights in your luxury home, be sure to purchase good seating for your theater room. Options include a large sectional sofa or home theater chairs. You might consider getting the kind of theater chairs that will massage you and your guests while you're watching a movie.
A Popcorn Machine
Microwave popcorn is super convenient, but popcorn made in an air popper or a movie-style popcorn machine is so much better. An air popper will keep the movie snack staple on the healthy side while a movie popcorn machine will provide that traditional flavor.
Invest in Home Theater Speakers
Home theater speakers will ensure that you and your guests enjoy an immersive movie experience. This type of system can deliver movie quality sound because they come with right, left, and center speakers along with a subwoofer and rear speakers. Just like at the theater, this type of setup will let you feel the sound. You can purchase a home theater system that connects to a game console, DVD player, or personal computer.
Purchase a Projector
To host the ultimate big-screen movie night at home, purchase a projector. Consider getting one that you can use indoors and out. That way, you can host outdoor movie pool parties along with movie nights in your theater room. Shop for a projector that will give you great picture quality. You can also get one that you can connect to a regular DVD player or a smart TV. If you decide to host outdoor events with your projector, be sure to buy an outside speaker setup as well.
Movie Snacks
To make your movie night unforgettable, buy plenty of candy. If you want to impress your guests even more, purchase a variety box of candy and treats from Japan. The country is famous for its unique sweet treats. You can also purchase a cotton candy maker, one that transforms hard candy into the soft cottony goodness.
Install a Mini Refrigerator
Your movie room will be perfect once you install a mini-fridge. It will keep your drinks cold and conveniently located. You can even use it to store other types of movie snacks like string cheese or fruit.
Henderson Luxury Homes for Sale
The MacDonald Highlands community is located above Las Vegas to give residents a fantastic view of the city lights. Along with incredible sights, residents enjoy high-end amenities like a top golf course, fitness facility, and clubhouse. Call us to learn more about the amazing MacDonald Highlands community today.