Ideas for Transforming Your Home for New Empty Nesters
News Home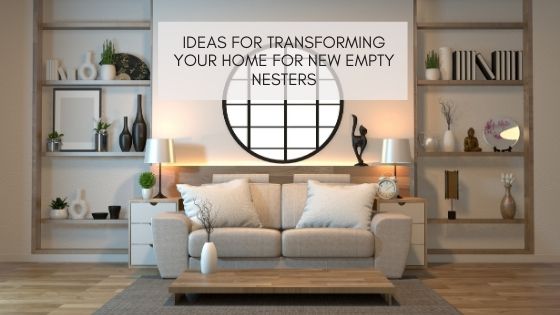 When your last child heads off on his or her way to college or their own place, you'll have an empty room. This means that you can change it to include a room or a space that you've always wanted. Here are ideas for transforming your home if you're a new empty-nester. 
Create a Guestroom
While a child's room contains décor selected by the child who lives in it, guest bedrooms generally feature calming décor elements. Decorate a guestroom in a way that would make anyone feel comfortable in the space, including your adult children when they arrive for visits. If your home's guestroom has a bathroom that's connected to it, add a basket of toiletries, items like a new toothbrush, toothpaste, shampoo, and conditioner. Your future guests will thank you.
Make an Exercise Room
If you create an exercise room at home, you may be more inspired to use it to maintain your health and fitness. It's harder to procrastinate a visit to the gym when the gym is in your home. For this transformation, consider changing carpeted flooring to something firm like vinyl plank or wood. You can also install a large mirror to help you with your workout form and a television if you exercise better with visual entertainment.
Add a Library
If you love to read, then the natural thing to do with an empty bedroom is turn it into a library. Shop for a comfortable lounge chair and an ottoman for your feet. You may also want a side table to hold snacks and drinks. Then, install a few bookshelves. When you have a separate space to read in, you'll be able to avoid distractions and spend an entire day reading if you have the time.
Make a Meditation Room
Research has discovered that there are many benefits to meditating—these range from feeling more at peace throughout the day to sleeping better at night. The problem with meditating is that it can be tough to find a place to do it in. Make a meditation room out of the space that your child vacated by painting it a light, calming color. Then, install stereo equipment or invest in a quality Bluetooth stereo to play quiet music. Be sure to get a few cozy blankets and a Zafu pillow to sit on.
Luxury Real Estate Henderson NV
The MacDonald Highlands community is a high-end neighborhood complete with a golf course, fitness facility, and the Dragon Ridge Country Club. The homes are large and spacious. If you are now an empty nester, you can transform your home by creating a guestroom, an exercise room, or a library. To learn more about the MacDonald Highlands community, call us today.