Luxury Holiday Decor Trends for 2022
News Home
The holidays are fast approaching, which means that it's almost time to decorate. If your current holiday decor looks tired, it might be time for an update. Here's the 11 best luxury holiday decor trends for 2022.
1. Natural Tones
This year, the trend is to decorate in tones of white with light greens for color. For this trend, include wood accents and gold and terracotta hues. The result will be a fresh organic aesthetic that will add a lovely contrast to the holiday season.
To take the natural trend a step further, go with different hues of green against deep earth brown colors. Complete this look with matt black accents. You can also use gold to give your holiday decor a contemporary touch.
Consider including natural textures like linen, cork, stone, and wood. Adding natural textures will give your holiday decor depth and visual interest. Look for ornaments and tealight holders in delicate patterns inspired by nature.
The natural trend simplifies holiday decor. Instead of using fake holiday greenery, choose a few wispy greens that look as though you've just picked them while out on a winter hike.
When you choose a natural approach to your holiday decorating, you'll be inviting the outdoors into your home with softer tones, organic greenery, and a fresh Christmas tree.
2. Be Sentimental
Since the 2022 holiday season appears to be shifting back to a more normal one, this year's holiday trend is to be sentimental with your decoration. If you prefer tradition, then decorate with red and gold this year. The color pallet is timeless and will embody a classic Christmas. Luxury homes in Las Vegas are sure to shine with sentimental decor. There's a reason why traditions endure.
Red is a complementary color that will stand out against your green Christmas tree. Gold provides a touch of elegance and luxury while reminding you of past Christmases.
If you decorate with sentiment, you'll enjoy classic Christmas favorites like nutcrackers, glass ornaments, and wreathes around your home.
3. Flocked Christmas Trees
Flocked Christmas trees are a holiday trend for 2022. You'll love a flocked Christmas tree because it will give your home the look of a snowy Christmas. When you have a white-dusted tree in your living room, it's sure to be the focal point of your holiday decor.
Flocked Christmas trees are easy to decorate around since you can pair them with traditional reds and greens, natural tones, or even nontraditional hues like pink or lavender.
4. Vintage Charm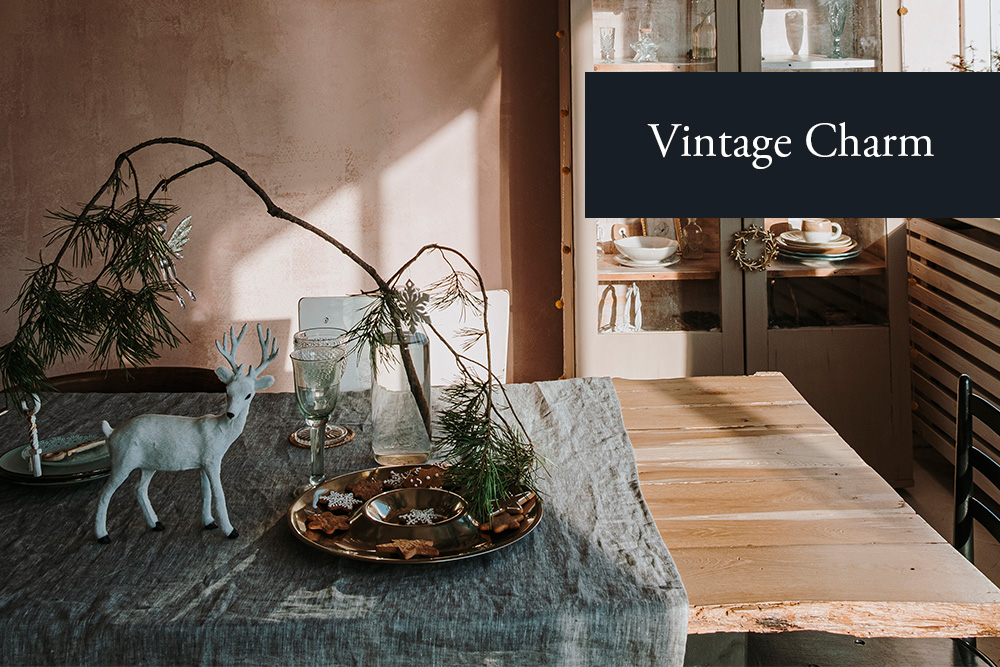 The vintage charm holiday decorating trend is great for those who like their decorating over the top. For 2022, vintage charm includes decorating in the style of the "Roaring Twenties." If you go this route, think party glitz combined with vintage vibes.
For vintage charm holiday decor, combine gold metallics with silver accents against feathers and beads. Add crystal garlands reminiscent of the era's headiness when decorating in this trend. By putting it together with warm lights on your Christmas tree, you can keep this type of holiday decor from feeling overly cool.
To complete your vintage charm decorations, bring in eclectic elements like a Capiz shell texture, giving it a pearly shimmer. If you're planning a dinner party, decorate your table with antique tall flute champagne glasses and mirrored coasters.
5. Unconventional Christmas Trees
If you want to celebrate the season without the clutter, consider decorating with a wall Christmas tree. They've become more popular recently, and if you decide to decorate with one, you'll save a ton of space.
Since there is an environmental cost to buying a Christmas tree, people are starting to decorate in more creative ways. Ranging from collected bare branches decorated with ornaments to year-round houseplants decked in miniature fairy lights, the unconventional Christmas tree trend includes adorning anything plant-related that has the ability to replace or enhance your home's Christmas decor.
6. Paper Decorations
Paper decor is sure to be one of the most popular Christmas trends this year. If you want to decorate with paper, you can do it with honeycomb Christmas trees, paper garlands, or classic paperchains.
Holiday paper decor is easy to make, eco-friendly, and fun. You can choose colored paper decor or natural tones, and it's also a decorating choice that blends well with your traditional decorations.
7. Candles
Luxury homes will look even more luxurious this holiday season when they're decorated with candles. Consider getting tapered candles that you can place in pretty candlestick holders. Options include bright two-tone, shaped, and twisted candles. Use candles to bring a pop of color to your holiday decor.
Decorating with candles is an excellent way to support small businesses in your area, and you can purchase unique candle shapes and holiday fragrances.
8. Decorate with Lavender
Luxury homes in Las Vegas deserve unique holiday decor. Adorning your home in lavender holiday decorations is sure to make your house stand out this holiday season. 
Lavender is a calm hue that's the perfect remedy for the busy holiday season. When you decorate in lavender, you'll give your home a light holiday touch.
9. Candy Canes
Candy canes are expected to trend this year, with many luxury homeowners decorating their homes in a red and white candy cane theme. Ranging from garlands to Christmas tree ornaments, you'll find a variety of candy cane-themed decor.
10. Classic White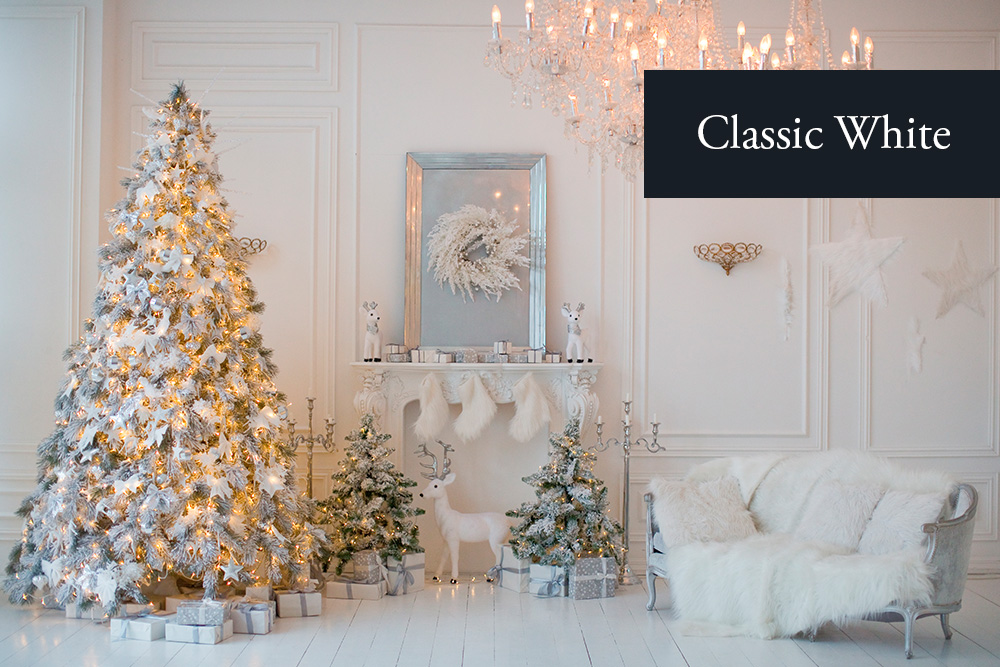 Perfect for minimalists but sure to look incredible in luxury homes in Las Vegas, classic white is a timeless holiday trend. Go with neutral hues and snowy whites for refined elegance. Combine these shades with:
• Gorgeous linens
• Faux greenery
• Cushions
• A sparkly wreath
Classic white is a soothing color, and it can give you what most of us need during the holiday season: a calm environment and rest. If you decorate with white, you may experience a much-needed sense of winding down this holiday season.
Create layers of textured white tones combined with touches of gold or silver. Keep your decor charming using cozy blankets and throws with nubby texturing. You'll love having them nearby when you're settling onto the sofa to watch your favorite Christmas movie.
11. Picture Worthy Door Display
Kick your home's curb appeal up a few notches during the holiday season by embracing the door-scaping trend. Decorate your front door with garland, ornaments, and wreaths. If you have space next to your door, frame it with lighted pine trees. You can also line your front walk with candles or luminaries.
If you're planning to host holiday parties this year, your festive front door will welcome guests and put them in the holiday spirit. Decorating your front door area will also give your home a finished look if you intend to decorate your exterior with lights.
Las Vegas Luxury Homes
You'll find Las Vegas luxury homes in the MacDonald Highlands community. Here, the luxury homes are big and spacious, as are the yards. Those who live in the MacDonald Highlands community have access to a renowned golf course, event center, and incredible outdoor sights. For more information about our community, call us at (702) 614-9100.