Minimalist Decorating Tips for an Organized Home
News Home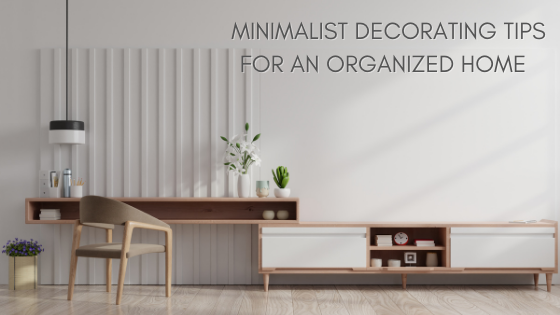 New homes for sale Henderson come in a variety of styles and designs. When you purchase a new home, it can be easy to over decorate it by adding too many pictures, knickknacks, and furniture. While this will give your home a cozy look, it might clutter your space. Consider a different direction with these minimalist decorating tips for an organized home.
Focus on Function
Before you start planning a minimalist design in a space, look at the function of the room. Are you a person who likes to entertain? If this is the case, then you'll want to add a lot of seating. Will you need to work from home? If you intend to work at home, make sure that you have an area away from your home's other living areas where you can focus and work. Regardless of the layout, a minimalist look requires the space to be open and clutter-free.
Include Clean Lines
Today's minimalist home designs include clean lines. To create this, look at furniture designs that feature straight edges. Instead of choosing arched doorways, go with square ones. Also, geometric décor will keep your home looking simple and visually appealing.
Embrace Natural Light
Expansive windows allow the natural sunlight to flood into your home. This type of light makes a home feel more extensive and more welcoming. Windows are a great focal point, which is especially true if you have incredible views of the Las Vegas skyline.
Reduce Clutter
Complete a visual sweep of your home. If you spot any paper items, such as junk mail, bills, shoes, car keys, or sunglasses, then look for a way to tuck them away in a cabinet or a bin. Also, embrace the "one in, one out" rule when making changes to a room. If you bring something new in, then remove an item that is a similar size.
Choose Your Floors and Wall Color Carefully
The floors you select for your home can make a big difference when creating a minimal look. Go with polished concrete, light-colored tile, or hardwood.
Wall color can also give your home a minimal appearance. Neutral paint colors provide simplicity. Blush, tan, white, and earth tones provide a bright style, one that's peaceful and uncluttered. If you need some color, then decorate one room in a monochromatic color scheme.
Meticulously planned and measuring 1,320 acres, the MacDonald Highlands community is sure to feel like home the second that you tour it. In our community, you can build your own custom home or purchase one of our completed homes. To learn more, make an appointment to come see us today.