Our Favorite Luxury Design Trends of 2020
News Home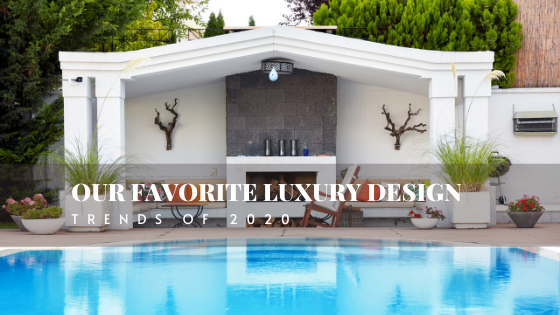 When it comes to the world of home design, there's always something new and exciting to consider. While most people don't have the time, money, or patience to change their homes as often as they do their wardrobes, home updates are nice to add. Here are our favorite luxury design trends of 2020.
Monochromatic Embraces Flair
Monochromatic interior colors have made a shift away from grey on grey and white on white to bolder and more exciting colors. For 2020, feel free to decorate with jewel tones like cobalt blue, deep greens, and aubergine hues. If you can't quite bring yourself to go all out and embrace jewel tones completely, you can tone it down with silver and gold accents. Adding wooden furniture made by expert artisans is another way to neutralize brilliant shades.
Enclosed Cabinets
Last season, home design trends included open shelving. This year, enclosed cabinets and practical shelving are popular. One thing that will never go out of fashion is a home with the kind of organizational system that allows you to put everything away in a designated place.
Home Fitness Centers
Health is always popular. When it comes to luxury design trends, health is trending in the form of health fitness centers. According to an annual health survey, 24% of American adults exercised enough in 2017 to meet what the government recommends. In 2015, just 21% of adults reported that they exercised enough. With more people focusing on their fitness each year, home gyms are a popular luxury design trend for 2020. Depending on the amount of space that you have available, you can install a weight center, yoga studio, or even a swim spa.
Creative Outdoor Spaces
High-end homes often feature creative outdoor spaces, ones that are perfect for entertaining. This is an especially popular design trend in Las Vegas since it is a place with comfortable year-round temperatures. Create a thoughtful outdoor space this year with misters, an outdoor kitchen, and a fireplace. You can also add specialty lighting and comfortable seating. Lush pools that include infinity edges and waterfalls will take your outdoor space to a spa-like level.
Incredible Kitchens
Gourmet kitchens are always popular, but the functionality and design of them change. For 2020, an incredible kitchen will include features like warming drawers, appliances with smart cooking technology, and walk-in pantries that are tucked away. The kitchen tends to be a popular room in the home, so incredible kitchens include areas for conversations and even work meetings.
Luxury homes with the latest design trends are for sale in the MacDonald Highlands community. When your home includes inspirational colors, enclosed cabinets for your things, a state-of-the-art home fitness center, and a fantastic gourmet kitchen, you'll be the envy of your neighbors.