Spring Cleaning Checklist for Your Luxury Home
News Home
While most homeowners clean many areas of their luxury homes regularly to maintain a healthy environment, it's tough to clean every single part of a home weekly or even monthly. This is why many people engage in spring cleaning. When you schedule a time of the year for deep cleaning, you can ensure that every area of your home continues to look its best. To help, here's a spring-cleaning checklist for your luxury home.
Print Your List 
To help you track the spring-cleaning tasks and make sure that you're covering every area, print a list. There are checklists available online, or you can type out a personal one. Be sure to include areas like the:
• Kitchen
• Bathrooms
• Bedrooms
• Living and family rooms
• Offices
• Garage
Before you start deep cleaning a room, dust the area's countertops, shelves, décor, and light fixtures. That way, you'll only need to vacuum or mop once. Use Windex to clean the windows and wipe the blinds with a damp cloth. You can use cleaning wipes to clean the walls, but make sure that you purchase ones that don't include chemicals that would damage the paint color. Remove any trash or excess clutter in each space, and be sure to vacuum or mop under the furniture.
Kitchen Checklist 
The kitchen is one of the most labor-intensive areas to clean because people use this room more than any other. In the kitchen, be sure to clean the:
• Refrigerator
• Stove
• Microwave
• Cabinets
Go through the refrigerator and toss any food products that are expired. Also, pull out the shelves and wipe them down, and be sure to clean under them too. Organize the food products that you intend to keep. For instance, position your salad dressings and condiments together. If you spot products that are close to expiring, you may want to place them toward the front of the appliance to ensure that you use them first.
If you have a stove with a built-in cleaning feature, use it on a warm day because you'll want to open your windows. Stoves that clean themselves automatically may activate your luxury home's smoke detectors. The process is also a smelly one. If you're using a chemical to deep clean the stove, plan to apply the product in advance. Some need to sit for anywhere from one or two hours to overnight.
For the microwave, heat a wet cleaning cloth for about a minute. Then, use the cloth to wipe down the interior of the microwave. Heating a wet cloth creates steam inside the appliance that loosens any leftover food that may be cooked onto the walls.
Wipe down the interior of your kitchen cabinets. Remove the food products, dishes, and cooking supplies. This is an excellent time to search for expired products through your food items. You might also consider assessing your kitchen gadgets so you can donate the ones that you never use.
Don't forget the area under the sink. Often, homeowners store cleaning supplies, dish detergent, and plastic bags in this space. It can quickly become cluttered with items you don't know what to do with. Sort through the things you have stored there and organize the area by placing dish cleaning products, furniture cleaners, and floor cleaners together.
Bathrooms 
The spring-cleaning checklist for luxury homes includes cleaning areas of the bathroom like the:
• Space around the toilet
• Grout
• Shower and sink fixtures
The toilet area may be missed during your regular cleaning routine, so be sure to tackle it when spring cleaning the bathroom. You may want to slide a cleaning wipe underneath the edge to remove any gunk or dust bunnies that have accumulated during the last year.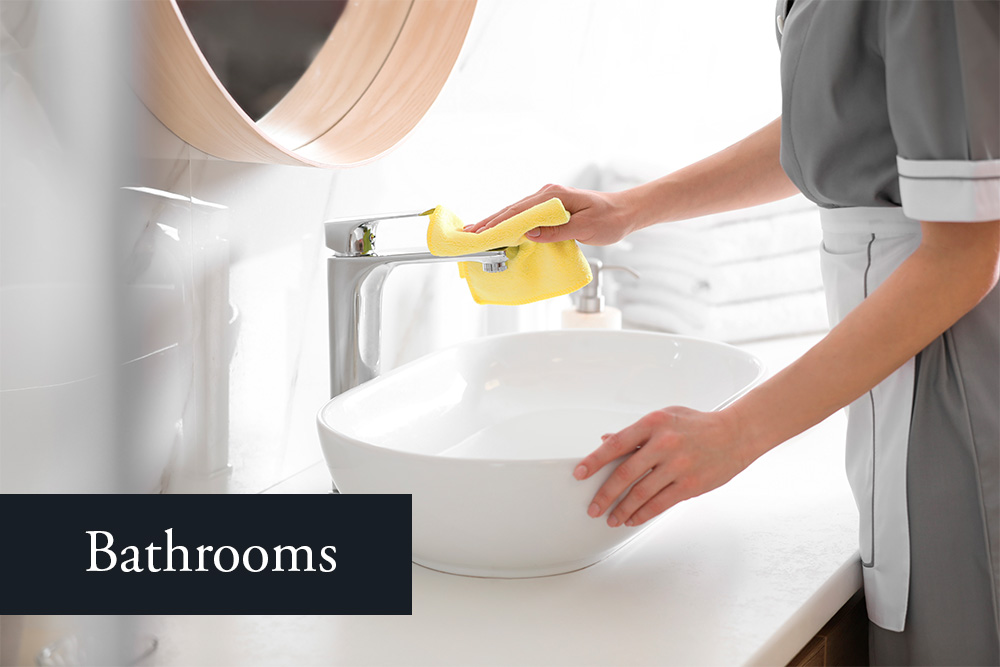 If you have a steamer, then use it to clean the grout. A steamer will help you eliminate any spills or stains, and Steamers also disinfect your tile and fixtures. 
For spring cleaning, disinfect the bathroom fixtures. You can do this with a steamer or a disposable cleaning wipe, and this is also a good time to scrub off any areas with hard water stains.
Bedrooms 
Luxury homes in Las Vegas typically feature spacious bedrooms. When you get to your luxury home's bedrooms on your spring-cleaning list, start by wiping the walls, floorboards, and crown molding. Then, shift your focus to the closet. Go through your shoes and clothing to get rid of anything outdated, doesn't fit, or you don't wear. Also, consider whether your closet may function better with an organizing system. For instance, you may want a closet organizing company to build shoe racks and install built-in cabinets.
Organize and conceal any clutter hanging out on the nightstands or dressers and find a home for corner clutter. Spring cleaning is the perfect time to toss them in the washing machine or send them out for dry cleaning if you have curtains. Run a duster over the lampshades and ceiling fan. Also, wipe down the blinds and Windex the windows.
Living or Family Room 
This space should be easy to deep clean. The checklist for these spaces includes:
• Cleaning under the furniture
• Wiping down the walls
• Dusting
Be sure to organize any bookshelves in these areas and remove any excess clutter. 
Home Office 
Since the office is a space where you need to be productive, it's important to keep it clean to prevent distractions. When you're working in a cluttered office, it will likely have a negative impact on your concentration and overall mindset. The spring-cleaning checklist for office spaces includes:
• Cleaning your computer screens
• Disinfecting high touch items like computer keyboards and mouses
• Dusting shelves and décor
If you have any decorative items in your office, be sure to dust them. Also, sanitize your work phone, headset, earbuds, and other frequently used devices—clean cords and outlets. If you don't already have a filing system or work cabinet to store your paperwork in, consider investing in one. Organize and store any paperwork that's cluttering up the top of your desk. Along with this, get rid of any documents you no longer need.
Go through the junk drawers in your home. Most homeowners have a "catch-all" drawer or two that they use for things that don't have a natural storage place. While spring cleaning, go through your junk drawers and toss out anything that doesn't have a purpose.
Garage 
Las Vegas luxury homes include large garages, and the garage is another area where you might have a lot of things that you no longer use or need. Sort through your yard equipment, bikes, tools, and other outdoor gear to see what you can donate. Consider installing shelves that you can use to organize your outdoor things. Once your garage is organized, you'll have more space for your car. You might even find out that you have enough space for a workbench.
Luxury Homes in Henderson NV 
Luxury homes require spring cleaning. With a checklist, not only can you make sure that you hit every spot, but you can also ensure that you're cleaning efficiently and effectively. At MacDonald Highlands, we offer the kind of luxury living that you deserve. As a resident of our community, you'll enjoy extras like onsite dining establishments, well-maintained hiking trails, and impressive views. To learn more about living in MacDonald Highlands, call us at (702) 614-9100.