Tag:
top gated communities in the united states add tag
In luxury living, a home is more than just a dwelling; it's an experience, a reflection of personal taste, and a haven of comfort and opulence. Luxury home amenities have evolved from being considered extravagant to becoming essential elements that enhance the quality of life and create a unique living environment. From the cinematic grandeur of home theaters to the refined elegance of wine cellars, these amenities add luxury, entertainment, and functionality to a residence. In this blog, we will delve into the world of luxury home amenities, exploring the captivating allure of home theaters, the sophistication of wine cellars, and the art of integrating these features seamlessly into the modern luxury home.
The Captivating Allure of Home Theaters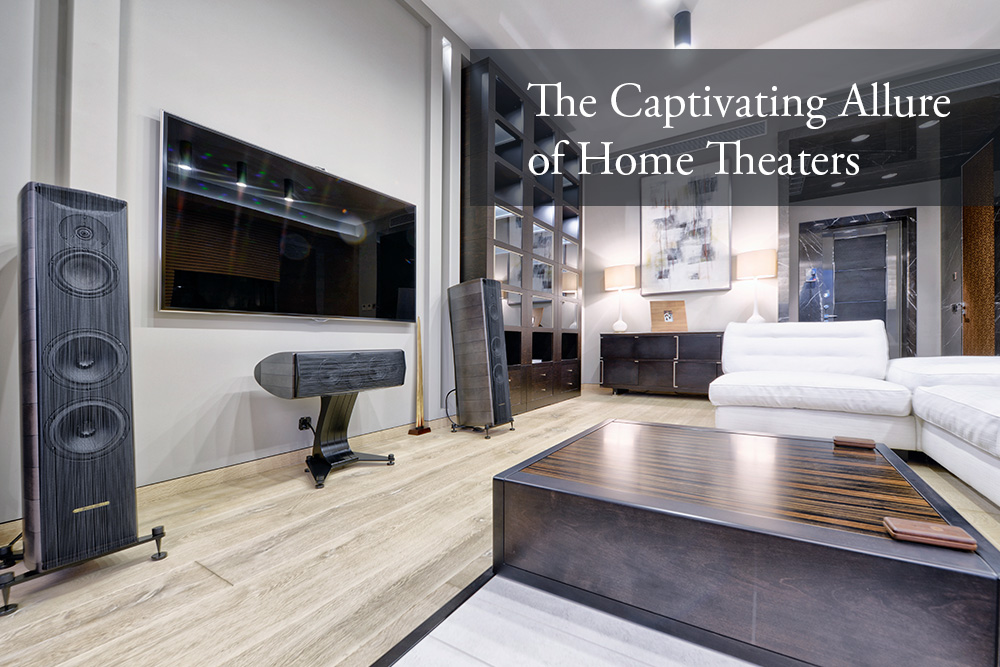 Imagine being able to enjoy the cinematic experience right within the confines of your home, with the highest level of audio-visual excellence and utmost comfort. This is the allure of a home theater, a luxury amenity that has become a staple in high-end residences.
Immersive Entertainment: A well-designed home theater transports you into a world of immersive entertainment. High-definition projectors, oversized screens, and state-of-the-art sound systems replicate the magic of the movie theater, allowing you to enjoy the latest blockbusters, classic films, and even video games with unparalleled audio and visual clarity.
Customization: Luxury home theaters are a canvas for personalization. From plush seating arrangements and acoustic treatments to ambient lighting and interior decor, every element can be tailored to match your preferred aesthetic and create an ambiance that resonates with your tastes.
Technology Integration: Smart home automation plays a pivotal role in luxury home theaters. Control systems that manage lighting, sound, and seating arrangements can be operated seamlessly from a central interface, offering convenience and enhancing the overall experience.
The Sophistication of Wine Cellars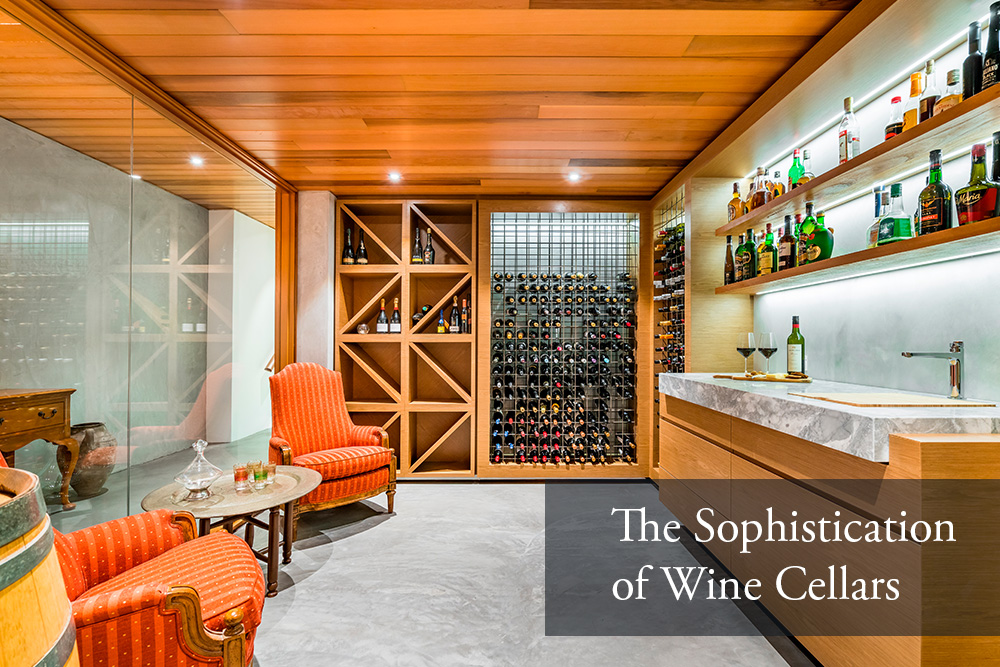 Wine cellars are the epitome of refined luxury, appealing to both connoisseurs and enthusiasts who appreciate the art of fine living. These cellars are more than just storage spaces; they are showcases for exceptional collections and provide the perfect setting for private gatherings.
Preservation of Fine Wines: Wine cellars are designed to create optimal conditions for storing and aging wines. Controlled temperature, humidity levels, and lighting prevent spoilage and maintain the quality of the wines, allowing connoisseurs to savor their treasures at their peak.
Display and Aesthetics: Wine cellars are not just functional spaces; they are also expressions of beauty and sophistication. Custom wine racks, elegant lighting fixtures, and carefully chosen materials transform these cellars into visual masterpieces that reflect the owner's taste and appreciation for aesthetics.
Entertaining Spaces: Beyond preservation, wine cellars often double as spaces for intimate gatherings and tastings. Enthusiasts can host wine-tasting events for friends and family, creating memorable experiences surrounded by their cherished collections.
Seamless Integration into Modern Luxury Homes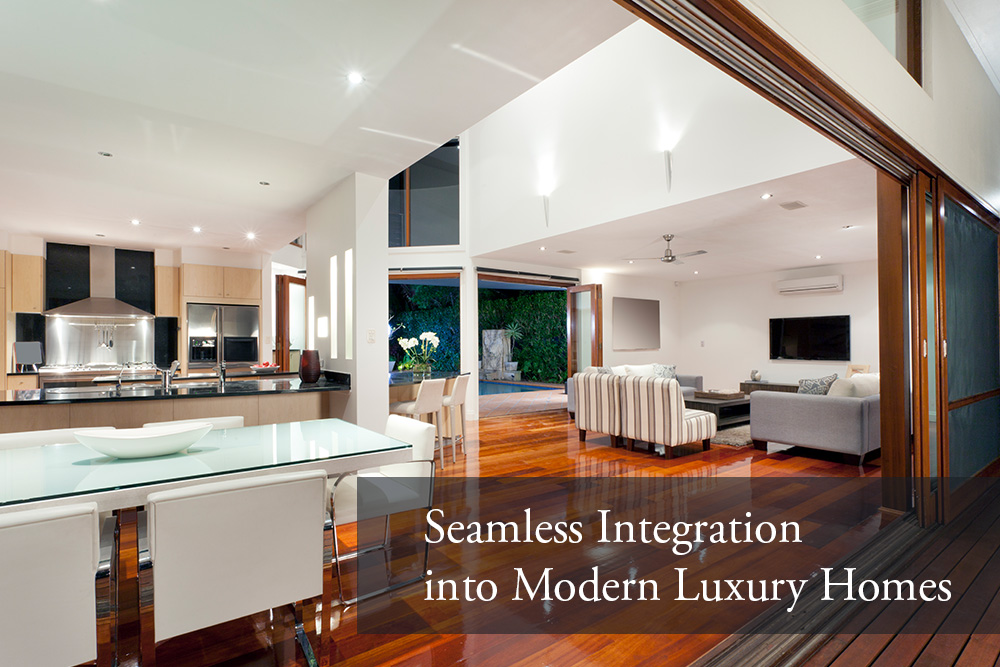 Integrating these luxury amenities seamlessly into modern homes requires careful consideration of design, technology, and functionality.
Architectural Harmony: Whether it's a home theater or a wine cellar, the design should harmonize with the overall architectural style of the residence. Thoughtful placement, spatial planning, and architectural details ensure that these amenities become integral parts of the home's design rather than standalone additions.
Smart Home Integration: Modern luxury homes thrive on smart technology, and luxury amenities are no exception. Smart home automation systems can control everything from the lighting and climate in your wine cellar to the operation of your home theater. The ability to manage these amenities from a centralized control system adds convenience and enhances the user experience.
Interior Design Fusion: The interior design of these amenities should align with the rest of the home. Consistent themes, color palettes, and material selections create a cohesive flow throughout the residence. For example, a wine cellar's decor could complement the adjacent dining or entertainment spaces.
Consulting Experts: Integrating luxury amenities into a home requires expertise in multiple domains, including architecture, interior design, technology integration, and specialized knowledge about wine storage. Collaborating with professionals who specialize in these areas ensures that the final result is a seamless blend of functionality and aesthetics.
Luxury home amenities have transformed from opulent extravagances to essential elements that enhance the quality of life, entertain, and define the modern luxury living experience. Home theaters offer cinematic immersion, while wine cellars exude sophistication and provide a haven for wine enthusiasts. These amenities, once reserved for the elite, are now accessible to discerning homeowners who seek the ultimate in comfort and refinement.
As luxury communities like MacDonald Highlands continue redefining the boundaries of abundant living, integrating these amenities becomes a testament to the commitment to providing residents with an unparalleled lifestyle. The allure of a home theater's cinematic magic and the elegance of a meticulously designed wine cellar are not merely additions but expressions of personal taste and a celebration of the art of living luxuriously. In the tapestry of luxury home design, these amenities are the threads that weave together comfort, technology, and aesthetic excellence, creating homes that are truly extraordinary.