Three Things Every Outdoor Entertaining Space Needs
News Home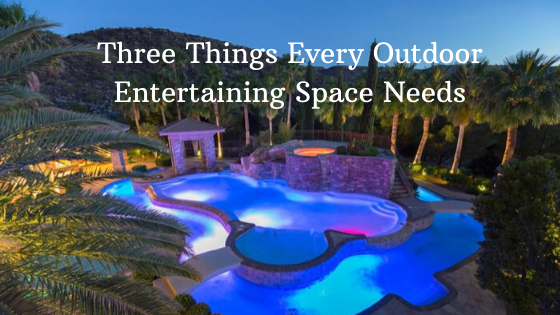 The finest luxury homes Las Vegas has to offer can be made even more fabulous with the right outdoor additions. Many of the best additions for patios, decks, and yards can make outdoor entertaining more enjoyable and help boost a home's overall appeal. Here are three things that every outdoor entertaining space should have.
Swimming Pool
A swimming pool offers the perfect way to cool off on a hot day and can spice up the night while entertaining outdoors. In-ground and above-ground pools can work well in both large or small yards and are available in different shapes and sizes. Infinity pools are made to appear as if they have no boundaries and can also be an excellent choice. Pools can even include diving boards and other features to add more fun to play in the water. Another option is to install a jacuzzi next to the pool where people can go to sit and relax in the warm, bubbling water. To make the area around the pool look even more luxurious, hanging plants and outdoor chaise lounges can be added to create an upscale desert oasis.
Kitchen
Having an outdoor kitchen makes preparing food for guests much more accessible. Many outdoor kitchen setups include grills, side burners, and stainless steel sinks. The best kitchens for outdoor use are made from materials that can withstand rust and fire. Extra storage drawers are often included to make storing food, utensils, and cleanup items easier. An outdoor kitchen should also have enough counter space to prepare food. Outdoor refrigerators and pizza ovens usually need to be purchased separately, but adding these items can make an outdoor kitchen more complete.
Fireplace
Even the Nevada desert can get cold at night, and having an outdoor fireplace will help keep all guests warm and comfortable throughout the celebration. A stone or brick fireplace can make everyone feel at home and help bring guests together for better social interactions. When not entertaining outdoors, an outdoor fireplace can be the perfect spot to curl up with a book or relax in tranquility while admiring the beautiful desert landscape.
MacDonald Highlands is an upscale real estate neighborhood that features luxury homes in Las Vegas with many great outdoor additions that are ideal for outdoor entertaining. Visit www.macdonaldhighlands.com to learn more about this welcoming community.