For a kitchen to be luxurious, it must include all of the latest luxury design features. This includes purchasing an incredible sink. Today, it's popular to select a kitchen sink that suits your particular kitchen style. Here are luxury kitchen sinks for you to consider when building a custom home in Las Vegas. They include sink styles like:
• Farmhouse
• Workstation
• Granite composite
• Copper
• Stainless-steel
• Cast iron
• Fireclay
• Undermount
Farmhouse Sinks
Farmhouse sinks, or apron sinks, have become popular due to their size. If you like to entertain by hosting dinner parties, consider installing a farmhouse sink because they feature a deep and open design that makes it easier for you to handwash large pots, pans, and other cookware.
The front apron design also adds visual style to your kitchen. Farmhouse sinks were invented before people had access to indoor plumbing; because of this, they were designed to hold a large amount of water.
Before installing a farmhouse sink, consider the current design of your cabinets. If you're replacing another type of sink with a farmhouse one, you may need to change the kitchen cabinets and counter to allow for the exposed apron front. Also, check the height of the farmhouse sink. Taller people may not find farmhouse sinks comfortable to use because of their depth.
Workstation Sinks
If you cook a lot, you'll love a workstation sink, and it's also an ideal option if you have a more intimate kitchen. Workstation sinks usually feature cutting boards that slide over, colander attachments, and drainboards, making these sinks highly functional.
You can customize this type of sink with metal racks to keep dishes off the sink's surface. This will make it easier to keep your dishes looking nice and new.
Granite Composite Sinks
Las Vegas luxury homes often feature composite granite sinks, and this sink provides a unique look to a kitchen. Composite sinks are available in many shapes, colors, and sizes, making them an excellent choice for custom kitchens.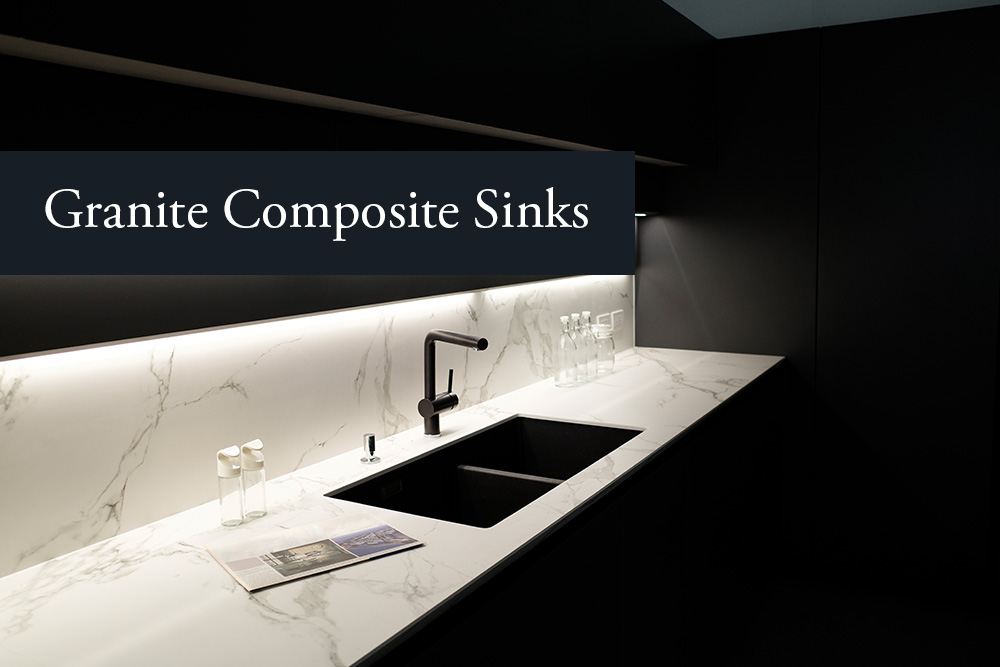 Composite sinks are an affordable option, but they come with several disadvantages. For instance, granite composite is hardy, and this means that it could damage your delicate dishes. You'll also pay more for it than you will for a stainless-steel sink or one that's porcelain.
If you opt for a granite composite sink, select one that is curved, carved, or rounded because square ones are harder to keep clean. You'll love the look of a granite composite sink. The makers of these sinks don't construct them entirely from granite, but they feature the stone's flecks and crystals. Because of this, you'll have the appearance of a granite sink without the nonporous aspects. This makes them more hygienic.
You can purchase a granite composite sink in almost any shade or finish, including natural stone finishes. If you select a granite composite sink, it will blend seamlessly with your kitchen counters. This type of sink is versatile style-wise and functional.
Copper Sinks
Copper sinks are a luxury design item that comes with many benefits. The Environmental Protection Agency (EPA) confirmed that copper's antimicrobial properties eliminate harmful and deadly bacteria on touch surfaces. According to tests, copper starts eliminating germs as soon as they come into contact with the surface.
Along with improving the cleanliness of your kitchen, copper sinks are an attractive option that are highly durable. They are easy to maintain and keep clean. In fact, all that's needed to clean a copper sink is soap and a sponge. You won't have to dry or wax a copper sink after you use it. Copper features properties that self-restore, making it a long-lasting sink material.
Stainless Steel Sinks
Stainless steel sinks are a practical choice for Las Vegas luxury homes because they are durable and timeless. When you install a stainless-steel sink, you'll have a material that will not change with use. The look of a stainless-steel sink remains the same throughout the years.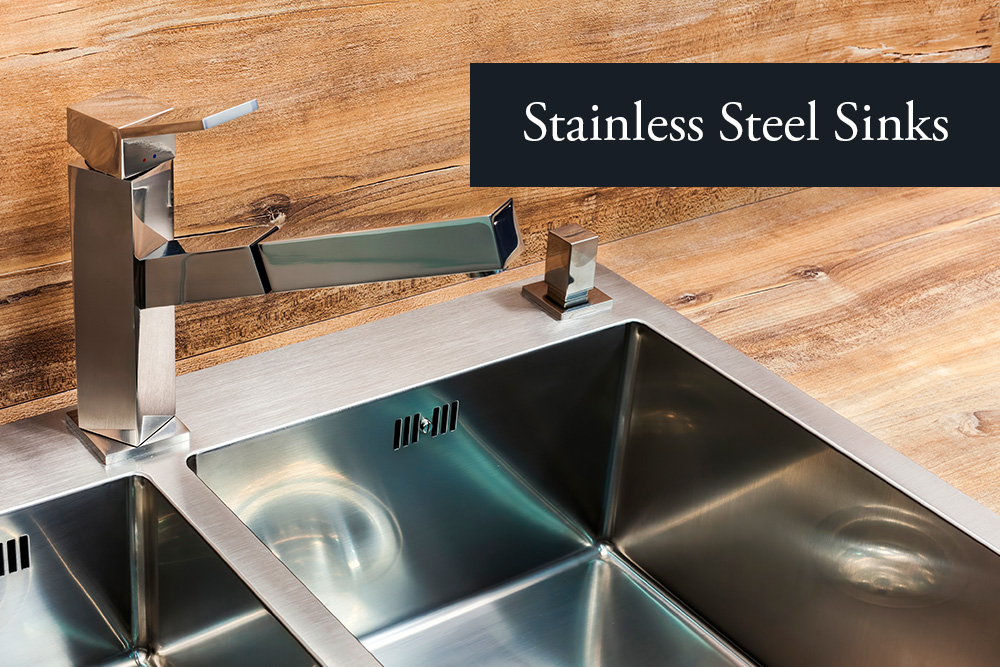 You'll appreciate how easily a stainless-steel sink blends into a modern or traditional kitchen design. Stainless steel sinks can hold up against acidic foods, metal pots, and abrasive cleaners, and they are also easy to keep clean. Use a clean sponge and favorite soap to clean your stainless-steel sink.
Cast Iron Sinks
Cast iron sinks are coated in a thick covering made from enamel, which makes them durable and easy to maintain, and they are also stain resistant. This type of sink is popular because you can order it tinted in any color. If you choose a cast iron sink, you'll be able to make updates to your kitchen without changing the sink since the material complements almost any kitchen design.
The downside to cast iron is that it is more expensive than sinks made from other materials. It is also heavy, and the weight makes them challenging to install. Because they are heavy, you'll have to ensure that your cast iron sink has the proper support. When selecting a cast iron sink, you must be careful when washing heavy pots or pans. Cast iron may chip or become scratched, and you can prevent this by setting a plastic basin rack in the sink.
Fireclay Sinks
Many homeowners choose fireclay sinks because of their lavish look, affordability, and easy maintenance. You can customize a fireclay sink, so if you're designing a unique kitchen, you'll want to consider investing in this type of sink. Luxury homes with fireclay sinks are sure to stand out.
This kind of sink is highly durable because of how they are made. To make a fireclay sink, manufacturers cook clay-based ceramic in a kiln that they heat to around 1,600 degrees Fahrenheit. Consider installing a fireclay sink if you own sturdy enamel-coated pots or pans. That way, you won't have to worry about heavy dishes scuffing or chipping the sink base, marring it.
Since making fireclay sinks involves using a mold, you can select the shape of your sink. You may select a fireclay sink that's a little deeper or wider than traditional sinks.
The manufacturing process of fireclay sinks makes them a low-maintenance item as well. After using the sink, wipe it down with a clean cloth. It will maintain its high-end look, which makes it perfect for luxury homes.
Undermount Sinks
Undermount sinks are positioned below your kitchen counter. This type of sink keeps the sink lip under the counter, making cleanup easy since there isn't an edge that would collect food crumbs or other types of debris.
You'll appreciate how easy it is to keep an undermount sink clean both hygienically and visually. This type of sink will also look bigger and give you extra food prep space. Undermount sinks are best for solid countertops like stone or wood, and they also vary in price from several hundred dollars to more than a thousand.
Living in MacDonald Highlands
The MacDonald Highlands community features many luxuries. Here, building a custom home in Las Vegas is an option, or you can purchase one that's already complete. As a resident, you'll enjoy access to our renowned golf course, fitness facilities, and incredible views. Contact us at (702) 614-9100 to learn more about the MacDonald Highlands community today.