Why Nature Enthusiasts Decide to Call Nevada Home. Top 5 Breathtaking Views Near Vegas
News Home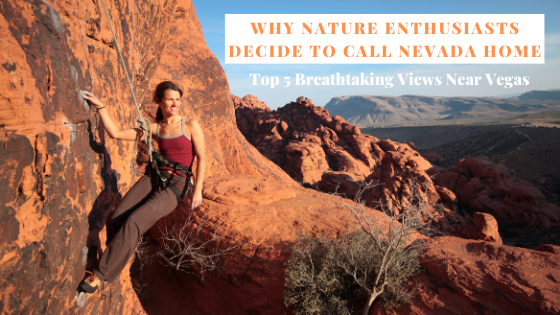 Las Vegas may seem like just a big city oasis surrounded by desert terrain, but Sin City has much more to offer. Not only is Vegas the perfect place to begin a scenic road trip, but it is also a city that lets you enjoy the great outdoors. Here's why nature enthusiasts decide to call Nevada home. These are the top five breathtaking views near Las Vegas.
1. Hoover Dam
Be sure to visit the Hoover Dam if you want to see a fantastic view of the area's outdoor landscapes. The structure is 700 feet tall, and it is one of the modern world's most amazing marvels. At the Hoover Dam, you'll view the cement structure, which is breathtaking. The other side of the dam features pretty rock formations and the Colorado River.
2. The View from the Dragonridge Golf Course
The Dragonridge Golf Course in MacDonald Highlands offers you an amazing sight of the Las Vegas valley. Since the golf course is elevated, you'll enjoy sweeping views of the valley if you decide to play a game. You'll also see natural canyons, preserved rock structures, and water features. Golf memberships in Las Vegas give you the chance to stay healthy while enjoying beautiful scenery.
3. Zion National Park
If you want to see stunning views and hike, take a trip to Zion National Park. From Las Vegas, you can get there in about two and a half hours. If you leave early, then you could be there in time to take a few hikes, but you might want to get a room and spend the weekend. There is a scenic drive through the park if time is short. You will also appreciate that the park offers visitors a variety of hiking experiences. There are easy hikes as well as challenging ones.
4. Death Valley
Famous for setting the highest known temperatures in history at 134 degrees Fahrenheit, Death Valley features breathtaking sights. When visiting the area, be sure to see the ghost towns, abandoned gold mines and Devil's Golf Course, which features interesting salt formations from an evaporated lake.
5. Charles Peak Area
To see snowcapped mountains just outside of Vegas, plan a daytrip to the Charles Peak area. It takes less than an hour to drive there, and you'll want to bring your hiking shoes to see the destination on foot. If you go during the winter, you'll have the chance to see the mountain peak covered in snow.
Breathtaking Views Near Vegas
There are many benefits to living in Las Vegas. Along with the chance to enjoy and experience a variety of entertainment and restaurant options, living in Vegas means that you get to spend most of the year outdoors. These five breathtaking sights near Las Vegas are worth taking the time to see.