Four Luxury Homes You can Buy Right Now at MacDonald Highlands
News Home
Considered one of the area's best places to live, the luxury homes at MacDonald Highlands include sights and interior features that are sure to exceed your every expectation. Not only do you have the option of building your own custom home in the community, but there are also luxury homes in Las Vegas that are currently for sale. Here are four.
731 Dragon Ridge Drive
An enormous courtyard welcomes you at this luxury MacDonald Highlands home on Dragon Ridge Drive. It has six bedrooms and six bathrooms in 11,375 square feet of space. Hardwood floors are throughout the home, as are five fireplaces. There is a wine room included in this two-story contemporary home along with a gourmet kitchen that features granite countertops, high-end appliances, and a farmhouse sink. This home comes with an amazing outdoor space that consists of a covered patio and a built-in barbecue. Here, the outdoor space is as luxurious as the indoor areas.
587 St Croix Street
This two-story home offers views of the golf course and surrounding mountains, providing a picture-perfect view. With seven bedrooms and eight bathrooms in 14,180 square feet of space, you'll have plenty of room inside this luxury home. This is a residence designed for every entertainment. It features a billiards room, 18 to 20 seat theater space, and an elegant lounge. It even comes with a zen garden, an amazing negative edge pool, a patio, and a personal gym.
659 Scenic Rim Drive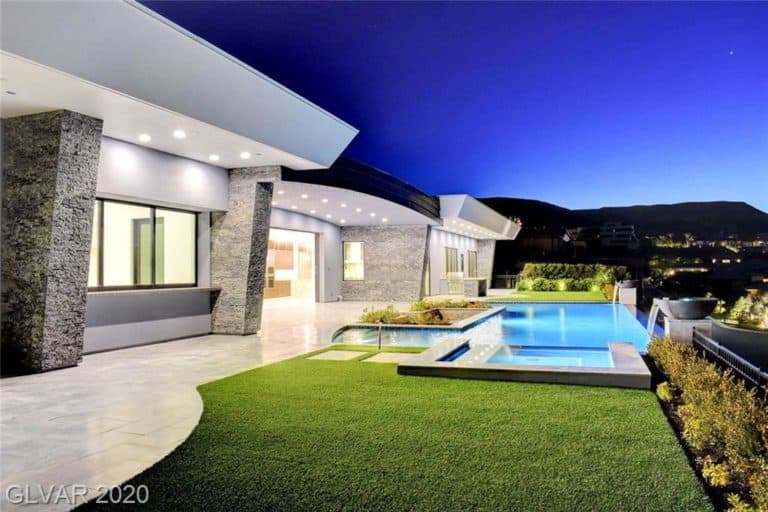 Located just above Las Vegas's cityscape, this modern home boasts five bedrooms and three bathrooms. It offers homeowners 8,645 square feet of space along with a pool, hot tub, and perfectly manicured exterior spaces. The home is one-story, making every area easily accessible. It comes with two fireplaces and a combination of flooring materials that include marble, carpet, and porcelain. The amenities provided in the home are almost countless and range from a game room to a modern kitchen that you'll want to cook in. This residence is open concept, featuring expansive spaces that offer plenty of room.
579 St. Croix Street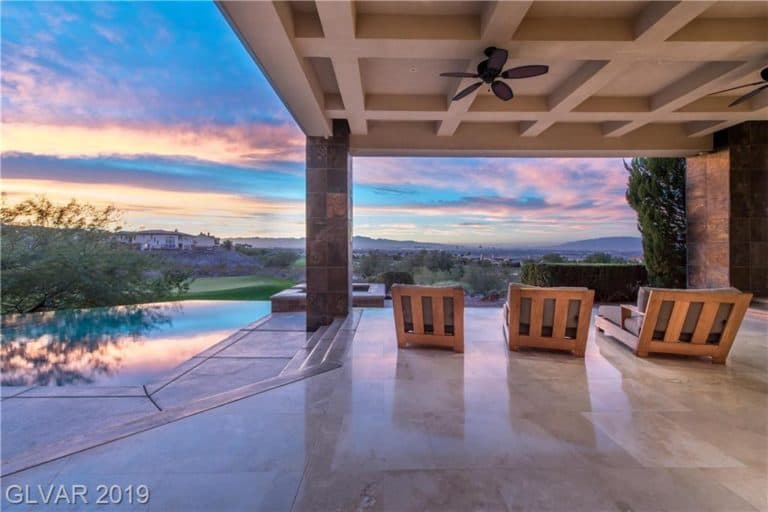 Available now, this luxury home offers you stunning unobstructed views of the valley, views that you'll enjoy from every room of the house, as well as from the pool, patios, and balconies. This home has four bedrooms and two bathrooms in 6,411 square feet of space. It comes with a huge kitchen, one that is equipped with granite countertops, a walk-in pantry, and marble floors. There are also features like a wine cellar, movie theater, and an elevator inside the home.
MacDonald Highlands Real Estate for Sale
MacDonald Highlands real estate offers luxury and convenience with its elegant homes and amenity-rich country club. With the many luxury homes in Las Vegas available at MacDonald Highlands, you're sure to find the one of your dreams.