Inspiration for Selecting the Perfect Kitchen Island for Your Home
News Home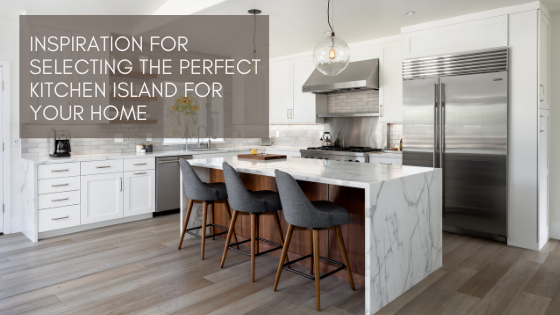 Kitchen islands are useful additions when they're correctly sized, placed and designed. They come in many different designs and styles, which often makes it challenging to choose one. Luxury homes in Las Vegas usually include this feature, but the current one in your home may not be working for you. We want to help, so here is inspiration for selecting the perfect kitchen island for your home. 
Waterfall Kitchen Islands
A waterfall luxury island will give your kitchen a subtle design enhancement because the style extends the countertop across one or both sides of the kitchen island. An excellent combination is a striking white marble island counter and rustic wood cabinets. A waterfall island will stand out, creating a statement in your kitchen. You'll love the marble because it is a great workspace. You can include a sink for cleaning ease as well as seating for your family and friends.
Islands with Open Shelving
When you choose an island with open shelving, you're increasing your kitchen's storage options. It's a great place to display your collection of cookbooks, antique china, or even family pictures. An island with open shelving is stylish and practical. This is also an effortless style that blends well in both traditional and contemporary kitchens.
Two Can Be Better Than One
Depending on the amount of kitchen space available, you might want to install two kitchen islands. With two islands, you'll have twice the workspace. It also creates a clean look. If you cook a lot, then consider installing sinks in both islands. That way, you can make one island a prep station and the other one the area where you wash up. With two islands, you'll enjoy the luxury of cooking ease.
Go for Shine
Kitchen islands are the focal point of the space. Why not select one with a reflective surface to embrace this characteristic. You can focus on the shiny design even more by including backsplash tiles that feature a bit of sparkle. These design options can make the space look larger since they'll reflect light. They also add a bright touch to your kitchen, making the space a great one for family gatherings.
Wonderfully Rustic
The design world seems to be shifting back to rustic styling. With a rustic island made of weathered wood, your kitchen will feel warm and welcoming. Include a simple stone countertop and install wrought-iron light fixtures to highlight the basicness of the kitchen piece.
Gated Communities Las Vegas
MacDonald Highlands is a top gated community, a neighborhood where you can choose custom home elements, including your kitchen island. Come see what we have to offer. You're sure to love our attractive landscaping and amazing sights. Reach out to us to learn more about the MacDonald Highlands community today.